Harley-Davidson: No longer for rich white men
The company has begun targeting young, urban buyers instead of open-road enthusiasts. But it's also choosing volume over profit, which could be a concern.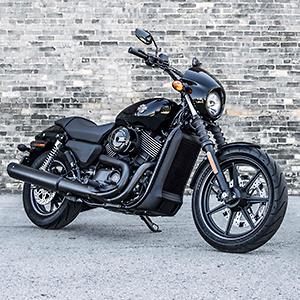 By Rich Smith
"For most of its 110-year history, Harley sold motorcycles as fast as it could to customers it knew well: wealthy, middle-aged American white men." -- Bloomberg
Want to buy a motorcycle? Don't have a lot of cash to pay for it? Then has Harley-Davidson (HOG) got a deal for you!


As Bloomberg points out, Harley-Davidson has historically been a big bike company. My Foolish colleague Rich Duprey writes: "[W]hen you think of a Harley, a big 1,440cc engine is what comes to mind."

But to great fanfare, highway-hog Harley recently unveiled a pair of new street-bikes that could seriously change the company's image as a builder of bikes for "wealthy, middle-aged American white men."
The new Street 750 (pictured) and Street 500 bikes both depend on a new motorcycle platform that the company developed to target prospective buyers globally, and young, urban buyers in particular. Both bikes hew to the company's new Dark Custom line, and are geared to an urban -- rather than an open-road -- riding environment.


Variously described as "nimble" and "lightweight," the Street bikes feature smaller, liquid-cooled engines (749cc for the 750, 494cc for the 500) dubbed "Revolution X." They're also lower to the ground (25.4 inches) than usual for Harley-Davidson bikes, and lighter to boot (just 480 pounds). A standard Softail Classic, in contrast, would be nearly 2 inches taller, and close to 300 pounds heavier.
Even more important than their size, though, these new Harleys come with a price tag that won't strain consumers' wallets -- only $7,500 for the Street 750, and a mere $6,700 for the Street 500.


Priced to move
The low price points on these bikes are significant for a couple of reasons. First and foremost, they indicate that Harley-Davidson is moving out of its comfort zone, and gunning for volume -- both at home and abroad. As with the new ultra-cheap "Grom" bikes that Honda Motor (HMC) recently began marketing, the introduction of an entry-level Harley may attract more buyers to the brand here in the U.S. -- buyers whom Harley may be able to upsell to its bigger bikes over time.


More importantly, Harley-Davidson has clearly placed a bull's-eye on the international market with these new bikes. The company took a lot of time figuring out how to target foreign markets, surveying more than 3,000 prospective buyers in 10 countries, and focusing on urban markets not just in locales such as Chicago, but also in Mumbai, Sao Paulo, and Tokyo abroad.


The reason: As recently as 2003, Harley-Davidson was getting only 17% of its revenue from abroad. The company has grown that by more than half over the past decade but still only does about 29% of its business outside the United States. With the Street line to work with, Harley hopes to diversify even more internationally, growing foreign-sourced revenue to perhaps 40%.


Price for profit?
It may well succeed. At prices as low as $6,700 a pop, buying a bike from a respected brand name like Harley-Davidson should be an easy decision for foreign buyers to make. The question for prospective investors, though, may be a bit harder.


It stands to reason that Harley-Davidson can sell a lot more bikes for $6,700 apiece that it could at $17,699 or $18,349 -- the starting prices for the Fat Boy and Softail, respectively. But even sales success could pose a risk to Harley. Honda's cheaper bikes, after all, only earn that company an operating profit margin of about 8.2%.


Granted, even Harley-Davidson has a couple of models selling for below $10,000 -- the Superlow and Iron 883 sportsters, both of which cost $8,000 and change. But the new Street bikes will be selling for almost 20% below that. With Harley-Davidson now aiming to sell more and more smaller, cheaper bikes -- enough to rev up international revenues from 29% to 40% of its total -- there's a risk that profit margins will suffer.
Will a $6,700 price tag be cheap enough to attract enough buyers for Harley-Davidson to "make it up on volume"? Or in capturing market share at the low end, will Harley succeed only in shredding its current market-leading 19.5% profit margin and moving closer to Honda-levels of profitability?


Stay tuned.


DATA PROVIDERS
Copyright © 2014 Microsoft. All rights reserved.
Fundamental company data and historical chart data provided by Morningstar Inc. Real-time index quotes and delayed quotes supplied by Morningstar Inc. Quotes delayed by up to 15 minutes, except where indicated otherwise. Fund summary, fund performance and dividend data provided by Morningstar Inc. Analyst recommendations provided by Zacks Investment Research. StockScouter data provided by Verus Analytics. IPO data provided by Hoover's Inc. Index membership data provided by Morningstar Inc.
MARKET UPDATE
NAME
LAST
CHANGE
% CHANGE
There's a problem getting this information right now. Please try again later.
NAME
LAST
CHANGE
% CHANGE
There's a problem getting this information right now. Please try again later.
Market index data delayed by 15 minutes
[BRIEFING.COM] In case anyone needed a reminder how beholden the stock market has gotten to the Fed keeping rates at the zero bound, they were offered one today when the major indices pretty much turned on a dime following a report out of The Wall Street Journal's Fed watcher, Jon Hilsenrath, that suggested the Fed may very well keep the "considerable period" language in tomorrow's directive.

Following the Fed is an exasperating study of semantics, yet no one but the Fed is to ... More
More Market News
Currencies
NAME
LAST
CHANGE
% CHANGE
There's a problem getting this information right now. Please try again later.