How Domino's really makes its dough
The pizza company's supply-chain business generated 56 percent of its revenue last year.
By Venessa Wong, Bloomberg Businessweek

Domino's Pizza (DPZ) this week reported a 7.4 percent revenue boost in 2013, a jump of about $123.8 million -- and most of it didn't come from selling more pizzas. No, Domino's primary business is actually selling more pizza ingredients -- dough, cheese, toppings -- to its franchisees and company-owned stores.
Domino's supply-chain business, which extends from ingredients to restaurant equipment, generated 56 percent of its revenue last year, or about $1 billion. The rest came from retail sales at 390 U.S. company-owned stores (19 percent), royalty fees paid by nearly 4,600 U.S. franchise locations (12 percent), and international supply chain and restaurants (13 percent).
To motivate restaurant owners to buy from the company, Domino's shares the profit from its supply-chain sales with restaurants that purchase all their food from this service.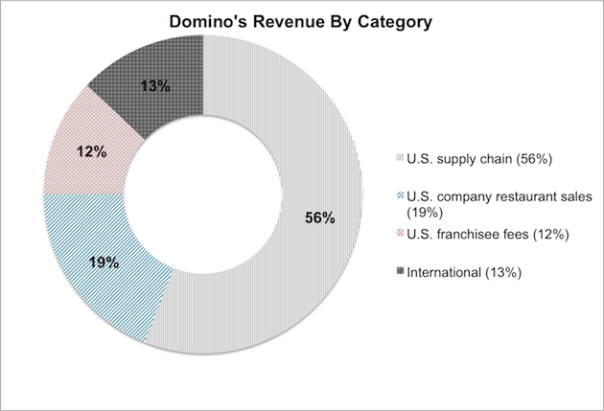 It's not the only pizza chain with this model. Papa John's (PZZA) ingredients business, which it calls "domestic commissary," represents 40 percent of sales.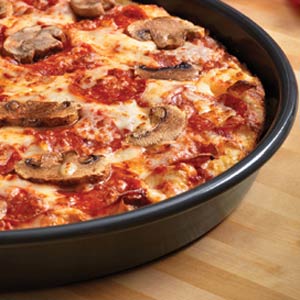 Obviously, increased orders from restaurants can boost supply-chain revenue, but so can fluctuations in commodities. Domino's passes along any change in commodity costs to its restaurant customers, with a fixed dollar margin. Pricier commodities mean higher food costs for restaurants, even though the fixed markup doesn't yield higher profits.
Take the recent spike in cheese prices: Domino's said in its annual report that higher cheese prices lifted supply-chain revenue by approximately $8.6 million last year, or about 7 percent of the company's overall $123.8 million increase.
Retail prices, however, don't rise with commodities -- not immediately, anyway. "The industry is far too competitive for that," and typically, increases in one commodity are offset by decreases in others, said Domino's spokesman Tim McIntyre in an e-mail. Other factors help maintain margins, too. The operating margin at company-owned Domino's restaurants was hurt by food costs last year, although that pain was offset by higher same-store sales and lower labor, occupancy and insurance expenses. In the end, store operating margins increased slightly despite that pricier cheese.
Cheese prices are expected to decline through 2014, according to Papa John's (see chart below), and Domino's expects food costs to be flat to slightly lower than last year. So don't expect commodity prices to boost pizza revenue again in 2014.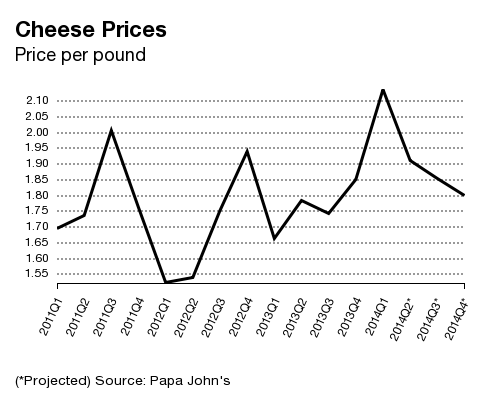 More from Businessweek

"Domino's primary business is actually selling more pizza ingredients -- dough, cheese, toppings -- to its franchisees and company-owned stores."  Not sure how this arrangement works at Dominoes but it's the individual franchise owners who end up losing when prices rise.  Carvel Ice Cream used this trickery on its franchise owners but had an exclusive clause that all owners must use 100% of the Carvel items where the products like ice cream cones were significantly marked up to make sure Tom Carvel made boatloads of cash while franchise owners had to pay the extra freight or else.  What a scam! 

I'm a former Domino's franchisee.  I sold my stores last year after more than 30 years of operation.
The article above is a bit misleading.  The revenue streams shown are correct, but they don't help the reader understand where the profits are generated.  Domino's system is similar to many food franchises.  The four main segments are:  Domestic Company Stores (operations), Domestic Franchise (royalties), Domestic Supply Chain (wholesale food & equipment), and International (all sources).
While the Supply Chain may generate the most revenue it does not generate the majority of the profits.  See below (in millions from 2/25/14 8-K).
                       FY13    % of                       % of           Oper      % of           % of
                       Rev    Ttl Rev      Costs  Item Rev     Margin ItemRev   Op Mrgn
D-Stores       337     19%      |     257      76%     |        80       24%          15%
D-Fran           212     12%     |           0        0%     |     212     100%          39%
D-SupChn  1010     56%     |      900      89%     |     110       11%           20%
International 243     13%     |        97      40%     |      146       60%          26%
   TOTALS    1802   100%    |   1253      70%      |      549       30%        100%
Supply Chain is the largest source of revenue (56%), but generates only 20% of the Operating Margin.  Royalties from franchisees are the smallest source of revenue (12%), but generate 39% of the Operating Margin.  This may seem odd, but it's the way franchise systems work.
The company does sell huge amounts of food and equipment to the system.  This is basically a wholesale business with wholesale margins (11%).  The royalty stream is a percentage of the sales from all the franchise stores.  No goods are being sold in exchange for these royalties so the margin is huge (100%).
From an investor's point of view, this is a great thing.  It means that the company is mostly immune to the squeeze on margins in the stores that is caused by heavy competition and fluctuating commodity prices.  All that matters to the company (and its investors) is that total retail sales in the universe of stores continues to increase and that the stores generate at least enough margin for the franchisees to make a living.  Domino's has done an extraordinary job in both of those areas.
Whether or not the stock is a buy at current price levels is up to you.  Over the long haul, I'm certain that the company will continue to find ways to increase the bottom line.  Between the Executive Team managing the public company and the 1,200 hands-on franchisees running the stores, Domino's has created a great model for long-term growth.

I haven't bought a pizza from Domino's for many years.  There's a lot of independents that do a very good job making pizzas.  On the rare occasions when we indulge, my wife and I go to a nearby independent pizzeria and enjoy the superior atmosphere , the very well made pizza pies ,and the costs are similar.  

Do you realize you really can make $2000 per week trading? I would have never believed it until I saw it for myself or I started doing it. And that's exactly what happened to me because now I'm making that much money. You just need to know the right place to learn and where I went to is a website called Traders Superstore, you should be able to find them on Google or just search for them. Their support is the best I've ever seen on any website before and they helped me to learn to trade, and it was nowhere near as hard as I thought it would be.
Are you sure you want to delete this comment?
DATA PROVIDERS
Copyright © 2014 Microsoft. All rights reserved.
Fundamental company data and historical chart data provided by Morningstar Inc. Real-time index quotes and delayed quotes supplied by Morningstar Inc. Quotes delayed by up to 15 minutes, except where indicated otherwise. Fund summary, fund performance and dividend data provided by Morningstar Inc. Analyst recommendations provided by Zacks Investment Research. StockScouter data provided by Verus Analytics. IPO data provided by Hoover's Inc. Index membership data provided by Morningstar Inc.
MARKET UPDATE
NAME
LAST
CHANGE
% CHANGE
There's a problem getting this information right now. Please try again later.
NAME
LAST
CHANGE
% CHANGE
There's a problem getting this information right now. Please try again later.
Market index data delayed by 15 minutes
[BRIEFING.COM] The major averages ended the midweek session with slim gains after showing some intraday volatility in reaction to the release of the latest policy directive from the Federal Open Market Committee. The S&P 500 added 0.1%, while the relative strength among small caps sent the Russell 2000 higher by 0.3%.

Equities spent the first half of the session near their flat lines as participants stuck to the sidelines ahead of the FOMC statement, which conveyed no changes to the ... More
More Market News
Currencies
NAME
LAST
CHANGE
% CHANGE
There's a problem getting this information right now. Please try again later.