How Michael Jordan made $90 million in 2013
He's still the NBA's biggest star 11 years after leaving the game, and is on his way to billionaire status.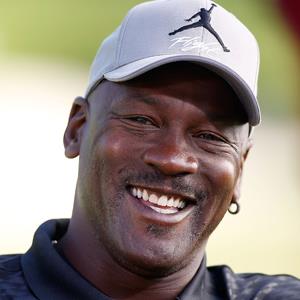 By
Kurt Badenhausen, Forbes Staff
Nike
(
NKE
) released the Air Jordan 10 "Powder Blue" retro sneaker on Saturday, 20 years after the first Jordan 10s hit shelves.
Like all the Jordan retro releases, this one was highly anticipated, and first-day sales hit $35 million.
For perspective, in all of 2013,
Adidas
sold $40 million in the U.S. of the signature shoes of its top star, Derrick Rose. The Bulls' current star guard isn't the only one operating in the shadow of Jordan. Reigning MVP LeBron James is the top seller among current NBA players with $300 million at retail last year for his Nike shoes, according to data tracker SportsOneSource.
Jordan crushed those numbers with $2.25 billion in U.S. retail basketball sales in 2013. It has been more than a decade since Michael Jordan last appeared in an NBA uniform, but MJ most certainly has still got it.
Jordan made an estimated $90 million last year thanks to the rich partnership he enjoys with Nike. His 2013 earnings eclipsed those of all other retired or current athletes, save boxer Floyd Mayweather. It marked Jordan's biggest earnings year yet in a career paved with monster paydays, which peaked in Jordan's last season with the Bulls (1997-98) at $80 million.
Jordan is still the NBA's biggest star 11 years after leaving the game.

Jordan took to the court his rookie year in 1984 in a pair of red and black Air Jordans, which matched the Bulls' uniforms, but did not feature any white, per NBA protocol. The league banned the shoes and fined Michael $5,000 every game for wearing them. Nike covered the fines and capitalized on the attention with a commercial with the following voiceover: "On September 15th, Nike created a revolutionary new basketball shoe. On October 18th, the NBA threw them out of the game. Fortunately, the NBA can't stop you from wearing them." A marketing juggernaut was born.
New Air Jordans followed annually in assorted colors and there have been a myriad of special releases along the way. The retro business makes up about half of the Jordan shoe business today.

"Nike has made an art form of unrequited demand," says SportsOneSource analyst Matt Powell regarding the retro releases. "Making sure that there is supply well below demand keeps things fresh."
Retail shoe sales for the Jordan Brand in the U.S. grew 11 percent last year to $2.7 billion, with basketball making up 84 percent of that, according to Powell. Roughly 50 percent to 55 percent of that goes to Nike.

If you factor in sales of Jordan apparel, the international Jordan business and sales at Nike stores, the Jordan brand is contributing roughly $2 billion of revenue to Nike, which posted sales of $26 billion over the last 12 months. Jordan, the man, gets a cut of every shoe, hoodie or pair of shorts sold by Nike under the Jordan Brand. We estimate MJ's take from Nike was at least $75 million last year. "Given that he is the name that launched the brand, you could argue that he deserves more," says Phil de Picciotto, founder and president of Octagon. "Jordan is the perfect athlete."
One of every two basketball shoes sold in the U.S. last year carried the Jordan brand. Factor in Nike-branded shoe sales into the mix, and Nike has a near monopoly in basketball with market share of 92 percent, according to SportsOneSource. Adidas (5.5 percent market share),
Reebok
(1.4 percent) and
Under Armour
(
UA
) (0.7 percent) are still searching for answers to Jordan.
The Jordan Brand isn't sitting still. It opened its first Jordan-specific store, Flight 23, this month in New York City, outside of Madison Square Garden where No. 23 tortured Knicks fans for so many years with moments like the legendary dunk or his double nickel return to MSG.
MJ still weighs in on designs of new Jordan shoes and suggests players he thinks would be a good fit for Nike's Jordan endorsement roster, which counts roughly 20 current NBA players, including All-Stars Carmelo Anthony, Chris Paul and Blake Griffin. The Jordan Brand also taps players outside of basketball, like baseball's Derek Jeter, Nascar's Denny Hamlin, boxing's Andre Ward and football's Andre Johnson.
Outside of Nike, MJ's earnings get a boost from long-time endorsement partners
Gatorade
,
Hanesbrands
(
HBI
),
Upper Deck
and
Five Star Fragrances
for his cologne line. He's also added deals with
2K Sports
and
Novant Health
in recent years. In addition, he owns seven restaurants, a car dealership and his most valuable asset, 80 percent of the NBA's Charlotte Bobcats. Jordan used himself as the carrot to help close a Bobcats sponsorship deal with Novant in 2012.
Is Michael Jordan still relevant in today's culture? More than any other athlete if you go by hip-hop lyrics -- there were references to Jordan in 50 new songs in 2013, according to ESPN The Magazine's music issue. The next most mentioned athlete was Kobe Bryant at 18, followed by James with 15. Jordan was named the most popular sports figure of 2013 in the ESPN Sports Poll, with 4.2 percent of the vote. Jordan's Q score, which gauges awareness and popularity, has been tops among sports fans every year since 1991. His 25 million Facebook fans are 43 percent more than any other U.S. athlete.
Jordan's ownership tenure, first with the Washington Wizards and now with the Bobcats, has been rocky (his motorsports team also shut down last year due to a lack of sponsorship). He has not been able to translate his prowess on the court into the ownership suite in terms of wins and losses. But from a business sense, Jordan might hit another game-winner with his ownership of Charlotte.
Jordan became majority owner of the Bobcats in 2010 in a deal that valued the team at just $175 million. Jordan also agreed to put up cash to cover operating losses the team was piling up. But after five straight years of heavy losses, the Bobcats turned an operating profit (earnings before interest, taxes and depreciation) of $7 million last season.

The team benefits from the new collective bargaining agreement that reduced the players' cut of revenues from 57 percent to 50 percent. The CBA also tripled the revenue sharing going from the NBA's haves to have-nots. Charlotte is one of the biggest beneficiaries, with revenue sharing that should reach $18 million a year.
NBA teams are also on the verge of a massive cash infusion with new TV deals set to be negotiated this year. The current pacts with ESPN/ABC and TNT are worth $930 million annually and insiders think the next round of agreements will be worth at least twice as much.

The value of the Bobcats, which Jordan owns 80 percent of, was up 30 percent over the last year to $410 million in Forbes' latest look at the business of basketball. Mark Cuban thinks every NBA team will be worth $1 billion within 10 years. We estimate Jordan's current net worth at $750 million. His earnings prowess shows no sign of letting up and should land him a spot on Forbes billionaire list in the coming years.
More on Forbes
DATA PROVIDERS
Copyright © 2014 Microsoft. All rights reserved.
Fundamental company data and historical chart data provided by Morningstar Inc. Real-time index quotes and delayed quotes supplied by Morningstar Inc. Quotes delayed by up to 15 minutes, except where indicated otherwise. Fund summary, fund performance and dividend data provided by Morningstar Inc. Analyst recommendations provided by Zacks Investment Research. StockScouter data provided by Verus Analytics. IPO data provided by Hoover's Inc. Index membership data provided by Morningstar Inc.
MARKET UPDATE
NAME
LAST
CHANGE
% CHANGE
There's a problem getting this information right now. Please try again later.
NAME
LAST
CHANGE
% CHANGE
There's a problem getting this information right now. Please try again later.
Market index data delayed by 15 minutes
[BRIEFING.COM] The stock market finished the Thursday session on a higher note with the S&P 500 climbing 0.5%. The benchmark index registered an early high within the first 90 minutes and inched to a new session best during the final hour of the action.

Equities rallied out of the gate with the financial sector (+1.1%) providing noteworthy support for the second day in a row. The growth-oriented sector extended its September gain to 1.9% versus a more modest uptick of 0.4% for the ... More
More Market News
Currencies
NAME
LAST
CHANGE
% CHANGE
There's a problem getting this information right now. Please try again later.