In fast food, CEO pay rises far above all
A new study says that top bosses in the sector make 1,200 times as much as the average worker.
By Eric Reed, 
MainStreet
The news has not been kind to the fast-food industry over the past few years. 

From labor strikes to claims of wage theft, companies like McDonald's (MCD) and Burger King (BKW) have taken increasing criticism for treatment of workers and their low-wage jobs. 
Now, a new report from New York-based think tank Demos has added fuel to the fire.
The study charts inequality between executive and worker pay across multiple industries, and finds that fast food overwhelmingly leads the nation. According to the Demos study, the average pay ratio between CEOs and employees working in "accommodation and food services" is 332-to-1, about 44 percent higher than retail, the next most unequal industry.
Most of this disparity comes from the fast-food industry, where in 2012 CEOs made 1,200 times as much as the average worker.
Catherine Ruetschlin, the author of the study, took care to note that her work tracked the relationship between executives and average, non-supervisory employees. Not only are fast food CEOs some of the highest paid in America, but their typical workers receive "stagnant poverty-level wages."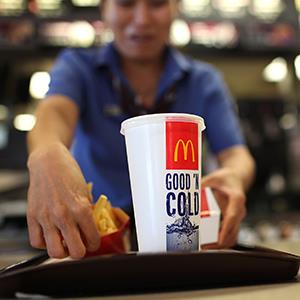 Fast-food workers are among the lowest paid in America, taking home an average $9.09 per hour. In real dollars, their wages have increased by 0.3 percent since year 2000, while CEO salaries in the fast-food industry have increased by 400 percent.
According to Ruetschlin, it's the relationship between these two findings, not just one, that drives the study's results. The study emphasized that growing inequality has repercussions for the economy overall, as the most unequal sectors are providing most of the new jobs at the expense of more equal ones.
"The kinds of problems that we're seeing in fast food are really a critical sign of how inequality can undermine the fundamentals of the firm," Ruetschlin said. "Things like declining customer satisfaction, litigation, and the class action lawsuits actually have associated costs . . . This research really does suggest that there is a payoff to investing in wages at the bottom when it mitigates the risks associated with that growing disparity."
That payoff may be harder to realize than equality advocates hope, however. Although Ruetschlin identified real challenges associated with long-term inequality, high-turnover shareholders often emphasize short-term profits over structural issues. Low wages and high corporate pay lead to immediate profits and the associated risks may not manifest until long after current decision makers have left.
"I think that the turn to increasingly short-term shareholding is one of the forces that are the undercurrent of this growing disparity," Ruetschlin said. "It's a question of how the firm allocates the resources that they have on hand, and we see these resources going to the executives at the top and less and less going to maintain the basic labor force and services."
Progress, even if slow, is being made, however. Ruetschlin cited examples like Whole Foods Market (WFM), which has a fixed worker-to-executive pay ratio, and programs by McDonald's to try and improve customer satisfaction.
Opponents argue that this week's report is simply propaganda in favor of a higher minimum wage. Labor unions have contributed heavily to Demos, donating over $200,000 to the group in 2013 alone, although the group does announce its alliances with the slogan "an equal say and an equal chance for all."
Regardless of Demos's partisan leanings, however, even the study's opponents don't argue the accuracy of its findings. The core result that fast food CEOs take home 1,200 times the pay of their average worker remains true.

More from MainStreet
5 Places Minimum Wage Earners Can Buy a Three-Bedroom Home

DATA PROVIDERS
Copyright © 2014 Microsoft. All rights reserved.
Fundamental company data and historical chart data provided by Morningstar Inc. Real-time index quotes and delayed quotes supplied by Morningstar Inc. Quotes delayed by up to 15 minutes, except where indicated otherwise. Fund summary, fund performance and dividend data provided by Morningstar Inc. Analyst recommendations provided by Zacks Investment Research. StockScouter data provided by Verus Analytics. IPO data provided by Hoover's Inc. Index membership data provided by Morningstar Inc.
MARKET UPDATE
NAME
LAST
CHANGE
% CHANGE
There's a problem getting this information right now. Please try again later.
NAME
LAST
CHANGE
% CHANGE
There's a problem getting this information right now. Please try again later.
Market index data delayed by 15 minutes
[BRIEFING.COM] The stock market welcomed the new trading week with a mixed session that saw relative strength among large-cap stocks, while high-beta names underperformed. The Dow Jones Industrial Average (+0.3%) and S&P 500 (-0.1%) finished near their flat lines, while the Nasdaq Composite and Russell 2000 both lost 1.1%.

Equities began the day on a cautious note amid continued concerns regarding the strength of the global economy. Over the weekend, China reported its first decline ... More
More Market News
Currencies
NAME
LAST
CHANGE
% CHANGE
There's a problem getting this information right now. Please try again later.