McDonald's has more tone-deaf tips for workers
The fast-food giant is again under fire for obtuse financial advice it reportedly offered its low-wage employees, suggesting they sell unwanted items online to raise cash and 'quit complaining.'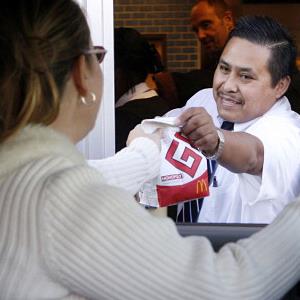 By Bruce Kennedy

McDonald's (MCD) is coming under fire for recommendations it reportedly offered its workers on an in-house, employees-only McResource Line website, on how to cope with issues like the upcoming holiday financial crunch.
According to screen grabs compiled by the activist group Low Pay Is Not OK, the McDonald's site offers such stress management tips as "Pack your bags: At least two vacations a year can cut heart attack risk by 50 percent." It also suggests singing away stress to lower blood pressure, as well as to "quit complaining."
When it comes to digging out from debt, the McResource Line suggests employees "consider returning some of your unopened purchases that may not seem appealing as they did."
"Selling some of your unwanted possessions on eBay (EBAY) or Craigslist," it adds, "could bring in some quick cash." And in terms of making ends meet, the site reportedly recommends breaking food into pieces -- a tactic, it says, that "often results in eating less and still feeling full."
Some employees of the fast-food giant are expressing their dismay at the company's seemingly tone deaf attempts to assist them.
"We make $7.25 an hour," Jeanette Lynn, a 26-year-old McDonald's worker in Durham, N.C., told the Huffington Post. "Why in the world would we take vacation if we already aren't getting paid enough?"
Lisa McComb, director of U.S. media relations for McDonald's, told the Huffington Post the McResource Line is meant to be an employee resource, and that some of the tips there could be "taken out of context."
But this isn't the first time the restaurant chain has been taken to task for how it approaches the financial dilemmas of its minimum-wage workers. Earlier this year, critics say, a financial planning site put together by McDonald's and Visa (V) unintentionally showed, in the words of The Atlantic's Jordan Weissmann, "how impossible it is to scrape by on a fast-food paycheck."
And then there was the recent news about a food drive at a Wal-Mart (WMT) in Canton, Ohio -- where local Wal-Mart workers can donate food items, so their "associates in need can enjoy Thanksgiving dinner."
A company spokesman told The Cleveland Plain Dealer the food drive shows Wal-Mart employee concern for their co-workers. But Norma Mills, an organizer with the activist group Stand Up for Ohio, disagrees.
"That Wal-mart would have the audacity to ask low-wage workers to donate food to other low-wage workers," she told the newspaper, "to me, it is a moral outrage."
Read more from Benzinga:
DATA PROVIDERS
Copyright © 2014 Microsoft. All rights reserved.
Fundamental company data and historical chart data provided by Morningstar Inc. Real-time index quotes and delayed quotes supplied by Morningstar Inc. Quotes delayed by up to 15 minutes, except where indicated otherwise. Fund summary, fund performance and dividend data provided by Morningstar Inc. Analyst recommendations provided by Zacks Investment Research. StockScouter data provided by Verus Analytics. IPO data provided by Hoover's Inc. Index membership data provided by Morningstar Inc.
MARKET UPDATE
NAME
LAST
CHANGE
% CHANGE
There's a problem getting this information right now. Please try again later.
NAME
LAST
CHANGE
% CHANGE
There's a problem getting this information right now. Please try again later.
Market index data delayed by 15 minutes
[BRIEFING.COM]
Commodities are mixed this morning, while the dollar index is flat
Sept crude oil has been in the red all morning and hit a new LoD near $101/barrel a short while ago. Sept crude oil is currently -0.8% at $101.25/barrel.
Aug natural gas futures rallied to a new HoD of $3.85/MMbtu. The energy component it holding those gains and is now +1.4% at $3.83/MMbtu
Precious metals are rather consolidated this morning. Aug gold is currently +0.1% at ... More
More Market News
Currencies
NAME
LAST
CHANGE
% CHANGE
There's a problem getting this information right now. Please try again later.