Mickelson trading probe may be losing steam
Initial reports said investigators were looking into the golfer's trading of Clorox shares. Now it appears that he didn't trade Clorox at all.
By Nathan Vardi,
Forbes
When news first broke about the existence of a federal insider-trading probe into billionaire Carl Icahn, golfer Phil Mickelson and sports gambler William Walters, Icahn was quick to point out that he and Mickelson didn't know each other.

Now, it appears that there really isn't any connection between Icahn and Mickelson. The New York Times reported on Wednesday night that Mickelson did not trade shares of Clorox (CLX) in 2011.
Initial reports about the insider-trading probe said that federal investigators were examining trading of Clorox by Mickelson and Walters around the time that Icahn was launching a takeover effort of the company that ultimately failed. 
The government appeared to be looking into whether Icahn leaked details of his takeover plans that Mickelson and Walters, who does know Icahn, traded on. All three men have denied any wrongdoing.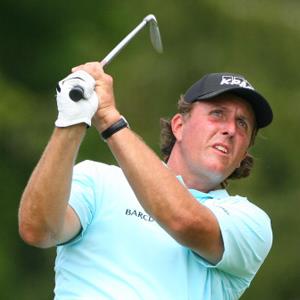 But if Mickelson (pictured) didn't even trade in Clorox, there would be no issue that could even potentially tie the golfer to Icahn. The Times reported that federal investigators are still examining Mickelson's trading in Dean Foods (DF), but Icahn never had anything to do with that stock.
Glenn Cohen, a lawyer for Mickelson, told The Wall Street Journal when the insider-trading story first broke that an FBI agent had informed him that the golfer was not a target of the investigation. The New York Times reiterated this notion on Wednesday, reporting that an FBI agent had informed Mickelson that the government has no plans to prosecute him. The Times also said its previous reporting overstated the scope of the investigation into Mickelson.
Mickelson, an accomplished golfer who has won the Masters tournament three times, will try to win his first U.S. Open starting on Thursday.
More from Forbes
DATA PROVIDERS
Copyright © 2014 Microsoft. All rights reserved.
Fundamental company data and historical chart data provided by Morningstar Inc. Real-time index quotes and delayed quotes supplied by Morningstar Inc. Quotes delayed by up to 15 minutes, except where indicated otherwise. Fund summary, fund performance and dividend data provided by Morningstar Inc. Analyst recommendations provided by Zacks Investment Research. StockScouter data provided by Verus Analytics. IPO data provided by Hoover's Inc. Index membership data provided by Morningstar Inc.
MARKET UPDATE
NAME
LAST
CHANGE
% CHANGE
There's a problem getting this information right now. Please try again later.
NAME
LAST
CHANGE
% CHANGE
There's a problem getting this information right now. Please try again later.
Market index data delayed by 15 minutes
[BRIEFING.COM] Recent action saw the key indices inch to fresh lows for the session. Including today's decline of 0.8%, the S&P 500 is lower by 0.5% so far in September. Despite the loss for the month, the benchmark index has fared a bit better than its higher-beta peers. On that note, the Nasdaq has given up 1.3% so far this month, while the Russell 2000 is down 3.7% for the month. Elsewhere, the price-weighted Dow (-0.5%) trades ahead of the broader market today and is up 0.6% for the ... More
More Market News
Currencies
NAME
LAST
CHANGE
% CHANGE
There's a problem getting this information right now. Please try again later.