New poll finds widespread economic anxiety
Respondents in the survey fear their children's generation will have fewer opportunities -- and they blame Washington politicians.
By Patrick O'Connor,
The Wall Street Journal
Still scarred by a recession that ended five years ago, Americans are registering record levels of anxiety about the opportunities available to younger generations and are pessimistic about the nation's long-term prospects, directing their blame at elected leaders in Washington.

A new Wall Street Journal/NBC News poll found that despite the steady pace of hiring in recent months, 76 percent of adults lack confidence that their children's generation will have a better life than they do -- an all-time high. Some 71 percent of adults think the country is on the wrong track, a leap of 8 points from a June survey, and 60 percent believe the U.S. is in a state of decline.
What's more, seven in 10 adults blamed the malaise more on Washington leaders than on any deeper economic trends, and 79 percent expressed some level of dissatisfaction with the American political system.
"The American public is telling its elected representatives that the economic distress that a significant proportion of them are feeling is directly their fault," said Democratic pollster Fred Yang, who conducts the Journal poll with Republican Bill McInturff. "The public seems to have moved beyond the plaintive cry of 'feel our pain' to the more angry pronouncement of 'you are causing our pain.'"

That frustration is taking its toll on President Barack Obama and members of Congress. Mr. Obama registered his lowest-ever approval rating for his overall job performance and handling of foreign policy in the new Journal poll, as well as the worst personal favorability ratings of his presidency.
The president's approval rating dropped to 40 percent in this latest poll from 41 percent in a June survey, and he notched a disapproval rating of 54 percent, matching a previous high. Meanwhile, 36 percent approve of Mr. Obama's handling of foreign policy, compared with the 60 percent who disapprove -- his worst-ever marks.
Congressional Republicans fared even worse, with 54 percent of adults viewing them negatively and just 19 percent expressing positive views, a gap of 35 percentage points. Democrats in Congress were viewed negatively by 46 percent and favorably by 31 percent, a difference of 15 points.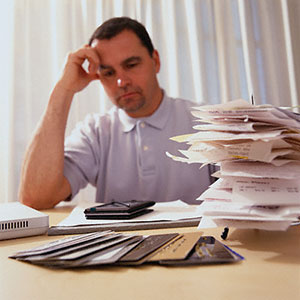 This gloom sets the stage for a midterm election in which Americans, according to the early data, are less motivated to vote than in many previous cycles, a trend bound to complicate Democratic efforts to hold the Senate. But the lingering frustration with Washington also presents a hurdle for Republicans, who continue to fall further out of favor with women.
"If there was ever a hold-our-nose election, this certainly would be it," Mr. Yang said.
The latest Journal poll of 1,000 adults, conducted between Wednesday and Sunday night, found some signs of improvement in American views of the economy. Half of those polled said the economy is improving, and 49 percent think the U.S. is still in a recession, down from 58 percent last summer and 77 percent in 2008.
Sixty-four percent of those polled said they are still feeling some impact from the recession, down from the 71 percent who said they initially felt effects from the downturn when it began more than six years ago. Forty percent said someone in their household had lost a job over the last five years, and one of three said someone they live with was forced to take a job with a significantly lower income.
While hiring has picked up and job openings are at a seven-year high, growth in inflation-adjusted wages and family income has been distressingly slow. The Census Bureau says the income of the median, or typical, American family in 2012 was $51,017, or about the same as in 1995 adjusting for inflation. Median family income is about 8 percent below 2007 levels.
"I was doing better five years ago than I'm doing now," said Laura Colvin, 29, a fast-food worker in Jonesboro, Ark., whose hourly wage has risen less than a $1 over that period while her utility costs and the price of other goods and services have risen.
"We've always wanted our kids to have it better than we did, whether it's an education or a good job, and it just doesn't seem like I see that for my kids," said Luis Gomez, 64 years old, a land surveyor from Overland Park, Kan., who is worried about the costs of higher education for his 17-year-old son. "It feels like we're Japan, that the economy has flatlined."
In the survey, roughly a quarter of adults said they or their child has more than $5,000 in student-loan debt, and 25 percent said someone in their house had to take a second job just to pay the bills. The groups most impacted by the recession include: Latinos, white women between the ages of 35 and 49, people who make less than $30,000 and white working-class Americans.
A majority of those polled agreed with the statement that growing income inequality between the wealthy and everyone else "is undermining the idea that every American has the opportunity to move up to a better standard of living." Those impacted most by the recession were far more likely to hold that view.
This widespread discontent is evident among just about every segment of the population. Fifty-seven percent of those polled said that something upset them enough to carry a protest sign for one day. That included 61 percent of Democrats and 54 percent of Republicans, as well as 70 percent of adults who identify with the tea party and 67 percent of self-described liberals. The poll has a margin of error of plus or minus 3.1 percentage points.
With congressional approval ratings still hovering near all-time lows, a plurality of those polled said they want their vote in this fall's midterm election to be seen as a message that the country needs incumbents of both parties to lose to usher new people into Congress. Adults split more or less evenly between those who want their votes to be a referendum for, or a check on, Mr. Obama.
"I don't think they're working for the middle class," said Evan Coley, a 22-year-old resident of Albermarle, N.C., who works in an auto shop. "They're trying to help themselves more than anyone else."
Al McCauley, a 51-year-old from Greenboro, N.C., who is currently out of work, blames both parties equally for the dysfunction. "Both sides need to get their act together," he said. "They're not working with each other."
Republicans enjoy a narrow edge on the question of which party those polled want controlling Congress, but there are few signs at this point the party will enjoy a wave like the ones that swept Democrats to power in 2006 and Republicans back to the House majority in 2010.
"What we're seeing is a good Republican cycle, but not yet like the wave elections we saw in 2006 and 2010," said Mr. McInturff, the Republican pollster. While dissatisfaction with the nation's course and its president have marked prior "wave" elections in which one party made big gains, enthusiasm about the election remains low among all but the most conservative Republicans.
What's more, women continue to turn their back on the GOP. Women favor a Democratic Congress, 51 percent to 37 percent. The reverse is true for men. Republicans drew slightly more support from women than Democrats did in 2010, exit polls found, one reason for the large GOP gains in Congress that year.
—Nick Timiraos contributed to this article.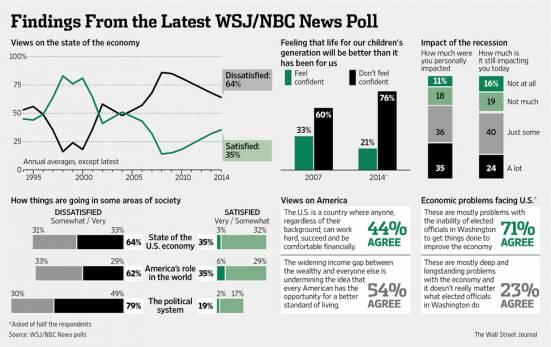 More from The Wall Street Journal
DATA PROVIDERS
Copyright © 2014 Microsoft. All rights reserved.
Fundamental company data and historical chart data provided by Morningstar Inc. Real-time index quotes and delayed quotes supplied by Morningstar Inc. Quotes delayed by up to 15 minutes, except where indicated otherwise. Fund summary, fund performance and dividend data provided by Morningstar Inc. Analyst recommendations provided by Zacks Investment Research. StockScouter data provided by Verus Analytics. IPO data provided by Hoover's Inc. Index membership data provided by Morningstar Inc.
MARKET UPDATE
NAME
LAST
CHANGE
% CHANGE
There's a problem getting this information right now. Please try again later.
NAME
LAST
CHANGE
% CHANGE
There's a problem getting this information right now. Please try again later.
Market index data delayed by 15 minutes
[BRIEFING.COM] The S&P 500 trades higher by 0.8% with one hour remaining in the session. Investors have not received any market-moving earnings in recent days, but that could change tomorrow with a couple notable reports expected to be released between today's closing bell and tomorrow's open.

Following today's session, software company Adobe Systems (ADBE 70.75, +0.48) will report its quarterly results with the Capital IQ consensus calling for a year-over-year earnings decay ... More
More Market News
Currencies
NAME
LAST
CHANGE
% CHANGE
There's a problem getting this information right now. Please try again later.