Oops! $10 million yacht sinks after launch
The company that built the boat blames the launch apparatus. Still, it suspends production and lays off staff.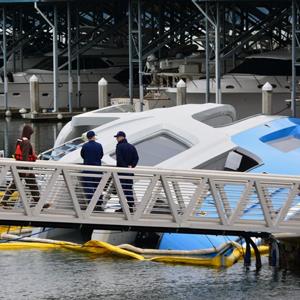 By
CNBC.com
staff
A $10 million, 90-foot yacht was being launched in Washington state when it suddenly capsized.

The yacht, named Baden (pictured), had already been lowered into the water in Anacortes, Wash., when it slowly tilted and then sank, according to media reports.
The cause of last month's accident is under investigation, but New World Yacht Builders, which built the yacht under the Northern Marine brand, said the problem appeared to be in the launch apparatus, not with the boat.
"The physical evidence on, and adjacent to, the launch ramp suggests that the dolly carrying the weight of the port stern of the yacht may have suddenly dropped off the edge of the boat ramp during the launch, causing the vessel to experience a sudden list to port, from which it could not recover in its light condition for launch," Northern Marine said in a press release.
A YouTube video from YachtVid shows someone at the launch ceremony breaking the ritual champagne bottle on the hull before the boat slid into the water.
As it entered the water, the vessel started to lean to the port side, and then quickly capsized. Six people were on board and all escaped serious injury, according to reports.
Northern Marine said it has launched more than 35 vessels at the same ramp with no previous problems. Baden is a so-called "explorer yacht," designed more for remote expeditions than leisure.
The company added that it has "complete confidence" in its designs. According to a local media report, New World Yacht has since laid off its staff of 52 and production has been suspended.
--Image credit: Deane Hislop

More from CNBC
DATA PROVIDERS
Copyright © 2014 Microsoft. All rights reserved.
Fundamental company data and historical chart data provided by Morningstar Inc. Real-time index quotes and delayed quotes supplied by Morningstar Inc. Quotes delayed by up to 15 minutes, except where indicated otherwise. Fund summary, fund performance and dividend data provided by Morningstar Inc. Analyst recommendations provided by Zacks Investment Research. StockScouter data provided by Verus Analytics. IPO data provided by Hoover's Inc. Index membership data provided by Morningstar Inc.
MARKET UPDATE
NAME
LAST
CHANGE
% CHANGE
There's a problem getting this information right now. Please try again later.
NAME
LAST
CHANGE
% CHANGE
There's a problem getting this information right now. Please try again later.
Market index data delayed by 15 minutes
[BRIEFING.COM] The stock market began the last week of July on a quiet note with the S&P 500 ending less than a point above its flat line. Like the benchmark index, the Dow Jones Industrial Average (+0.1%) also posted a slim gain, while the Russell 2000 (-0.5%) and Nasdaq Composite (-0.1%) lagged throughout the session.

The major averages were awakened from their weekend slumber with an opening retreat that pressured the S&P 500 below its 20-day moving average (1975). Even though ... More
More Market News
Currencies
NAME
LAST
CHANGE
% CHANGE
There's a problem getting this information right now. Please try again later.