Open immigration could double the global economy
A recent study showed that opening borders could give the world a one-time boost of 50% to 150%.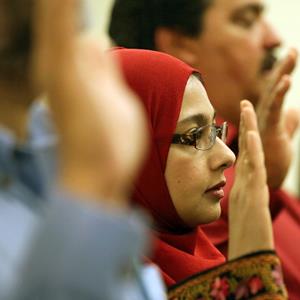 By John Aziz, The Week
On Sunday's "This Week," Facebook (FB) founder Mark Zuckerberg sat down with David Wright to champion the cause of immigration reform, calling it "one of the biggest civil rights issues of our time."

I happen to agree with Zuckerberg that immigration reform is a deeply moral issue. But even if you don't, I encourage you to look at the economic case because it's very compelling in a different way.
Many economists believe that restricted migration is a very large policy error. A 2011 study by Madeleine Zavodny of the American Enterprise Institute found that immigrants typically pay much more in taxes than they receive in government services. 
The study also found that immigrant workers created jobs for the native population, rather than taking them away. Each additional 100 H1-B workers were found to have generated 183 new jobs for the native population, and each 100 additional H2-B workers generated 464 new jobs for the native population. And even undocumented immigrants pay more taxes than they receive in benefits, according to a 2007 study.

With an aging population increasingly retiring and beginning to draw more heavily on government services like Medicare and Social Security, it makes fiscal sense for America to let in more young tax-paying immigrants who will create jobs and boost government finances.
But many economists want to go further and move toward a world of open borders and totally unrestricted immigration.
Why? We live in a world where job opportunities are spread out across the face of the globe. By giving individuals the freedom of movement to work anywhere, we let people specialize in what they are best at.
According to the paper "Economics and Emigration: Trillion-Dollar Bills on the Sidewalk?" (2011) by Michael Clemens at the Center for Global Development, open borders could lead to a one-time boost in world economic activity of about 50 to 150 percent. That would be enough to lift billions out of poverty and it could come about simply from lifting restrictions on human movement and letting people find their niche in the global economy.
Of course, these are just estimates. In reality, there's no guarantee we would see such a boost because the real world doesn't always work the way economists think it does. People may not be so willing to relocate for social, cultural, or familial reasons, for example. At the same time, cultural opposition toward immigrants in most parts of the world remains firm -- 45 percent of people in a recent global poll believed that immigration had a negative impact on their country, compared with just 21 percent who believed it had a positive impact.
Nevertheless, there are glimmers of a future where immigration is more accepted and open. The internet, for instance, is helping connect people by spreading news and ideas around the world in minutes or hours instead of days or weeks. English is becoming a transnational language, facilitating communication across countries and continents. And we are seeing the rise of transnational cultures, which are building commonalities around shared values and experiences.
All of these things are probably a necessary prerequisite for a more open, borderless world and keep me optimistic about its chances of being realized.
More from TheWeek.com
In the US, the vast majority of individual wealth is in the hands of only a small percentage of Americans. The top 1% of US households owns 35% of all privately held wealth, while about 19% hold roughly 54% of individual wealth. Therefore, 20% of Americans own about 89% of the nation's individual wealth. Only 11% of the individual wealth is held by the remaining 80% of Americans. It is clear that an "open immigration" approach, as described within the above article (as well as on a recent PBS radio debate), would permit non-citizens from around the world to enter the US, take jobs from Americans, do so at lower wages and, thereby, further drive down the wages of Americans. This approach would prove further injurious to the 80% of Americans that are already challenged by possessing a mere 11% of individual wealth within the US. Additionally, this approach would, in a vulgar sense, grossly further increase the wealth of both America's top 1% of individuals - and American corporations. The article seems to suggest that we have a moral responsibility to take this path in order to lift millions from across the world from poverty. Horse hockey! THERE IS "NO" FREE LUNCH! Taking the approach suggested above via "open immigration" would be horribly immoral because it would lift non-citizens at the expense of driving millions of Americans deeper into poverty, while simultaneously driving millions of now middle class Americans out of the middle class - and into poverty. This would be an immoral act inflicted upon today's living Americans, as well as an immoral act inflicted upon Americans not yet born, not to mention spitting on the sacrifices of untold millions of Americans throughout our history whose sacrifices have built this great nation. As regards morality, no people on the face of the Earth have proven themselves as generous as Americans toward helping the less fortunate of the world. Americans are highly moral regarding their willingness to help the less fortunate. Clearly, responsible immigration benefits and enriches America, but only when it is controlled and "strictly" executed under US laws and regulations designed to benefit the American people as a whole.  PLEASE - after reading the above article, write to your 2 US Senators and House of Representative to insist that such an un-American philosophy as suggested within the above article NEVER be permitted within America. Your children and your children's children for generations to come will owe you a debt of gratitude for helping to insure that the America we leave them is one we can all be proud to have passed on to future generations of Americans. Thank you - and God Bless America!
Are you sure you want to delete this comment?
DATA PROVIDERS
Copyright © 2014 Microsoft. All rights reserved.
Fundamental company data and historical chart data provided by Morningstar Inc. Real-time index quotes and delayed quotes supplied by Morningstar Inc. Quotes delayed by up to 15 minutes, except where indicated otherwise. Fund summary, fund performance and dividend data provided by Morningstar Inc. Analyst recommendations provided by Zacks Investment Research. StockScouter data provided by Verus Analytics. IPO data provided by Hoover's Inc. Index membership data provided by Morningstar Inc.
MARKET UPDATE
NAME
LAST
CHANGE
% CHANGE
There's a problem getting this information right now. Please try again later.
NAME
LAST
CHANGE
% CHANGE
There's a problem getting this information right now. Please try again later.
Market index data delayed by 15 minutes
[BRIEFING.COM] S&P futures vs fair value: +4.90. Nasdaq futures vs fair value: +13.50. U.S. equity futures trade modestly higher amid upbeat action overseas. The S&P 500 futures hover five points above fair value. The global risk appetite got a boost overnight after the results of the Scottish independence referendum revealed a 55-45 vote in favor of remaining in the UK. The pound saw a brief extension of its recent rally before surrendering its overnight advance. The pound/dollar ... More
More Market News
Currencies
NAME
LAST
CHANGE
% CHANGE
There's a problem getting this information right now. Please try again later.