Pentagon's $5.5 billion shutdown shopping spree
Hours before much of the government went on hiatus, the Pentagon was buying trucks, submarines and a new gym for the Air Force Academy.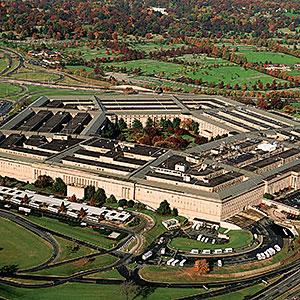 By Brianna Ehley, The Fiscal Times
Just hours before Congress shut down

the federal government and put hundreds of thousands of federal workers out of work, the Pentagon quietly went on a shopping spree and spent billions.
The Defense Department awarded 94 contracts totaling more than $5.5 billion on everything from Mercedes-Benz trucks and robot submarines to a new gym at the Air Force Academy, complete with a television studio, Foreign Policy first reported.
Then a few hours later, the government shut down and 400,000 DOD civilian employees were furloughed until further notice.
The Pentagon awards hundreds of millions of dollars in pre-approved contracts to companies every day, but it typically spends more on the last day of the fiscal year.
This time, however, was a different story, since Congress still hasn't approved a budget to fund the government for the New Year. This leaves all departments and federal workers in limbo until the standstill on Capitol Hill is resolved.
Here's a sample of what was in DOD's shopping cart Monday night:
$2.5 billion – for "spare parts" used by the Army, Navy, Air Force and Marine Corps. The contract was awarded by the Defense Logistics Agency (DLA) to Connecticut-based aircraft engine-maker Pratt & Whitney.
$230 million for the continuing operation of the sea-going X-band radar station that the Missile Defense Agency uses to detect ballistic missile launches in Asia. The contract was awarded to Massachusetts-based Raytheon (RTN).
$200 million for body armor and tactical vests made by Federal Prisons Industries to sell to other countries.
$139 million for sonar made by Lockheed Martin that allows destroyers to detect submarines and underwater mines.
$66 million for a new fuel pier at the Naval Base Point Loma.
$65 million for military helmets made by Arizona-based BAE Systems (BAESF), and used by the Army, Navy, Air Force and Marines.
$64 million to Lockheed Martin (LMT) for help operating spy satellites that are equipped with infrared cameras.
$49 million to Boeing (BA) to develop an upgraded version of the Army's MH-6 Little Bird chopper.
$49 million for 16 MQ-9 Reaper drones made by General Atomics for France.
$40 million for scalable offensive hand grenades that lets users choose the level of blast needed for the situation. The contract was awarded to Arizona-based Nammo Talley.
$19 million on cots for the Navy, Army, Marine Corps and Air Force (At these prices, they better be Tempur-Pedic.)
$18 million for a robot submarine that can save people from broken submarines up to 2,000 feet underwater.
 $15 million for a bulk of helium.
$9 million for field jackets for the Afghan National Police Force.
$9 million for the Air Force Academy's new gym that will include CrossFit training, a Triathlon Club and a television studio (for some reason).
$7.5 million purchase of 60 Mercedes-Benz trucks for the U.S. Africa Command (AFRICOM).
$6 million for thermally insensitive telescope mirrors created by Trex Enterprises. 
Related at The Fiscal Times:
DATA PROVIDERS
Copyright © 2014 Microsoft. All rights reserved.
Fundamental company data and historical chart data provided by Morningstar Inc. Real-time index quotes and delayed quotes supplied by Morningstar Inc. Quotes delayed by up to 15 minutes, except where indicated otherwise. Fund summary, fund performance and dividend data provided by Morningstar Inc. Analyst recommendations provided by Zacks Investment Research. StockScouter data provided by Verus Analytics. IPO data provided by Hoover's Inc. Index membership data provided by Morningstar Inc.
MARKET UPDATE
NAME
LAST
CHANGE
% CHANGE
There's a problem getting this information right now. Please try again later.
NAME
LAST
CHANGE
% CHANGE
There's a problem getting this information right now. Please try again later.
Market index data delayed by 15 minutes
[BRIEFING.COM] The headlines generally favored Tuesday being another good day for the stock market. Instead, it was just a mixed day with modest point changes on either side of the unchanged mark for the major indices.

For the most part, the stock market was a sideshow. The main trading events were seen in the commodity and Treasury markets, both of which saw some decent-sized losses within their respective complex.

Dollar strength was at the heart of the weakness in ... More
More Market News
Currencies
NAME
LAST
CHANGE
% CHANGE
There's a problem getting this information right now. Please try again later.