People left $500,000 in coins at airports last year
Travelers forgot to pick up the money at security checkpoints. What should the government do with it all?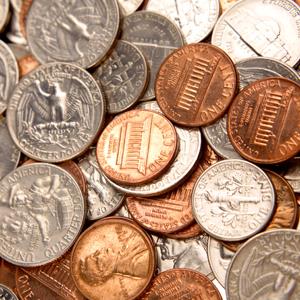 By Christopher Freeburn

Boarding an airplane can be an incredible hassle, and it's costing Americans a surprising amount of money in pocket change.
The Transportation Security Administration says that last year, people moving through airport security checkpoints -- in which they are required to remove the contents of their pockets -- continued on with their journeys $531,395.22 lighter.

The agency, which collects money inadvertently left in the white and gray bins at security screening points, is required by Congress to devote any monies collected from forgotten change to improving civil aviation security. But, so far, the TSA has spent just a fraction of last year's haul, The Washington Post notes.
Money collected at local airports and regional hubs is ultimately sent to the TSA's headquarters and reported to Congress. Between 2008 and 2010, the agency collected roughly $400,000 per year in neglected change, making 2012 a banner year -- at travelers' expense.
Last year, Miami International Airport generated the most left-behind change, a whopping $39,613. Las Vegas wasn't far behind, with travelers leaving almost $27,000 in change in its security bins. By contrast, travelers left behind just $1.70 at Guam's Antonio B. Won Pat International Airport in 2012.
The TSA has managed to spend just $6,500 of the more than half-million dollars it collected last year. At least one U.S. Congressman wants the agency to donate unspent funds to charities that aid military personnel when they travel. However, that could mean additional accounting costs for the agency, which would have to comply with federal financial reporting rules for money donated to non-profits.
But maybe they should put more of that money back into training: In October, a 9-year-old boy managed to evade TSA personnel and board a flight to Las Vegas at the Minneapolis/St. Paul airport even though he didn't have a ticket and wasn't accompanied by an adult.
More From InvestorPlace
DATA PROVIDERS
Copyright © 2014 Microsoft. All rights reserved.
Fundamental company data and historical chart data provided by Morningstar Inc. Real-time index quotes and delayed quotes supplied by Morningstar Inc. Quotes delayed by up to 15 minutes, except where indicated otherwise. Fund summary, fund performance and dividend data provided by Morningstar Inc. Analyst recommendations provided by Zacks Investment Research. StockScouter data provided by Verus Analytics. IPO data provided by Hoover's Inc. Index membership data provided by Morningstar Inc.
MARKET UPDATE
NAME
LAST
CHANGE
% CHANGE
There's a problem getting this information right now. Please try again later.
NAME
LAST
CHANGE
% CHANGE
There's a problem getting this information right now. Please try again later.
Market index data delayed by 15 minutes
[BRIEFING.COM] Equity indices remain near their best levels of the session with the S&P 500 trading higher by 0.4%.

Although the third week of September is nearing its end, there is still one big unknown that needs to be resolved ahead of the weekend. Specifically, the results of the Scottish independence referendum are expected to trickle in during the course of the night.

Many European banks have announced that their foreign exchange desks will be fully staffed in ... More
More Market News
Currencies
NAME
LAST
CHANGE
% CHANGE
There's a problem getting this information right now. Please try again later.