Report: Google Glass could save business big money
Researchers at Gartner say the eyewear could become invaluable to people who need documents and Internet access outside of the office.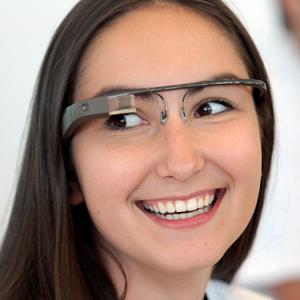 By Jim Probasco

A new report from market research firm Gartner suggests the use of Google (GOOG) Glass might save businesses as much as $1 billion annually by 2017.
So far, most of the attention on Google's new smart eyewear (pictured) has been on the consumer market. Gartner said that overlooks the impact wearable computing would have on enterprise in a variety of areas.
One of the most important advantages afforded by Glass is something called "augmented reality," or AR. Augmented reality makes use of the ability of Glass to project information in front of the wearer. AR would allow a repair technician, for example, to work on a piece of equipment with the repair manual or blueprints available in hands-free mode.
Other potential business uses include access to the Internet, recording video for insurance purposes, and conferencing. In short, with Glass it would be possible for those who work outside the office to carry all the information they need with them to the job site.
According to Angela McIntyre, research director at Gartner, "The greatest savings in field service will come from diagnosing and fixing problems more quickly and without needing to bring additional experts to remote sites."
Currently less than one percent of companies use Glass. Within five years, Gartner said up to 10 percent of enterprise will be using the device, especially companies with field service workers. To that end, IT organizations in many companies are already being asked to begin developing policies about the use of smart glasses, including BYOD (bring your own device) for workers who may see the advantage of bringing personal equipment to the job.
Meanwhile, Bloomberg Businessweek reported on other uses of smart glasses, such as in medicine. For example, Dr. Christopher Kaeding performed knee-ligament reconstruction in August and broadcast the procedure to Ohio State University medical students using a Google Glass device he borrowed from a colleague.
Not only were the students able to see the procedure and ask questions in real time, but another doctor in a remote location was able to see the surgery and offer consultation to Dr. Kaeding as needed.
The main hang-up to enterprise adoption so far is the availability of useful software. Google spokesman Chris Dale said the company is working with software developers like Evernote and others to develop apps for a variety of uses.
Some Glass features such as navigation, speech-to-text, and video conferencing are expected to attract certain types of business users even in the early stages of roll out. 
Roger Kay, president of Endpoint Technologies Associates, said companies involved in transportation, healthcare, and manufacturing may show interest, even if the devices cost as much as $600 to $800 initially.
Kay said he believed Google would sell 3 million Glasses worldwide in its first year 
and that 2 million of those would go to enterprise and government agencies.
At the time of this writing, Jim Probasco had no position in any mentioned securities.
Read more from Benzinga

Excellent development.  I can see industrial mechanics using them for maintenance work on a variety of equipment.    Not having to lug around the maintenance manual for every single different piece of equipment would be a big advantage.   Almost every job and profession will have applications for these glasses.  My only question is" What about people who already need to wear glasses?".  Anyone have an answer?

Wow... one portal for commentary... oodles of useless spin articles from Reuters and AP. Get the clue MSN... the world wants news with portals, not spin spew. Where do you go now that you have all your eggs in one giant corrupt intangible basket? Buy a hand basket and quick! The World Bank threatens that tapering will compromise emerging markets. Touch crap. Tapering is literally our only hope for salvage now. The odds actually favor an abrupt severance to ease the momentum of cascade failure we are dealing with. For the Kool Aid addicted morons who thrive on arrogance... eat this... $700 TRILLION in super-prioritized derivative debt instruments trump 100% of all stocks, bonds, metals, REITs... anything tied to organized finance.  If everything is made out of fake money, what are the odds that YOURS emerges unscathed? Idiot.  
Are you sure you want to delete this comment?
DATA PROVIDERS
Copyright © 2014 Microsoft. All rights reserved.
Fundamental company data and historical chart data provided by Morningstar Inc. Real-time index quotes and delayed quotes supplied by Morningstar Inc. Quotes delayed by up to 15 minutes, except where indicated otherwise. Fund summary, fund performance and dividend data provided by Morningstar Inc. Analyst recommendations provided by Zacks Investment Research. StockScouter data provided by Verus Analytics. IPO data provided by Hoover's Inc. Index membership data provided by Morningstar Inc.
MARKET UPDATE
NAME
LAST
CHANGE
% CHANGE
There's a problem getting this information right now. Please try again later.
NAME
LAST
CHANGE
% CHANGE
There's a problem getting this information right now. Please try again later.
Market index data delayed by 15 minutes
[BRIEFING.COM] The stock market finished an upbeat week on a mixed note. The S&P 500 shed less than a point, ending the week higher by 1.3%, while the Dow Jones Industrial Average (+0.1%) cemented a 1.7% advance for the week. High-beta names underperformed, which weighed on the Nasdaq Composite (-0.3%) and the Russell 2000 (-1.3%).

Equity indices displayed strength in the early going with the S&P 500 tagging the 2,019 level during the opening 30 minutes of the action. However, ... More
More Market News
Currencies
NAME
LAST
CHANGE
% CHANGE
There's a problem getting this information right now. Please try again later.