Rude clerks make rich shoppers spend more
When luxury customers feel like they aren't worthy, they pull out their pocketbooks, a new study shows.
By Brenda Cronin,
The Wall Street Journal
For luxury-goods retailers, nothing spikes sales like snubbing the customer.

Shoppers pining for a fancy handbag are more likely to pull out their credit cards than turn on their heels after encountering a rude clerk, according to new research. 
That's because indicating that some people don't fit with fancy brands motivates those individuals to prove they do -- by making a purchase.
Yet the tactic only works for high-end goods. The cold shoulder at the Gap (GPS) is likely to drive customers elsewhere, not trigger splurges on jeans and T-shirts.
The findings come in a new study, titled "Should the Devil Sell Prada? Retail Rejection Increases Aspiring Consumers' Desire for the Brand." The research looks into the perennial yearning to join particular groups and to flaunt that membership with clothes and accessories.
When a retailer signals, "'No, you don't deserve to be here,' it makes us want to be a member," said Darren Dahl, a professor at the Sauder School of Business in Vancouver who conducted the research with Morgan K. Ward, an assistant professor of marketing at Southern Methodist University's Cox School of Business.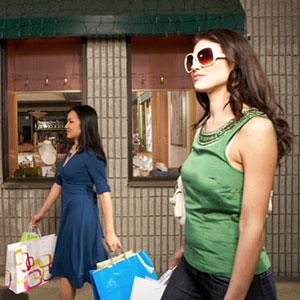 For the person eager to own a luxury-brand item, a withering sales clerk is a goad, Mr. Dahl said. Instead of driving a shopper away, the challenge prompts him to think, "I'm going to show you I have a right to be here."
Ms. Ward, who worked in fashion before becoming an academic, said the research stemmed from that puzzling -- but widespread -- response. "You'd think you'd want to be punitive to a brand that rejected you," she said. 
And yet consumers in the experiment punished only mass-market retailers -- or high-end ones where they felt indifferent, and not attracted, to the goods.  The paper will be published in the Journal of Consumer Research.
Neither author is advocating hauteur as a winning formula to move expensive clothes and handbags. "For luxury brands, the best strategy is to give good service," Mr. Dahl said. Long-term, (condescending to the customer) . . . is just not good for your brand or store."
Indeed, the authors found that while an imperious clerk could spark an impulsive purchase, the experience ultimately left customers with a poor impression of the brand.  A chilly reception could spark an aspiring luxury customer to buy something -- only to regret it later.
"In the moment, you take the challenge, to say, 'I belong here,' so you pay the money," Mr. Dahl said. "After, you go home and you're sitting on the couch and you're like, 'They were a—holes to me! I'm not going back.'"
Paco Underhill, founder of Envirosell, a New York consulting firm, cautioned against drawing conclusions from an experiment rather than real life.
Across the financial spectrum, "what we say and what we actually do at retail are very, very different," said Mr. Underhill, author of "What Women Want: The Science of Female Shopping," "Call of the Mall" and "Why We Buy: The Science of Shopping."
"If I interview somebody in the parking lot [of a high-end retailer such as Louis Vuitton or a mass-market one such as Wal-Mart] . . . even if I follow them through the store, what they tell me and what they do are often very, very different things," he said.
Figuring out how to approach customers is a challenge for retailers in a world where one's clothes, age or bearing don't immediately signal state in life, he said.
In part of the experiment, Professors Ward and Dahl asked more than 350 women what they would do after reading about an encounter with a sales clerk. 
The researchers located the hypothetical scenario in six venues: three high-end stores -- Louis Vuitton, Burberry (BURBY) and Gucci -- and three mass-market ones -- American Eagle (AEO), Gap and H&M. When the word "condescending' was inserted to describe the manner of the clerk in a high-end shop, women who aspired to wear the brand were more willing to make a purchase than women without such aspirations -- or ones who were treated neutrally.  
And when women read about rude receptions at the lower-end stores, they seemed less inclined, not more, to buy than when greeted neutrally.
In another part of the experiment, the researchers had more than 100 men and women meet individually with a person posing as representative of a car company considering whether to open a dealership of "green" cars in the area. Once again, aspiring consumers and rude representatives spurred the strongest responses. 
Individuals who wanted to be perceived as "eco-conscious" -- and who were treated dismissively -- were the most eager to prove their environmental bona fides to the salesman by buying the cars. Individuals less concerned with perceptions, who met with neutral salesmen -- weren't as motivated to buy.
That raises the question: Do high-end brands train their sales staff to give short shrift to some customers? The answer isn't clear. Retailers declined the authors' requests to conduct in-store experiments.
"I wanted to do that more than anything," Ms. Ward said. "I approached so many retailers . . . and they wouldn't allow it." Luxury brands say "they train their sales staff to be very approachable and friendly," she said, but such boutiques still can intimidate even shoppers favorably disposed to the brand.
More from The Wall Street Journal
DATA PROVIDERS
Copyright © 2014 Microsoft. All rights reserved.
Fundamental company data and historical chart data provided by Morningstar Inc. Real-time index quotes and delayed quotes supplied by Morningstar Inc. Quotes delayed by up to 15 minutes, except where indicated otherwise. Fund summary, fund performance and dividend data provided by Morningstar Inc. Analyst recommendations provided by Zacks Investment Research. StockScouter data provided by Verus Analytics. IPO data provided by Hoover's Inc. Index membership data provided by Morningstar Inc.
MARKET UPDATE
NAME
LAST
CHANGE
% CHANGE
There's a problem getting this information right now. Please try again later.
NAME
LAST
CHANGE
% CHANGE
There's a problem getting this information right now. Please try again later.
Market index data delayed by 15 minutes
[BRIEFING.COM] The stock market welcomed the new trading week with a mixed session that saw relative strength among large-cap stocks, while high-beta names underperformed. The Dow Jones Industrial Average (+0.3%) and S&P 500 (-0.1%) finished near their flat lines, while the Nasdaq Composite and Russell 2000 both lost 1.1%.

Equities began the day on a cautious note amid continued concerns regarding the strength of the global economy. Over the weekend, China reported its first decline ... More
More Market News
Currencies
NAME
LAST
CHANGE
% CHANGE
There's a problem getting this information right now. Please try again later.