Should the US scrap the debt ceiling?
Australia just did, and it's doing fine. Mature countries know when to walk away from a fight.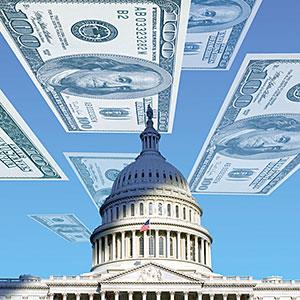 By John Aziz,
The Week
Debt ceiling fights, it seems, have become a permanent fixture in American politics.
Twice in the last couple of years, the United States has been days away from potentially irrevocable economic damage because Congress refused to raise the ceiling and let the Treasury issue more debt. The next fight is
slated for March 2014
.
But isn't there a better way to increase a borrowing limit -- and one that doesn't freak out markets, investors, and, well, just about everyone every few months?
The federal government will be able to borrow as much money as it wants after Federal Treasurer Joe Hockey cut a deal with the Greens to dispense with the debt ceiling completely. . .
It means the government will not have to ask the Parliament for permission whenever it wants to borrow money above a certain limit. [Sydney Morning Herald]
Some may be extremely concerned by this possibility. If the government can borrow all the money it wants, then won't that lead to the government making extremely irresponsible decisions, such as spending huge amounts of money it doesn't have building bridges to nowhere?
But it's actually a brilliant idea -- and one that America and the rest of the world would do well to implement as soon as possible -- because it would eliminate the uncertainty and confusion of debt ceiling fights. And there is no reason -- absolutely no reason -- to believe that it will lead to excessive government spending. Why? Because there already exists a natural debt ceiling called interest rates -- the cost at which investors in the market will lend the government money.
The debt ceiling today is particularly badly designed. Why? Because it's denominated in an arbitrary number of dollars. Let's say you are a government with $1,000 of debt. Can you repay it? It depends what your tax base is. If the whole economy is generating $10 of activity per year, you have no chance. At a 30 percent tax rate, that would yield just $3 per year in tax. But let's say you have a $10,000 economy. Then, a 30 percent tax rate yields $3,000, meaning that $1,000 of debt would be easy to repay.

So the sustainability of your debt is dependent on the size of the economy, and the size of your debt is much more meaningful if it is expressed in terms of the amount of activity taking place in the economy (GDP).
So should the current debt ceiling be replaced by a ceiling expressed as a percentage of GDP? While that is slightly less stupid than the current system, it is still not the best idea because it would be very hard to agree on what constitutes a sustainable level of debt. For example,
Harvard economists Ken Rogoff and Carmen Reinhart published a well-received paper
suggesting that 90 percent of GDP was the level at which government debt becomes damaging to economic growth. But their 90 percent limit has been
completely debunked since
. Great Britain, for example, had a debt over 250 percent of GDP in the 19th century, and successfully paid it down without defaulting.
Essentially, then, the only sensible way to determine how much the government can borrow is whether or not people are willing to lend the government more money. Australia has made a very smart move, and the U.S. should follow suit as soon as possible.
More from The Week

DATA PROVIDERS
Copyright © 2014 Microsoft. All rights reserved.
Fundamental company data and historical chart data provided by Morningstar Inc. Real-time index quotes and delayed quotes supplied by Morningstar Inc. Quotes delayed by up to 15 minutes, except where indicated otherwise. Fund summary, fund performance and dividend data provided by Morningstar Inc. Analyst recommendations provided by Zacks Investment Research. StockScouter data provided by Verus Analytics. IPO data provided by Hoover's Inc. Index membership data provided by Morningstar Inc.
MARKET UPDATE
NAME
LAST
CHANGE
% CHANGE
There's a problem getting this information right now. Please try again later.
NAME
LAST
CHANGE
% CHANGE
There's a problem getting this information right now. Please try again later.
Market index data delayed by 15 minutes
[BRIEFING.COM] S&P futures vs fair value: -5.50. Nasdaq futures vs fair value: -11.80. U.S. equity futures continue holding modest losses with the S&P 500 futures down six points below fair value.

The Dollar Index began the night in the red after gaining 0.6% last week, but a steady rally off the lows has placed the index back near its flat line for the session. The dollar is currently little changed versus the yen (109.05), while the euro (1.2844) and the pound (1.6330) ... More
More Market News
Currencies
NAME
LAST
CHANGE
% CHANGE
There's a problem getting this information right now. Please try again later.