Smaller shippers pose new threat to UPS, FedEx
Nimble regional-delivery companies are cropping up and working together to steal business from national rivals.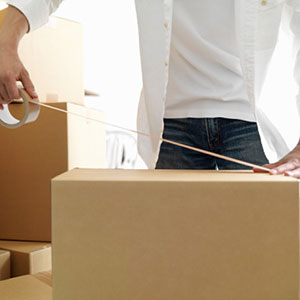 By Laura Stevens, 
The Wall Street Journal
You probably have never heard of LaserShip Inc., OnTrac or Eastern Connection Operating Inc. Yet these small regional shippers may well have dropped a package off on your doorstep this holiday season.
These and other small shippers, which handle packages for companies ranging from Amazon.com (AMZN) to Avon Products (AVP) to Walgreen Co. (WAG), are expanding their networks across the U.S., creating a "super regional" threat to the duopoly of United Parcel Service (UPS) and FedEx Corp. (FDX), which are under pressure to build their own ground-delivery businesses in the face of weak demand for express air delivery.
They work like this: A company such as Eastern Connection, which operates in the Northeast, picks up a package in New York City. It hands it off in Harrisburg, Pa., to another shipper, partner Pitt Ohio LLC, which delivers it a total of two days later to a customer in Columbus, Ohio.
By cobbling together networks, the regional shippers are grabbing market share from UPS, FedEx and the U.S. Postal Service as e-retailers look for cheaper, faster delivery options for their online shoppers.
Regional shippers typically can get a package between two points in one region -- from New York to Boston, for example -- faster than their national counterparts, and they are able to price shipments 20% to 40% below the national shippers because of their lower costs. Most regional shippers have ground-only delivery networks that employ contracted drivers who own their own company-branded vans.
"They're going into the area that UPS and FedEx pretty much dominate -- and they can go further faster," said Ivan Hofmann, a former executive at FedEx Ground who now consults with regionals as part of ETC & Associates LLC.

UPS and FedEx "are so much larger, but they have learned a lesson from early years not to ignore smaller competitors," said Satish Jindel, a transportation industry consultant.
He compared the regional companies to RPS, which was acquired by FedEx in the mid-1990s and became FedEx Ground. "Now it's an $11 billion company."
In response, a UPS spokesman said the company "continually monitors and watches the marketplace." A FedEx spokesman declined to comment.
While the regional shippers' total market share is only about 3% -- total estimated revenues are expected to reach $1 billion in 2013, compared with a total ground package market of about $32 billion -- their revenues have more than doubled since 2009, according to SJ Consulting Group, Inc. These companies separately now serve approximately 90% of all U.S. ZIP Codes, buoyed by the increase in parcel volumes from big customers like Amazon.
Many of these companies started as local couriers or express package delivery companies 20 or 30 years ago -- some catering in transporting checks for clearing, movie reels or other largely obsolete business areas. But the companies experienced rapid growth after DHL, considered the low-cost alternative to UPS and FedEx, retrenched in the U.S. market about five years ago. The surge in e-commerce and subsequent increase in small package deliveries also helped.
Because they operate in smaller market areas, the regionals can offer later pickup times for next-day delivery to more areas, compared with national carriers who often have to drive, then fly the packages through complicated hub networks.
"It's not just the pricing, it's the fact that we can get it there the next day," said Ted Kauffman, chairman of Eastern Connection, based in Woburn, Mass.
Amazon has turned to the regionals for many of its Prime two-day deliveries, industry analysts say. Amazon has distribution centers across the country, allowing it to ship more quickly to its customers, and regionals can often take the package directly from the warehouse. Amazon also can negotiate a good price in a zip code with lots of deliveries.
"With Amazon, it's about speed. I think you do see them shipping a lot with regionals because of the speed and flexibility," says Rick Jones, CEO of Dallas-based Lone Star Holdings LLC, known as LSO.
On Wednesday, FedEx CEO Frederick W. Smith acknowledged the regionals' bigger role. "For the vast majority of products moved, it's almost certain that they will…be moved by one of those three large networks and then some of the smaller regional players for as far as the eye can see," he said during an earnings conference call.
More from The Wall Street Journal
DATA PROVIDERS
Copyright © 2014 Microsoft. All rights reserved.
Fundamental company data and historical chart data provided by Morningstar Inc. Real-time index quotes and delayed quotes supplied by Morningstar Inc. Quotes delayed by up to 15 minutes, except where indicated otherwise. Fund summary, fund performance and dividend data provided by Morningstar Inc. Analyst recommendations provided by Zacks Investment Research. StockScouter data provided by Verus Analytics. IPO data provided by Hoover's Inc. Index membership data provided by Morningstar Inc.
MARKET UPDATE
NAME
LAST
CHANGE
% CHANGE
There's a problem getting this information right now. Please try again later.
NAME
LAST
CHANGE
% CHANGE
There's a problem getting this information right now. Please try again later.
Market index data delayed by 15 minutes
[BRIEFING.COM] The stock market finished the Tuesday session on the defensive after spending the entire day in a steady retreat. The S&P 500 (-0.6%) posted its third consecutive decline, while the small-cap Russell 2000 (-0.9%) slipped behind the broader market during afternoon action.

Equity indices were pressured from the start following some overnight developments that weighed on sentiment. The market tried to overcome the early weakness, but could not stage a sustained rebound, ... More
More Market News
Currencies
NAME
LAST
CHANGE
% CHANGE
There's a problem getting this information right now. Please try again later.