Some food companies are dumping the 'natural' label
The word itself appeals to consumers, but it has no clear meaning and opens producers to lawsuits challenging the claim.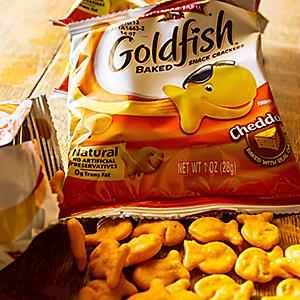 By Mike Esterl,
The Wall Street Journal
Now you see them. Now you don't. Food products labeled as "natural" are starting to disappear.

"Natural" Goldfish crackers will soon be just Goldfish. "All Natural" Naked juice is going stark Naked. "All Natural'' Puffins cereal is turning into plain old Puffins.
A growing number of food and drink companies including PepsiCo Inc. (PEP) and Campbell Soup Co. (CPB) are quietly removing these claims from packages amid lawsuits challenging the "naturalness" of everything from potato chips to ice cream to granola bars.
Food labeled "natural'' raked in more than $40 billion in U.S. retail sales over the past 12 months. That is second only to food claiming to be low in fat, according to Nielsen. A survey last year by Mintel, another market research company, found 51% of Americans seek out "all natural'' when food shopping.
The problem is, "natural" has no clear meaning.
The Food and Drug Administration has no definition, says a spokeswoman, but rather a long-standing policy that it considers "natural'' to mean that "nothing artificial or synthetic (including all color additives regardless of source) has been included in, or has been added to, a food that would not normally be expected to be in the food.'' The agency's website says it is "difficult to define a food product that is 'natural' because the food has probably been processed and is no longer the product of the earth."
A "food labeling modernization'' bill, introduced in September in Congress, would force the FDA to establish a single, standard nutrition labeling system, including new guidelines for the use of "natural.'' But any rules are certain to take a long time to hash out.
Meanwhile, lawsuits are piling up, alleging false advertising. Attorneys say at least 100 lawsuits have been filed in the past two years challenging the natural claims of Unilever PLC's (UNLRY) Ben & Jerry's, Kellogg Co.'s (K) Kashi, Beam Inc.'s (BEAM) Skinnygirl alcohol drinks and dozens of other brands.

Some lawsuits have been thrown out, but others have ended with multi-million-dollar​ settlements. Still others are pending. For the most part, the suits are filed by plaintiffs' lawyers on behalf of consumers who purchased the products, seeking class-action status.
"There's a boatload of litigation and that is going to continue until companies stop conning people,'' said Stephen Gardner, litigation director at Center for Science in the Public Interest, which has urged several companies to remove "natural'' or "all natural'' from packaging.
"Companies are tending to pull back from the natural label because it isn't worth it right now,'' said Lori Leskin, a lawyer at Kaye Scholer and co-head of the American Bar Association's Products Liability Committee.
Only 22.1% of food products and 34% of beverage products launched in the U.S. during the first half of 2013 claimed to be "natural," down from 30.4% and 45.5%, respectively, in 2009 according to Datamonitor. Though many Americans still want natural products, Datamonitor says only 47% view the claims as trustworthy.
The litigation issue is complicated on both sides by the lack of clarity from the FDA. Judges this summer stayed lawsuits for six months against Gruma Corp.'s (GMK) Mission tortilla chips and General Mills' (GIS) Nature Valley granola bars, requesting FDA guidance on whether products with genetically modified organisms can be marketed as natural.
Other gray areas include processed ingredients like high fructose corn syrup, alkalized cocoa, sodium benzoate and ascorbic acid.
The legal uncertainty is a setback for PepsiCo, which has worked hard to make its snacks healthier and used the term "All Natural'' to signal the overhaul to consumers.
As part of a companywide strategy shift, its Frito-Lay snack unit reformulated more than 60 products by 2011. It removed about three dozen artificial ingredients including FD&C Red 40, a food coloring it replaced with beets, cabbage and carrots. The company experimented with more than 300 "all natural" versions of its barbecue potato chips alone before finding one that tasted like the original.
That year it launched Frito-Lay's largest marketing campaign ever, "Seed to Shelf,'' and emblazoned "all natural'' on Lay's potato chips, Tostitos tortilla chips, multigrain SunChips and Rold Gold pretzels. But by last year, several lawsuits against PepsiCo alleged the chips and pretzels contained GMOs and additives such as caramel color, citric acid and maltodextrin. The "all natural'' labels have quietly disappeared and the litigation is pending.
A Frito-Lay spokesman said the snack maker is "constantly updating'' its packaging and, like Kellogg and Beam, declined to comment on the lawsuits.
In 2009 PepsiCo acquired Naked Juice Co., which started out selling small batches from a backpack on Santa Monica Beach. At the time, PepsiCo said Naked juices were made from "the best bare-naked fruits'' and represented its continuing expansion into "natural, healthy, good-for-you products.''
But in July PepsiCo agreed to pay $9 million to settle a class action alleging the juices contained GMOs and chemically processed vitamins. Naked is made with "all-natural fruits and vegetables'' but the wording is being removed "until there is more detailed regulatory guidance,'' PepsiCo said.
Campbell Soup's Pepperidge Farm Goldfish crackers have begun arriving on store shelves in recent weeks stripped of their front-of-pack "Natural'' claim. The crackers have been the target of several lawsuits alleging they contain genetically modified soy. Campbell said the change was part of a "package refresh'' that preceded litigation, which is continuing.
Barbara's Bakery Inc., the maker of Puffins cereal and Snackimal crackers, paid $4 million this summer to settle a suit accusing it of using some nonnatural ingredients. The company, a pioneer of the natural-foods movement, in recent weeks changed its logo to "Since 1971'' instead of "All Natural Since 1971.''
Barbara's says it used to define natural as "no artificial preservatives, flavors, colors or ingredients'' but that it now believes the term is "vague and confusing.'' It instead plans to rely on terms such as "simple,'' "wholesome,'' "nutritious'' and "minimally processed.'' Barbara's also says it began eliminating GMOs in 2011 and has secured non-GMO verification for nearly 80% of its products, which it touts on new packaging.
Ben & Jerry's has grappled with the issue since 2002, when the Center for Science in the Public Interest began publicly urging the ice cream maker to quit claiming its products are "all natural'' because they contained hydrogenated oils and other factory-made substances.
In 2010, Ben & Jerry's agreed to remove "all natural" from its packaging and today trumpets the ice cream as "Vermont's finest.'' Last year Unilever, the parent of Ben & Jerry's, agreed to pay $5 million to settle a consumer lawsuit against the brand. But the deal was rejected by a judge. Another court hearing is scheduled this fall.
More from The Wall Street Journal

if you are eating anything that is processed and or packaged after it leaves the farmers' fields, the package more than likely  will contain un-natural substances in what you take home to your kitchen.
however, all organic is not the answer. organic production of all food and fiber consumed in the states would require several hundred times more farm workers than we have today to produce the same produce as modern farmers. it would also require the demolition of millions of acres of structures, parks, etc. in order to put land back into farm production.
in 1910, a farm worker fed 16+ americans. produce was all natural, fertilized with manure from the animals that powered the plows. there were no chemicals and genetically modified seeds and plants. there were no machines much to speak of.
today's farm workers feed 316+/- americans on less farmland than utilized in 1910. if not for chemicals, gmo inputs and technology, the number fed per worker would be less than 100.  
Are you sure you want to delete this comment?
DATA PROVIDERS
Copyright © 2014 Microsoft. All rights reserved.
Fundamental company data and historical chart data provided by Morningstar Inc. Real-time index quotes and delayed quotes supplied by Morningstar Inc. Quotes delayed by up to 15 minutes, except where indicated otherwise. Fund summary, fund performance and dividend data provided by Morningstar Inc. Analyst recommendations provided by Zacks Investment Research. StockScouter data provided by Verus Analytics. IPO data provided by Hoover's Inc. Index membership data provided by Morningstar Inc.
MARKET UPDATE
NAME
LAST
CHANGE
% CHANGE
There's a problem getting this information right now. Please try again later.
NAME
LAST
CHANGE
% CHANGE
There's a problem getting this information right now. Please try again later.
Market index data delayed by 15 minutes
[BRIEFING.COM] The stock market finished an upbeat week on a mixed note. The S&P 500 shed less than a point, ending the week higher by 1.3%, while the Dow Jones Industrial Average (+0.1%) cemented a 1.7% advance for the week. High-beta names underperformed, which weighed on the Nasdaq Composite (-0.3%) and the Russell 2000 (-1.3%).

Equity indices displayed strength in the early going with the S&P 500 tagging the 2,019 level during the opening 30 minutes of the action. However, ... More
More Market News
Currencies
NAME
LAST
CHANGE
% CHANGE
There's a problem getting this information right now. Please try again later.