Stocks are in an 'Obamacare rally'
The worse the rollout of the Affordable Care Act goes, the higher the market climbs, notes one analyst.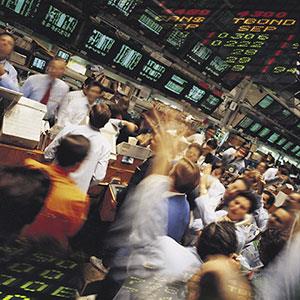 By Jeff Cox, CNBC
Stocks in general and health care in particular are showing virtually no fear that the Affordable Healthcare Act's dismal debut may have more widespread repercussions.

In a perverse way, the current market's movement, with the Dow Jones industrials ($INDU) approaching 16,000 for the first time ever, could be called the "Obamacare rally."
That's the label Raymond James strategist Jeffrey Saut -- with tongue at least partly in cheek -- put on the market Friday in a note to clients:

I'm calling this the Obamacare rally because the worse the Obamacare roll-out gets, the higher the stock market goes! I don't know what the correlation factor is, but it certainly feels like that is the driver of this latest breakout to the upside for the S&P 500.
Market psychology certainly has been hard to divine as the major indexes soar to record highs. Friday's early rally, for instance, came against deflationary U.S. signs in the form of declining import and export prices, as well as overnight news showing at least a hiccup in the European recovery story.
Saut thinks the latest run could be a little reverse psychology and maybe a little voodoo.
Indeed, it isn't the economic numbers, a decline in interest rates, earnings reports, revenue reports, or more cooperation inside the D.C. Beltway; so, it has to be Obamacare and the belief that it is so bad there is going to be a change. Change you can believe in! It kind of reminds me of 2008 when I was stating that, "The whiter Ben Bernanke's beard gets, the more trouble the entire financial fabric of this country gets."
There are tangible signs, though, that investors remain confident.
The latest Investors Intelligence survey showed the bulls still firmly in control among newsletter editors, with a 52.6 percent to 15.5 percent advantage over market pessimists. 

Mutual funds -- generally considered the purview of retail investors -- saw a net inflow of $1.7 billion to stock-based offerings, according to Thomson Reuters.
In the specific area of health care, the SPDR Health Care Select Sector exchange-traded fund (XLV) has raked in $300 million during the tumultuous November for Obamacare, according to IndexUniverse. The fund has gained 2.3 percent over the past month and is up 42.2 percent over the past year.
Sault thinks there would be some danger lurking for the market, but sees opportunity as well.
In the current euphoria, nothing seems to matter. If the equity markets are able to ignore the natural timing elements for a pause/pullback, the Federal Reserve and the lure of a solution to Obamacare will have overpowered what should have occurred. Nevertheless, I adhere to the quote from Pericles, "The key is not to predict the future, but to prepare for it." Still, any pullback represents a buying opportunity in what I believe is an ongoing primary uptrend.
More from CNBC
DATA PROVIDERS
Copyright © 2014 Microsoft. All rights reserved.
Fundamental company data and historical chart data provided by Morningstar Inc. Real-time index quotes and delayed quotes supplied by Morningstar Inc. Quotes delayed by up to 15 minutes, except where indicated otherwise. Fund summary, fund performance and dividend data provided by Morningstar Inc. Analyst recommendations provided by Zacks Investment Research. StockScouter data provided by Verus Analytics. IPO data provided by Hoover's Inc. Index membership data provided by Morningstar Inc.
MARKET UPDATE
NAME
LAST
CHANGE
% CHANGE
There's a problem getting this information right now. Please try again later.
NAME
LAST
CHANGE
% CHANGE
There's a problem getting this information right now. Please try again later.
Market index data delayed by 15 minutes
[BRIEFING.COM] S&P futures vs fair value: +1.80. Nasdaq futures vs fair value: +6.30. U.S. equity futures are pointing to a slightly higher open, but have slipped from their morning highs in the wake of a disappointing report from electronics and appliance retailer Conns (CONN), which was attributed in large part to credit quality issues across "all credit quality levels, customer groups, product categories, geographic regions, and years of origination."

Longer-dated Treasuries ... More
More Market News
Currencies
NAME
LAST
CHANGE
% CHANGE
There's a problem getting this information right now. Please try again later.