Student loan debt climbs for 5th year in a row
More than 70 percent of the Class of 2012 took out loans. Oh, and they're seeing high unemployment, too.
This post comes from Maggie McGrath at partner site Forbes.

Student loan debt is many things -- pesky, inhibiting, capable of lingering for 25 years, even -- but there is one thing it is not: decreasing. According to a new report (.pdf file) from the Project on Student Debt at The Institute for College Access & Success (TICAS), the average amount students borrowed for college has increased for the fifth year in a row.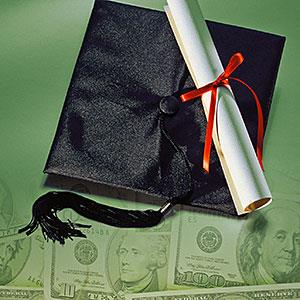 Of those students who graduated with a bachelor's degree in 2012, 71 percent took out loans, and that group left school with a record average of $29,400 student debt. To be fair, the report notes, that number includes a small number of graduates of for-profit four-year colleges and they tend to have considerably more debt than students at not-for-profit universities. All colleges which must report their numbers to the Federal government every four years, as they did in 2012.
So here's an apples to apples comparison: The annual Project on Student Debt/TICAS report tracks yearly figures for graduates of not-for-profit public and private schools only. Excluding for-profit schools, 68 percent of the class of 2012 graduated with student loans averaging $27,850. That's up from the 66 percent of class of 2011 graduates who had loans averaging of $26,600. (These numbers aren't adjusted for inflation, but even if they were, the upward debt trend would be the same, albeit less steep.)
One factor that potentially accounts for some of the increasing debt load is that many 2012 graduates entered school in 2008 at the height of the financial crisis. If anyone's college savings cushion was depleted by the crisis and the Great Recession, it's this group (and their parents). The report notes that any hit to savings was exacerbated by state budget cuts that led to "sharp" tuition hikes at many public institutions, also increasing  students' need to borrow.
The Project on Student Debt/TICAS report notes that the class of 2012's increased debt load came with a side of high joblessness, with 7.7 percent unemployment rate for young college graduates in 2012 and an under-employment rate of 18.3 percent. (The under-employment rate includes graduates aged 21 to 24 who weren't in graduate school and were unemployed or working fewer hours than they wanted or had given up looking for a job.)
However, TICAS emphasizes that young adults without a college degree have fared much worse in the workplace, with high school graduates who have no college experience facing a 17.9 percent unemployment rate.
While TICAS president Lauren Asher acknowledges the results of the report might be discouraging, she insists that a college degree has retained value in this job market and economy. "Despite discouraging headlines, a college degree remains the best route to finding a job in this tight market," Asher said in a statement. "If you need to borrow to get through school, federal student loans are the safest way to borrow. Whatever you earn, income-driven plans like Pay As You Earn can help keep federal loan payments manageable."
Asher also noted that how much a student borrows can vary greatly depending on which state and which school he or she attends. In a breakdown of student debt by state, the report shows Delaware as the nation's highest-debt state, with 56 percent of graduates leaving school with an average $33,649 in debt. (State numbers don't include even more heavily indebted for-profit school graduates.) New Hampshire ranked high in both average debt size and percent of students graduating with loans, with 74 percent of the class of 2012 graduating with an average $32,698 in loans. On the less debt-laden side of things is New Mexico, where 61 percent of bachelor's degree recipients graduate with an average $17,994 debt load.
On a college-by-college basis, debt size varies even more, the report shows; average debt figures ranged from $4,450 to $49,450 among the 1,005 colleges that had both usable data and at least 100 graduates in the class of 2012. In the upper end of that range, 122 colleges reported average student debt of more than $35,000 per graduate who needed loans, and 48 colleges reported more than 90% of their class of 2012 graduating with debt.
Finally, because a report on student debt wouldn't be a report on student debt without going into figures on student loans issued by private lenders, TICAS found that 30 percent of all 2012 bachelor's degree recipients leaving school with loans (including those from for-profit schools) graduated with an average private loan debt of $13,600. This may not sound like a lot, but TICAS says that the figure is somewhat concerning because "the most recent available data show that the majority of undergraduates who took out risky private loans in 2007-08 did not use the maximum available in safer federal student loans."
TICAS recommends that college financial aid offices play a "significant role" in helping their students avoid debt from private lenders, but notes that financial aid practices can vary quite a bit, "with some colleges not only bypassing such counseling opportunities but even including private loans in the initial financial aid package, giving the school's tacit approval of this risky form of financing."
If you are a recent (or even not-so-recent) graduate struggling to repay the loans you took out while in undergrad, check out these tips on repaying student debt. Among the most important things to do: check to see if you qualify for an alternate repayment plan, which can reduce your monthly payment obligation and extend the repayment period beyond the typical ten years.
If you are still in school or are in high school and considering higher education options, among the most important things for you to do is investigate scholarship opportunities from outside sources like Fastweb.com, Studentscholarshipse​arch.com, Collegescholarship.o​rg and Cappex.com.
More from Forbes.com:

Article says they graduated with an AVERAGE of around 30k in school loans.  That's not that high of a number.  Car loans are taken out for WAY more than that and paid off in six years or less.  I make 24k a year and paid off loan on 17k truck in four years.  These people get an education, EXTREMELY LOW interest rates as long as they pay on them.  The problem is when the ignore the fact that they need to pay.  They also get into trouble when they take majors that DO NOT PAY.  I worked with a girl took four years collage in interior design, and was shocked when she could not find a job?  Get a clue before wasting your money.  

College is a good investment for some people  but  it also depends on whether you are really college material, what you major in, and where you go.  It doesn't make sense to pay a $100k to go to some no nothing private school.  And if you need a a low student to professor ratio I don't want to hire you.
Are you sure you want to delete this comment?
DATA PROVIDERS
Copyright © 2014 Microsoft. All rights reserved.
Fundamental company data and historical chart data provided by Morningstar Inc. Real-time index quotes and delayed quotes supplied by Morningstar Inc. Quotes delayed by up to 15 minutes, except where indicated otherwise. Fund summary, fund performance and dividend data provided by Morningstar Inc. Analyst recommendations provided by Zacks Investment Research. StockScouter data provided by Verus Analytics. IPO data provided by Hoover's Inc. Index membership data provided by Morningstar Inc.
MARKET UPDATE
NAME
LAST
CHANGE
% CHANGE
There's a problem getting this information right now. Please try again later.
NAME
LAST
CHANGE
% CHANGE
There's a problem getting this information right now. Please try again later.
Market index data delayed by 15 minutes
[BRIEFING.COM] The stock market finished the Tuesday session on the defensive after spending the entire day in a steady retreat. The S&P 500 (-0.6%) posted its third consecutive decline, while the small-cap Russell 2000 (-0.9%) slipped behind the broader market during afternoon action.

Equity indices were pressured from the start following some overnight developments that weighed on sentiment. The market tried to overcome the early weakness, but could not stage a sustained rebound, ... More
More Market News
Currencies
NAME
LAST
CHANGE
% CHANGE
There's a problem getting this information right now. Please try again later.