The S&P tops 2,000 and no one cares
The Dow's moves get much more attention. But no one trades on round numbers anyway.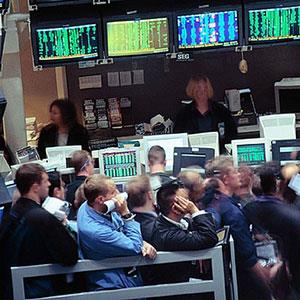 By William L. Watts,
MarketWatch
The Standard & Poor's 500 Index ($INX) has traded above 2,000 for the first time ever. Where's the hoopla?

It's a far cry from the late 1990s when the Dow Jones Industrial Average's ($INDU) crossing of 10,000 was heralded as the apotheosis of a new stakeholder economy in which every citizen was set to get rich on dot-com stocks.
The S&P 500 just topped 2,000 early Monday, but fell slightly to close the day up 0.5 percent to 1997.92.
Nowadays, moves through big, round numbers seem to stir less excitement, particularly in an environment that's been regularly described as the most-hated bull market in history. Still, on a relative basis and as a testament to the historical relevance of the current rally, the move by the S&P 500 is worth acknowledging. But that's about it.
"Nobody trades the market based on the round numbers that I know of, institutionally," said Tony Dwyer, chief strategist at Canaccord Genuity, in an interview last month. The S&P 500 had flirted with the 2,000 level in July before succumbing to a mild pullback.
"It attracts attention to investing, which is good . . . But from the standpoint of can the market get through 2,000, I don't think it has any relevance to how the market trades," he said.
A more interesting question is why does the Dow attract so much more attention than the S&P 500?
It's a conundrum analysts have wrestled with for a long time. In part, it's simply history. The Dow Jones Industrial Average, first calculated in 1896, has been around a lot longer than the S&P 500, which debuted in its present form in 1957.
That said, only a handful of mutual funds or exchange-traded funds are tied to the Dow, which is made up of 30 companies. The S&P 500, by contrast, is possibly the most widely used of equity indexes, representing around 80 percent of the investable U.S. equity market, according to Morningstar.
For market professionals, there's no doubt that eyes are more firmly attuned to the S&P 500 rather than the Dow, said Scott Wren, senior equity strategist at Wells Fargo Advisors in St. Louis.
"When friends ask me what did the market do today . . . I would speak in terms of what the Dow Jones change was rather than what the S&P change was," Wren said. Among colleagues, however, the discussion almost always centers on the S&P 500.
Like most prognosticators, Wren's work is centered almost entirely around the S&P 500. For the record, both he and Dwyer had seen the index clearing 2,000 this year. Wells Fargo's 2014 S&P 500 target is 1,975 to 2,025, while Dwyer is often described as the biggest bull on the Street with his call for the index to hit 2,185.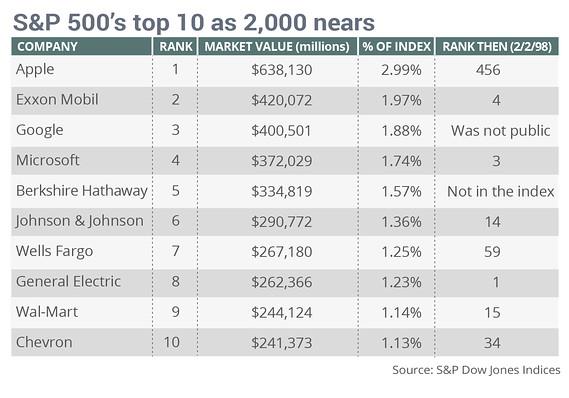 More from MarketWatch

There are always good reasons we advise caution....We ended up in the green which is great, take it any day but seriously, after a day like today 29 points and 2 in the S&P? Be serious, and if we would have had 20 more minutes of trading we would have ended in the red....Manipulators started doing their thing at 1130 hrs like we said earlier and from there it was all down hill....Again, we were fortunate to end up in the green....Scumbags are getting more peed off by the day, we have been up the last 3 weeks or so and they cant stand it....Be very careful tomorrow, these crooks are fit to be tied.

Are you sure you want to delete this comment?
DATA PROVIDERS
Copyright © 2014 Microsoft. All rights reserved.
Fundamental company data and historical chart data provided by Morningstar Inc. Real-time index quotes and delayed quotes supplied by Morningstar Inc. Quotes delayed by up to 15 minutes, except where indicated otherwise. Fund summary, fund performance and dividend data provided by Morningstar Inc. Analyst recommendations provided by Zacks Investment Research. StockScouter data provided by Verus Analytics. IPO data provided by Hoover's Inc. Index membership data provided by Morningstar Inc.
MARKET UPDATE
NAME
LAST
CHANGE
% CHANGE
There's a problem getting this information right now. Please try again later.
NAME
LAST
CHANGE
% CHANGE
There's a problem getting this information right now. Please try again later.
Market index data delayed by 15 minutes
[BRIEFING.COM] Equity indices remain near their lows with the S&P 500 trading down 0.8%. The consumer discretionary sector (-1.5%) slumped to the bottom of the leaderboard at the start and the growth-sensitive sector remains behind the other nine groups at this juncture.

High-beta names like Amazon.com (AMZN 321.92, -9.40), Netflix (NFLX 439.80, -17.72), and Priceline.com (PCLN 1157.78, -28.34) have contributed to the underperformance with losses ranging from ... More
More Market News
Currencies
NAME
LAST
CHANGE
% CHANGE
There's a problem getting this information right now. Please try again later.