Truckers tap into natural-gas boom
Operators of US fleets are accelerating a shift to natural-gas fueled vehicles.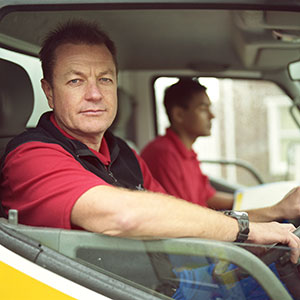 By Mike Ramsey,
The Wall Street Journal
Operators of some of the largest U.S. truck fleets, including 
Lowe's
(
LOW
),
Procter & Gamble
(
PG
) and
United Parcel Service
(
UPS
) are accelerating a shift to natural-gas fueled trucks, betting on new engine technology that promises to drop the cost of shifting from diesel fuel.
Home-improvement retailer Lowe's wants its delivery company to shift all of its several hundred trucks to natural gas by 2017. P&G already has 7% of its trucks on gas and could reach as much as 20% within two years. UPS says it plans to buy 1,000 natural gas trucks by the end of next year. FedEx Corp. (FDX) plans to shift 30% of its long-distance trucks to natural gas over the next decade.
The nation's supply of relatively cheap natural gas is helping spur this shift. So are new natural-gas engines that can power heavy-duty trucks that weigh up to 80,000 pounds. The first, a 12-liter Cummins Westport natural gas engine, went on sale in July. Next year, Volvo AB (VOLVF) the Swedish heavy truck maker, will introduce a natural gas engine for its trucks.
Long-distance trucking companies, like Con-way (CNW), Schneider National, Swift Transportation (SWFT) and Werner Enterprises Inc. (WERN), are testing compressed natural gas and liquefied natural-gas powered trucks as they await more powerful engines and a nationwide fueling and repair infrastructure. Higher initial cost for vehicles, scant natural-gas vehicle suppliers and fuel availability have been impediments.
The take up is just starting: About 5% of all heavy duty trucks sold next year will run on natural gas, up from around 1% this year, according to industry projections. Barriers to wider use are coming down, driven by the relatively low cost of compressed natural gas, or CNG, which sells for about $1.50 less a gallon than its equivalent in diesel fuel, which averaged about $3.87 a gallon this week.
A shift to natural gas for trucking has implications for the U.S. consumption of oil, domestic energy industry and air quality. Natural gas produces less carbon dioxide, carbon monoxide and sulfur-based pollution than diesel or gasoline per mile driven.
The average heavy truck consumes as much fuel as 40 sedans in a year. Such vehicles make up just 1% of the U.S. vehicle fleet, but consume 20% of the fuel, according to Jim Arthurs, the president of Cummins Westport, a joint venture of engine makers Cummins (CMI) and Westport Innovations (WPRT). Diesel-engine trucks get between 5 and 7 miles per gallon and average 100,000 miles a year.
"Within five years, 30% of our fleet could be natural gas," said Ike Brown, president of logistics and trucking company NFI Intermodal, which provides deliveries to Lowe's in Texas and has some 2,200 trucks in its fleet.
"It's cleaner than the average truck running today," said Steve Palmer, vice president of transportation for Lowe's. "It's a long-term play that could save a lot of money." The retailer plans to have 100% of its fleet on natural gas by 2017. "And I do believe the 12-liter engine was the inflection point," Mr. Palmer said.
Some other classes of commercial trucks have made rapid shifts to natural gas. This year about 60% of all new garbage trucks purchased use natural gas. Those trucks mostly use a smaller 8.9-liter engine that has been available for several years.
Waste Management Inc. (WM), the largest garbage company in the U.S., has converted about 15% of its 22,000-truck fleet to natural gas. About 90% of its future purchases will be natural gas fueled, helping it save between $15,000 and $20,000 a year per vehicle, a two-year payoff for the more expensive truck.
"It would be a big gamble to flip to" natural gas "if we thought it was going to flip back to diesel being cheaper," said Waste Management's Chief Executive David Steiner. "But as far out as we can see, we think you are going to have lower gas prices and higher diesel prices."
Right now, the expansion into natural gas is inhibited by the scant number of fueling stations and the time required to refill gas tanks. For example, Lowe's has asked NFI Intermodal to start using natural gas powered vehicles to serve its stores in Pennsylvania, but it has to wait for a fueling network to be built.
Private fleets typically operate on regional or local routes, allowing them to refuel at their operators' terminals and garages rather than depending on highway fueling stations. Refilling a compressed natural gas vehicle can take all night with low-pressure compressors or as little as 10 or 15 minutes for a 40-gallon tank using high-pressure "fast-fill" stations. Fast-fill gas is less dense and doesn't allow for as much range on a single tank.
PepsiCo (PEP) plans to have three natural gas fueling stations in operation by the end of this year and has said it would build seven more. It is also expanding its fleet of natural gas vehicles to 208 which, when it announced that move in June, said it would be "one of the largest compressed natural gas fleets in the U.S."
For many private fleet operators, said Glen Kedzie, vice president and energy and environmental counsel of the American Trucking Associations, "it's a competitive advantage." Over the last two years, he said, truck stop players like Knoxville, Tenn., Pilot Flying J and Clean Energy Fuels Corp. (CLNE) have been building the infrastructure for trucks to fuel with natural gas.
The cost of the natural gas trucks is still an issue. CNG trucks cost between $40,000 and $50,000 more than a diesel truck, which costs about $120,000, primarily because of the large carbon-fiber fuel tanks required to store CNG or liquefied natural gas. In large fleets, that premium could add millions of dollars to equipment cost.
Still, trucking companies see longer term benefits. Ryder Systems Inc. (R), one of the largest buyers of trucks in the U.S., is quickly adding natural gas to its 50,000-truck fleet, but just how fast it will grow depends on how much truck prices come down and how fast fueling stations pop up, said Scott Perry, vice president of supply management, for Miami-based Ryder. "I think 10% to 20% is realistic," within five years. "But we still have to see about all the variables."
Clean Energy Fuels, the largest natural gas fueling station company, is working on both the infrastructure and the vehicle cost problems. The Irving, Texas, company, founded by oil man T. Boone Pickens, has more than 400 fueling stations and is building a network across the country.

Recently, the company offered a deal through General Electric's (GE) leasing arm that allows trucking companies to lease a new vehicle for the same price as a diesel if they agree to a fuel contract.
"This is just one of the last barriers," said the president of the company, Andrew Littlefair. "Now they can start saving money immediately."
Mr. Arthurs, the president Cummins Westport, thinks the price of the trucks could come down quickly. There are only a handful of fuel tank makers, but they are expanding capacity and recently St. Paul, Minn.-based 3M (MMM) got into the business, adding a major manufacturer to the supply chain.
Internal combustion and diesel engines can be converted to natural gas relatively easily. The engines work the same, but require modifications because of the lack of lubrication from the fuel itself.
"It has a very strong value proposition for us," said Mr. Peters, whose fleet at Ryder leases out or operates about 50,000 heavy trucks. "The unknowns are the technology platforms, the engine platforms, the fueling infrastructure, inefficiencies. But it is resonating very strongly."
—Bob Tita and Betsy Morris contributed to this article.
More from The Wall Street Journal
DATA PROVIDERS
Copyright © 2014 Microsoft. All rights reserved.
Fundamental company data and historical chart data provided by Morningstar Inc. Real-time index quotes and delayed quotes supplied by Morningstar Inc. Quotes delayed by up to 15 minutes, except where indicated otherwise. Fund summary, fund performance and dividend data provided by Morningstar Inc. Analyst recommendations provided by Zacks Investment Research. StockScouter data provided by Verus Analytics. IPO data provided by Hoover's Inc. Index membership data provided by Morningstar Inc.
MARKET UPDATE
NAME
LAST
CHANGE
% CHANGE
There's a problem getting this information right now. Please try again later.
NAME
LAST
CHANGE
% CHANGE
There's a problem getting this information right now. Please try again later.
Market index data delayed by 15 minutes
[BRIEFING.COM] Not much change in the major averages as they continue hovering near their lowest levels of the day. The S&P 500 (-0.8%) notched its session low around 12:00 ET and has maintained a seven-point range since then. Meanwhile, the price-weighted Dow Jones Industrial Average (-0.5%) continues trading a little ahead of the benchmark index.

Six Dow components remain in the green, but the leading performer, DuPont (DD 71.75, +0.50), is the only stock showing an increase ... More
More Market News
Currencies
NAME
LAST
CHANGE
% CHANGE
There's a problem getting this information right now. Please try again later.