Why the Dow doesn't deserve to hit 17,000
The bull market in stocks is running for all the wrong reasons.
By David Weidner,
MarketWatch
We're straddling 17,000 on the Dow Jones Industrial Average ($INDU). But it just doesn't feel right. It has to be the most unenthusiastic rally in a generation -- maybe more.

It's not that there isn't reason to be buying stocks. We are now five years into an economic recovery that began in mid-2009, according to the National Bureau of Economic Research. It's been a slow slog. It's been paced. Those are actually good reasons to be buying stocks. A rapidly growing economy, which coincided with the dot-com boom and the housing bubbles, usually go belly up as quickly as they rise.
And the stock market always leads the economy. Investors tend to buy cheap and ride the wave of ever-increasing earnings and premiums added to their holdings.
But a 155 percent rise in the Dow since the 2009 nadir of the financial crisis? A 31 percent rise in the past 18 months? Yes, the gains look that more striking because of the lows we hit in the Great Recession. Still, that's a fantastic run considering that last week we finally recovered the jobs lost since the financial and housing crises hit. At that point the Dow was 18 percent lower than it is today.
There are many reasons this rally feels empty. But here are the biggest, most obvious reasons:
No one is really buying. 
Stock prices are edging higher, but it's not retail investors driving the trend. Lipper reported that investors last week actually pulled $921 million from U.S. stock mutual funds in the week ended June 4, and $451 million the previous week.
This is a long-term trend. Overall stock holdings -- any type of ownership, including individual stocks -- by households topped out at 67 percent in 2002, according to an ongoing Gallup poll, but has been erratic since. By 2011, that number fell to 54 percent. 
A study by the Pew Research Center, published in May, found stock ownership has become even less pervasive, just 45 percent. And while it's true many investors are simply bypassing actively managed funds for cheaper exchange traded funds, the truth is there's not enough of them to really move the needle. It's the wealthiest Americans -- 5 percent of Americans own 82 percent of directly owned, publicly traded stocks, according to the Federal Reserve -- and the pro traders, many of them guided by algorithms.
Corporate earnings are flat. 
You'd think that as the market reaches this milestone, corporate profits would be churning, or a least growing. They aren't.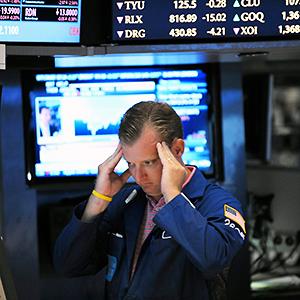 The Bureau of Economic Analysis reports that its measure of corporate profits declined 9.8 percent in the first quarter. It was the largest drop since the fourth quarter of 2008, and during the past four quarters, corporate profits have fallen 3 percent.
Market analyst and adviser Doug Short noted last week that the market is overvalued in the range of 51 percent to 85 percent when measured by price-to-earnings ratios and the lesser known Q ratio (total price of the market divided by replacement cost). Also last week, Goldman Sachs analysts published a report that concluded: "In just one quarter, profit margins dropped from 10 percent to 8.7 percent of" gross national product.
There are no alternative investments. 
Rather than higher prices for goods and services and a devalued currency, the real consequence of the Federal Reserve's efforts to stimulate the economy through lower interest rates, bond buying and easy credit seems to be inflation in the stock market.
That's not entirely surprising. Lower interest rates make fixed-income products undesirable. If the 10-year Treasury is close to 2.5 percent (about the same yield it offered last year) and the inflation rate is 2 percent, that's not a terribly attractive investment. Nor are corporate bonds, which are taxable.
No wonder the Fed is now worried about money pouring into high-yield, or "junk," bonds. Issuance of low-rated U.S. dollar-denominated junk bonds last year hit a record $366 billion, more than twice the level reached in the years before the 2008 financial crisis, according to financial-data provider Dealogic.
As for some other investments: Housing continues to be a game open to cash-rich buyers (31 percent of sales were all-cash in the first quarter); gold at roughly $1,250 an ounce is off 30 percent from its three-year high; and oil has added 20 percent in the past year. Nice, but still trailing the stock market.
Ultimately, today's bull market seems to be driven by a lack of alternatives. What it lacks in enthusiasm it is making up for in gains, as Short's market valuation analysis shows. It's not a bad thing that there's confidence. On the flip side, markets cannot sustain such overvaluation without a significant change in the economy. And economic growth rates -- GDP contracted at a 1 percent annual rate in the first quarter -- don't support the buying.
That means when something puts a spook into the market, we're going to get burned, our 401k statements are going to be printed in red ink. Remember, your monthly contributions buy stocks at the current levels. We're going to fall hard.
We may not be feeling the rally is real now, but when it disappears, believe me, we're going to feel it.
More from MarketWatch
DATA PROVIDERS
Copyright © 2014 Microsoft. All rights reserved.
Fundamental company data and historical chart data provided by Morningstar Inc. Real-time index quotes and delayed quotes supplied by Morningstar Inc. Quotes delayed by up to 15 minutes, except where indicated otherwise. Fund summary, fund performance and dividend data provided by Morningstar Inc. Analyst recommendations provided by Zacks Investment Research. StockScouter data provided by Verus Analytics. IPO data provided by Hoover's Inc. Index membership data provided by Morningstar Inc.
MARKET UPDATE
NAME
LAST
CHANGE
% CHANGE
There's a problem getting this information right now. Please try again later.
NAME
LAST
CHANGE
% CHANGE
There's a problem getting this information right now. Please try again later.
Market index data delayed by 15 minutes
[BRIEFING.COM] The stock market finished the Thursday session on a higher note with the S&P 500 climbing 0.5%. The benchmark index registered an early high within the first 90 minutes and inched to a new session best during the final hour of the action.

Equities rallied out of the gate with the financial sector (+1.1%) providing noteworthy support for the second day in a row. The growth-oriented sector extended its September gain to 1.9% versus a more modest uptick of 0.4% for the ... More
More Market News
Currencies
NAME
LAST
CHANGE
% CHANGE
There's a problem getting this information right now. Please try again later.