Why UPS was overwhelmed on Christmas Eve
The company's air fleet apparently couldn't handle a last-minute surge in online orders.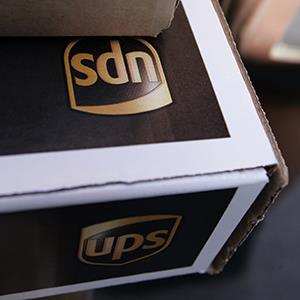 By Laura Stevens, Serena Ng and Shelly Banjo,
The Wall Street Journal
In the earliest hours of Dec. 24, packages poured into
United Parcel Service
's (
UPS
) main air hub in Louisville, Ky. And they were piling up.
Employees responsible for sorting packages -- already deep into a 100-hour week -- were furiously getting them ready to be sent on to their destinations at airports around the country. 
But dozens of other workers responsible for loading those packages into planes to be shipped out were left standing around idle, because the unexpected glut of packages from last-minute shoppers had swamped the company's air fleet.
The dearth of planes stranded a large volume of packages in Louisville in the early hours of Tuesday morning. Many of those that did make it out were shipped too late to make delivery trucks' pickup schedules and were left sitting in warehouses not far from their destinations. 
By sundown, UPS was forced to tell many Americans that the gifts they had ordered wouldn't arrive before Christmas as promised.
The bottleneck was largely in UPS' air business, which retailers leaned on heavily in the past week as they scrambled to fill down-to-the-wire orders. UPS has a bigger share of retail e-commerce business than FedEx Corp. (FDX), but its smaller fleet of cargo planes might have been a limiting factor, people in the industry said. UPS said it had added 23 extra chartered aircraft to its year-round operating fleet of more than 237 planes and regular 293 daily charters. FedEx owned 581 and leased 66 as of May 31.
UPS originally expected to ship about 7.75 million packages in its air network Monday, with about 3.5 million of those sorted at Worldport, as the Louisville hub is known. The facility handles on average 1.6 million packages a day. It isn't yet known how many packages arrived at Worldport during the last minute crush, but on Christmas Eve UPS said the volume of air packages in its system had exceeded its capacity.
It is still too early to know what went wrong, UPS said, adding that the company is analyzing the situation.
Some shoppers also complained of delays with shipments handled by FedEx. A spokeswoman said FedEx "experienced no major service disruptions during this holiday season, and we experienced no major service disruptions in the week before Christmas, despite heavy volume." She said FedEx is working with customers "to address any isolated incidents."
UPS carefully plans how it will handle the holiday peak. Extra resources such as additional cargo planes had been lined up as "hot spares" -- company lingo for aircraft that could be fired up quickly in case of a logistics emergency. But it ran into a confluence of factors. 
Retailers have been encouraging online sales, which have grown much faster than retail sales overall. And retailers likely contributed to the logjam by offering some of their best discounts late in the season in a final push for sales. Many chains dropped prices on the final Saturday before Christmas to levels below what they were offering on Black Friday, according to Simeon Siegel, an analyst with Nomura Equity Research.
That, coupled with retailers' promises of just-in-time deliveries, encouraged many shoppers to put in orders at the last minute. People buying from more than 70 retailers including Toys "R" Us Inc. and Dick's Sporting Goods Inc., whose online shipping is handled by eBay Enterprise, were able to place Web orders as late as 11 p.m. on Monday, Dec. 23, a full 24 hours later than last year.
The result was a surge in online sales shortly before Christmas. UPS had been forecasting an 8% average rise in its daily shipping volumes during the holidays. But online sales in the last weekend before Christmas jumped by 37% from the year before, according to data from IBM Digital Analytics. On Monday Dec. 23, growth in online orders spiked by 63% from the year before, according to Mercent Corp., which works with more than 550 retailers. By comparison, overall sales of holiday goods rose 2.3% between Nov. 1 and Dec. 24, according to preliminary data from MasterCard's (MA) Spending Pulse unit.
To cope, retailers shifted more orders from shippers' ground delivery to their air networks to get gifts to customers in time to put them under the tree.
Mercent CEO Eric Best said some of his clients experienced delays.
"It's easy to blame UPS, but it's the retailers that are pushing these next-day shipping offers in the final hours of the shopping season," Mr. Best said. "Retailers are driving consumer expectations to get stuff they ordered by the next day and the later shoppers wait, the harder it is to predict."
The shipping delays at UPS sparked outrage among people who had bought gifts from Amazon.com (AMZN), Kohl's Corp. (KSS) and other online retailers in the days and weeks before Christmas. Many had been swayed by guarantees from the retailers that their packages would be delivered by the holiday.
Rudy Lai, a finance executive in Union City, Calif., said part of a gift he ordered from Amazon was scheduled to be delivered on Christmas Eve. That morning, the UPS tracking information showed the item had reached Oakland, Calif., and was "out for delivery," he said. At 5 p.m., he found out that the package "was left in a UPS facility," according to the information.
Retailers including Wal-Mart Stores (WMT), Amazon and Kohl's have started issuing customers gift cards and refunds for shipping costs and items that didn't arrive before Christmas. Those retailers are expected to seek reimbursement from UPS or other carriers that had guaranteed arrival times. UPS had made such guarantees for many air shipments during the holidays, though some large retailers may have waived them, analysts said. The company has said it would honor guarantees it made to customers, but it isn't clear how much the carrier might have to pay.
Analysts at StellaService, a startup that measures customer satisfaction with online shopping, placed orders for tablets, boots and other gift items at 25 top retailers including Amazon, Wal-Mart and Kohl's to see if they would receive the gifts in time for Christmas Eve.
The orders were placed on the last day the retailer guaranteed delivery by Dec. 24, the latest of which was Dec. 23. Out of 75 orders, 12 items -- from retailers including Dell, Macy's, Gap and Pottery Barn -- didn't make it to the analysts' homes by Dec. 25. Eleven of those items were delivered by UPS.
UPS handles 50% to 60% of e-commerce orders, according to Sucharita Mulpuru, an analyst with Forrester Research. And it is an increasingly crucial part of its business. In its 2012 annual report, UPS said "business to consumer" shipments represented over 40% of its domestic package volume and grew rapidly. Its business-to-business​ shipping volume, meanwhile, was relatively flat.
UPS deployed its spare planes Monday and flew twice as many flights as usual on Christmas Eve. It flew 50% more on Thursday to handle the additional volume.
--Suzanne Kapner contributed to this article.
More from The Wall Street Journal
DATA PROVIDERS
Copyright © 2014 Microsoft. All rights reserved.
Fundamental company data and historical chart data provided by Morningstar Inc. Real-time index quotes and delayed quotes supplied by Morningstar Inc. Quotes delayed by up to 15 minutes, except where indicated otherwise. Fund summary, fund performance and dividend data provided by Morningstar Inc. Analyst recommendations provided by Zacks Investment Research. StockScouter data provided by Verus Analytics. IPO data provided by Hoover's Inc. Index membership data provided by Morningstar Inc.
MARKET UPDATE
NAME
LAST
CHANGE
% CHANGE
There's a problem getting this information right now. Please try again later.
NAME
LAST
CHANGE
% CHANGE
There's a problem getting this information right now. Please try again later.
Market index data delayed by 15 minutes
[BRIEFING.COM] The major averages posted solid gains ahead of tomorrow's policy directive from the Federal Open Market Committee. The S&P 500 rallied 0.8%, while the Russell 2000 (+0.3%) could not keep pace with the benchmark index.

Equity indices hovered near their flat lines during the first two hours of action, but surged in reaction to reports from the Wall Street Journal concerning tomorrow's FOMC statement. Specifically, Fed watcher Jon Hilsenrath indicated that the statement ... More
More Market News
Currencies
NAME
LAST
CHANGE
% CHANGE
There's a problem getting this information right now. Please try again later.