Will 'Duck Dynasty' star's anti-gay rant hurt Wal-Mart?
A&E has indefinitely suspended Phil Robertson after his recent comments. How will the nation's largest retailer handle the uproar?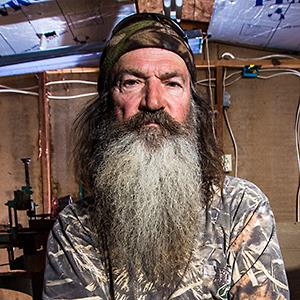 By Clare O'Connor, Forbes
When I wrote a story on the "Duck Dynasty" $400 million merchandise empire for a recent issue of Forbes, one quote stood out.
"It's a huge risk, taking on personalities," said Charlie Anderson, the CEO of retail marketing agency Shoptology. "Look at what happened with Paula Deen," he said, referring to the Southern chef's racism scandal and resulting loss of lucrative partnerships.
Anderson added, "The 'Duck Dynasty' guys have flaws, but they're wholesome."
Hmm. Wholesome, if you get warm fuzzy feelings from horribly outdated, ignorant anti-gay rhetoric.
One of the cast members of A&E's hugely popular reality series gave an interview with GQ that must be read in full, partly because I can't reprint some of its language, but here's a snippet from inside the brain of Phil Robertson (pictured), a duck hunter:
"Start with homosexual behavior and just morph out from there. Bestiality, sleeping around with this woman and that woman and that woman and those men," he says. "Don't be deceived. Neither the adulterers, the idolaters, the male prostitutes, the homosexual offenders, the greedy, the drunkards, the slanderers, the swindlers -- they won't inherit the kingdom of God. Don't deceive yourself. It's not right."
He also has some distressing thoughts on pre-Civil Rights-era Louisiana, but I'll leave you to discover those in the pages of GQ.
GLAAD has called on A&E and its advertisers to "re-examine their ties to someone with such public disdain for LGBT people and families." Robertson himself, via A&E's press office, issued what can be charitably described as a fauxpology, saying his anti-gay beliefs are based on Bible teachings.
A&E Networks released the following statement Wednesday evening:

"We are extremely disappointed to have read Phil Robertson's comments in GQ, which are based on his own personal beliefs and are not reflected in the series Duck Dynasty. His personal views in no way reflect those of A+E Networks, who have always been strong supporters and champions of the LGBT community. The network has placed Phil under hiatus from filming indefinitely."
It seems unlikely that A&E would dump the most-watched reality show of all time, and one that's spawned such a successful merchandise business.
What, then, will
Wal-Mart
(
WMT
) do? The big-box giant is responsible for about 50% of this year's incredible $400 million in "Duck Dynasty"-related retail sales, with Phil Robertson's mug (along with his bearded relatives) gracing its bestselling T-shirt in both men's and women's apparel. Some Wal-Mart stores in the South feature entire aisles devoted to the Louisiana duck hunters, selling items like bedding and prayer devotionals adorned with their trademark camouflage and folksy catchphrases.
Wal-Mart publicly dumped Paula Deen after the Southern chef's headline-grabbing allegations of racism this past summer, although you can still find her cookware on Walmart.com. The question is whether the powers that be in Bentonville, Ark., believe Robertson's homophobia will anger their shoppers the same way they clearly imagined Deen's apparent racism would.
Wal-Mart declined to comment. Watch this space, though. The pressure will be on the world's largest retailer to take the lead over every other store carrying Duck Dynasty merchandise in dealing with this ugly situation.


More on Forbes
DATA PROVIDERS
Copyright © 2014 Microsoft. All rights reserved.
Fundamental company data and historical chart data provided by Morningstar Inc. Real-time index quotes and delayed quotes supplied by Morningstar Inc. Quotes delayed by up to 15 minutes, except where indicated otherwise. Fund summary, fund performance and dividend data provided by Morningstar Inc. Analyst recommendations provided by Zacks Investment Research. StockScouter data provided by Verus Analytics. IPO data provided by Hoover's Inc. Index membership data provided by Morningstar Inc.
MARKET UPDATE
NAME
LAST
CHANGE
% CHANGE
There's a problem getting this information right now. Please try again later.
NAME
LAST
CHANGE
% CHANGE
There's a problem getting this information right now. Please try again later.
Market index data delayed by 15 minutes
[BRIEFING.COM] S&P futures vs fair value: -6.60. Nasdaq futures vs fair value: -14.50. The S&P 500 futures trade seven points below fair value.

Markets across most of Asia ended on a lower note, while Japan's Nikkei was closed for Autumn Equinox.

Economic data was limited:

China's HSBC Manufacturing PMI ticked up to 50.5 from 50.2 (expected 50.0)
Singapore's CPI eased to 0.9% year-over-year (expected 1.2%; previous ... More
More Market News
Currencies
NAME
LAST
CHANGE
% CHANGE
There's a problem getting this information right now. Please try again later.