You can't get a credit card: What are you options?
If you don't qualify for a traditional credit card, there are still ways you can enjoy the convenience and security of plastic -- and some can help you rebuild credit.
This post comes from Jason Steele at partner site Credit.com.



There are all sorts of reasons that people find themselves ineligible for a credit card.
Some lack a credit history simply because they have never applied for a loan or put any bills in their name. Also, recent immigrants will find that their credit reports are blank slates, almost as if they had not existed before coming to this country.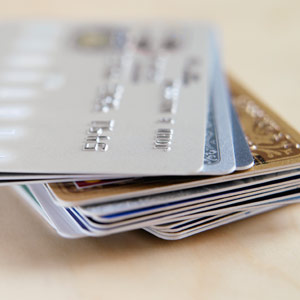 Then, there is the range of tragedies and unfortunate circumstances that can inflict a terrible toll on credit. These include bankruptcy, long-term unemployment, divorce, overwhelming medical bills and natural disasters. As a result, people with credit scores under 650 may find themselves in the midst of a credit famine, when few options are available to them.
But even those in a credit famine have some options. Here are a few tools that can help you out while you build your credit.
Secured cards
For those who have few options, a secured card can be a lifeline. Some secured cards are offered to essentially anyone, while others require that the cardholder be out of bankruptcy for at least a year. Applicants must make a security deposit that usually represents their credit limit.
The cards can be used much like any other credit cards, and timely payment of monthly bills will be reported to the major credit bureaus. This is an important step toward rebuilding credit. After a history of making on-time payments on a secured card, many cardholders will be eligible for a small, unsecured line of credit on a basic credit card.
Prepaid debit cards
For those without credit, everyday purchases are typically conducted with cash, or one of the growing number of reloadable prepaid debit cards that cater to the unbanked. For example, the newly enhanced American Express Serve card, which features free reloads, will soon offer a mobile phone app to capture and deposit checks, while the American Express Bluebird card offers cardholders mobile deposits, free electronic bill payment and even a paper checkbook.
Assistance from others
A friend or relative can co-sign a car loan, an apartment lease or a utility service contract. While this arrangement is helpful to those experiencing a credit famine, it carries distinct risks for the co-signer. Anyone who co-signs for a loan or makes you an authorized user on a credit card is liable for all of the purchases made by both parties, until the account is closed.
America is a land of opportunity, and that includes plenty of chances to establish, or re-establish good credit. Those who survive a credit famine, and receive a secured credit card, will find that more bountiful days are in sight.
More from Credit.com:
DATA PROVIDERS
Copyright © 2014 Microsoft. All rights reserved.
Fundamental company data and historical chart data provided by Morningstar Inc. Real-time index quotes and delayed quotes supplied by Morningstar Inc. Quotes delayed by up to 15 minutes, except where indicated otherwise. Fund summary, fund performance and dividend data provided by Morningstar Inc. Analyst recommendations provided by Zacks Investment Research. StockScouter data provided by Verus Analytics. IPO data provided by Hoover's Inc. Index membership data provided by Morningstar Inc.
MARKET UPDATE
NAME
LAST
CHANGE
% CHANGE
There's a problem getting this information right now. Please try again later.
NAME
LAST
CHANGE
% CHANGE
There's a problem getting this information right now. Please try again later.
Market index data delayed by 15 minutes
[BRIEFING.COM] S&P futures vs fair value: -6.30. Nasdaq futures vs fair value: -14.80. U.S. equity futures trade hover near their pre-market lows amid cautious action overseas. The S&P 500 futures hover six points below fair value, which puts the benchmark index on track to continue its retreat after losing 0.8% yesterday.

Overnight, markets in Asia traded in mixed fashion, but sentiment worsened after the start of the European session, where all the key indices hold losses ... More
More Market News
Currencies
NAME
LAST
CHANGE
% CHANGE
There's a problem getting this information right now. Please try again later.