Technicals, fundamentals augur well for gold, silver
US deficits, global currency debasement and recent market action suggest the precious metals could be poised for a breakout.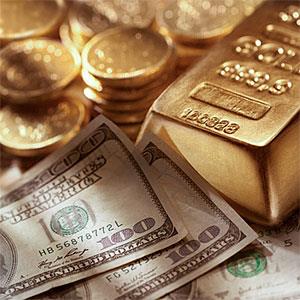 By John Cassimatis
It's been a while since I've written about the metals, and that's because I expected a whole lot of nothing. 
And that's basically what we've got here. 
The consolidation from its August 2011 highs rolls into its eighth month. I have to admit -- I am getting excited. 
Let's lay out the bullish case for gold in an orderly fashion.

These five items make up my usual checklist of points to consider when thinking about gold and silver's future direction.
Time. If we look at a 10-year history of gold price movement, we see three prior breakout drives followed by consolidations. We had a drive to $727 followed by a 17-month correction; the next move took us to $1,132 and that consolidation was 18 months; the last move went to $1,920+ and now we hit 18 months next week. This was one of the main reasons why I was always worried about the September "breakout" even though I ended up buying it. Check this box for the bulls.                                                                                                
Spec positions down/shorts up. Gold and silver have seen dramatic and consistent reductions in spec longs -- gold especially as large spec hedge net longs have gone from roughly 210K contracts to appox 130K. Silver's reduction has been more muted, but is off its highs. While I'd like to see silver's commercial short position lower, silver will follow gold. Keep in mind, gold's net long position by hedge funds and institutions could go lower still, allowing silver's complex to look better. Since the market has essentially been flat over the reporting period, speculative drawdowns/short spikes should be viewed in a highly optimistic fashion. Keep this box neutral since silver has not flushed out as many weak hands as gold at this point.

Trend lines. Gold breaks out at $1,698 and silver at $32.125. It's really that simple. Silver has actually kissed its resistance four or five times over the past week with the steadfast commercial shorting agencies holding the line each time. The point is that we are close, and a break of those levels will dramatically affect order flow. The problem for bulls is, as with all inflection points, we are still being capped by those prices currently. The problem for bears is that we probably should have distanced ourselves a bit more from those breakout prices considering the amount of long holdings dumped. I give the edge to the bulls here.
Sentiment. Everybody loves to hate gold here. We read about QE exit plans. The big banks we all know, love, and trust have lowered their forecasts. Market participants have gotten frustrated with gold's lack of response to QE4 and fiscal cliff "resolution" (it's hard to even write those last three words without laughing). Sentiment is poor, and that is a big check for the bulls as once again longstanding truisms reign -- that is, that the majority of the people will always get it wrong.
RSIs. On a daily, monthly, and weekly consideration, RSIs are closer to fully bullish than fully bearish. And it's not really a close contest. Check one for the bulls.
This is probably the best report the bulls have gotten in a long while. Many say that a correction is a function of both time and price. I strongly agree with that statement. Now that the metals' "time" category has finally shifted to the bulls is huge here. Believe me, the same tailwinds for the metals exist. We are still printing over half our annual deficit. Global currency debasement is in full swing. US leadership (kicking the can down the road until a crisis moment) and fiscal deficits (surmounting debt in the context of a trillion-plus more per annum) continue to roar like a lion. (Wow, I began writing this article at $1,665 and now gold has rallied back....)
What could go wrong? The only thing that worries me slightly are the bonds. While we all know that rising yields is a necessary precursor/catalyst for a parabolic metals market, the initial move higher could provide a knee-jerk negative reaction as real rates of return (based on government formulas) inch into positive territory. While I worry about this, I also think the rise in rates is going to take longer than everyone thinks it is. Perhaps gold can make its run to $2,400 first and then suffer the pain of that adjustment. At this point, I am not going to overthink something that hasn't happened yet, and in Japan, 20 years in, still has not occurred. Just file that concern for now.
$1,698 gold, $32.125 silver. Those are the prices. I have long positions ahead of those prices and I assure you I will be taking purchasing power to a very low level on their penetration. Of this I am sure.
More from Minyanville
DATA PROVIDERS
Copyright © 2014 Microsoft. All rights reserved.
Fundamental company data and historical chart data provided by Morningstar Inc. Real-time index quotes and delayed quotes supplied by Morningstar Inc. Quotes delayed by up to 15 minutes, except where indicated otherwise. Fund summary, fund performance and dividend data provided by Morningstar Inc. Analyst recommendations provided by Zacks Investment Research. StockScouter data provided by Verus Analytics. IPO data provided by Hoover's Inc. Index membership data provided by Morningstar Inc.
MARKET UPDATE
NAME
LAST
CHANGE
% CHANGE
There's a problem getting this information right now. Please try again later.
NAME
LAST
CHANGE
% CHANGE
There's a problem getting this information right now. Please try again later.
Market index data delayed by 15 minutes
[BRIEFING.COM] The stock market finished an upbeat week on a mixed note. The S&P 500 shed less than a point, ending the week higher by 1.3%, while the Dow Jones Industrial Average (+0.1%) cemented a 1.7% advance for the week. High-beta names underperformed, which weighed on the Nasdaq Composite (-0.3%) and the Russell 2000 (-1.3%).

Equity indices displayed strength in the early going with the S&P 500 tagging the 2,019 level during the opening 30 minutes of the action. However, ... More
More Market News
Currencies
NAME
LAST
CHANGE
% CHANGE
There's a problem getting this information right now. Please try again later.