Inside Wall Street: Cheers from Bud and Diageo
In these stressful times, alcoholic beverage companies offer strong cash flow and earnings growth.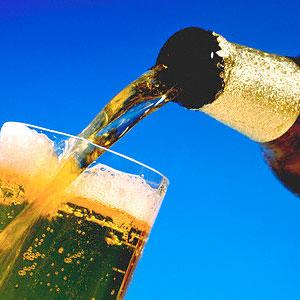 Investors tend to like companies with steady-as-it-goes revenue and profit growth -- no matter what. But this time, the need for such reassuring corporate profiles has become even more pressing.
The devastation wrought by Superstorm Sandy has dented the fragile economic recovery. And the vitriolic U.S. presidential elections have also served to rattle investors.
So shares of fiscally prudent, "old-value" companies with strong financials and dedication to growth have become the order of the day for increasingly nervous investors.
Unlikely as it may sound, alcoholic beverage companies continue to generate strong cash flow and earnings growth -- even in times of economic sluggishness or natural catastrophes. Although their products are termed consumer-discretiona​ry items, they have strong appeal to a wide range of customers.
Moreover, they maintain steady profit margins because sales growth is driven by new products and global expansion, particularly in emerging markets. Better still, beer, wine and liquor makers have been able to raise prices, according to an industry report by Value Line, an investment research company.
Value Line's screening system shows Anheuser-Busch InBev (BUD) and Diageo (DEO) possess low-risk attributes and strong cash-flow-generating​ capabilities, with steady revenue and earnings growth. Based in Belgium, Anheuser is the world's largest brewing company, producing more than 200 beer brands, including globally popular Budweiser, Stella Artois, and Beck's.
The company resulted from the merger of Anheuser and InBev in 2008; the conglomerate started trading in the U.S. on July 1, 2009, through American Depositary Receipts (ADRs). Its major markets include North America and Latin America.
BUD shares have been in a steady uptrend since 2009, climbing from a low of $36 per ADR to an all-time high of $90.27 on Oct. 5, 2012. Profit-taking has pulled the stock down, closing at $83 on Nov. 2, 2012. Value Line analyst Richard J. Gallagher sees the stock rising as high as $110 by 2015. BUD is among the few stocks ranked No. 1 in timeliness on Value Line's ranking system. 
"Enhanced operational efficiency ought to bolster results in the second half," says Gallagher. Anheuser reported better-than-expected​ profits in the second quarter, posting earnings of $1.23 a share, topping Value Line's forecast of $1.10.
For the year 2012, the analyst expects earnings of $4.85 a share on sales of $40 billion, way up from last year's $3.65 on sales of $39 billion. For next year, Gallagher forecasts profits of $5.15 a share on sales of $42.25 billion.
"Earnings will likely expand at a good clip out to 2015-2017," says the analyst, who expects both the top and bottom lines to register double-digit gains. Anheuser's balance sheet looks good, he notes, as the company continues to generate strong cash flow and keeps a manageable level of debt.
To further enlarge its global reach, the company has agreed to pay $20.1 billion for Mexican brewer Groupo Modelo, which Gallagher figures will solidify sales and earnings growth. Modelo produces the popular Corona line of beers. "We like the move as it strengthens Anheuser's position in the lucrative Mexican market," says Gallagher. Anheuser has also decided to sell its stake in Crown Imports to its joint-venture partner, Constellation Brands, for $1.8 billion, partly to mitigate any anti-trust concerns. 
Diageo, one of the world's largest alcoholic beverage producers, is another winner in the industry, producing such mainstays as Johnny Walker Scotch whiskey, Jose Cuervo tequila and gin, Bailey's liqueur, Captain Morgan rum, Smirnoff vodka, and Guinness beer. The London company has been expanding through acquisitions, and currently has its eye on Indian billionaire Vijay Mallya's stake in United Spirits, one of the largest breweries in India.
That would be a positive move, according to Gallagher, as it would strengthen Diageo's presence in emerging markets. Diageo is expected to show a double-digit jump in earnings in fiscal 2013, ending June 30, 2012, helped by growth in Latin America and other emerging markets.
Diageo, which also trades in the U.S. through ADRs, has been a super performer, steadily rising from a 52-week low of $79 per ADR on Nov. 23, 2011, to a high of $116 on Oct. 4, 2012. The stock, which closed at $115 as of Friday Nov. 2, 2012, should continue to climb to $145 by 2015, says Gallagher. Robust cash flow and a strong balance sheet have allowed the company to pay a dividend yield of 2.4%.
In sum, "the beverage behemoth should be able to be an industry consolidator and execute its expansion strategy without a problem, given its financial position," says Gallagher.
Are you sure you want to delete this comment?
DATA PROVIDERS
Copyright © 2014 Microsoft. All rights reserved.
Fundamental company data and historical chart data provided by Morningstar Inc. Real-time index quotes and delayed quotes supplied by Morningstar Inc. Quotes delayed by up to 15 minutes, except where indicated otherwise. Fund summary, fund performance and dividend data provided by Morningstar Inc. Analyst recommendations provided by Zacks Investment Research. StockScouter data provided by Verus Analytics. IPO data provided by Hoover's Inc. Index membership data provided by Morningstar Inc.
MARKET UPDATE
NAME
LAST
CHANGE
% CHANGE
There's a problem getting this information right now. Please try again later.
NAME
LAST
CHANGE
% CHANGE
There's a problem getting this information right now. Please try again later.
Market index data delayed by 15 minutes
[BRIEFING.COM] The stock market began the new trading week on the defensive note with small-cap stocks pacing the retreat. The Russell 2000 (-1.4%) and Nasdaq Composite (-1.1%) displayed relative weakness, while the S&P 500 lost 0.8% with all ten sectors ending in the red.

Global equities began showing some cracks overnight after China's Finance Minister Lou Jiwei poured cold water on hopes for new stimulus measures. Specifically, Mr. Lou said the government has no plans to change ... More
More Market News
Currencies
NAME
LAST
CHANGE
% CHANGE
There's a problem getting this information right now. Please try again later.