A jackpot for dividend investors
Several companies are announcing special one-time payouts or moving their payout dates into December. But there's a flip side to all this largess.
Companies are doling out more cash than a manic Black Friday shopper, hoping to get a jump on dividends before taxes increase next year.
Wal-Mart
(
WMT
) had previously scheduled its fourth-quarter dividend payout for early January, but Monday became the latest company to move the payment into December. The company is expected to offer $1.34 billion to shareholders, Reuters reports. The stock rose about 1% Monday to $68.78.
Several companies are shifting dividends around or announcing special one-time payouts, particularly as it looks increasingly likely that the tax burden for the wealthiest Americans will increase in 2013.
IDT
(
IDT
) canceled a 15-cent quarterly dividend in favor of a 60-cent special dividend this month, Bloomberg
reports
.
Wynn Resorts
(
WYNN
) is giving out a special $750 million dividend this week. Awarding a payout this year before taxes rise could save CEO Steve Wynn some $20 million, The New York Times
reports
. This month,
Commerce Bancshares
(
CBSH
) announced its first-ever special dividend of $1.50 a share.
Tyson Foods
(
TSN
) announced its first special dividend since 1977.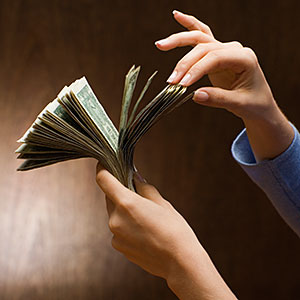 Other companies moving dividends into December include
Hot Topic
(
HOTT
) and
The Buckle
(
BKE
).
It's all an attempt to avoid what some are calling the "dividend cliff" -- the prospect of the dividend tax rate going from 15% to as much as 39.6% for the wealthiest Americans.
President George W. Bush cut taxes on dividends and other capital gains in 2003, giving Americans -- particularly the richest ones -- an extraordinary financial break for almost a decade. But those tax cuts are set to expire at the end of the year unless Congress takes action.
Those dividend tax rates are one of the hot topics in the budget negotiations between President Barack Obama and Congressional Republicans. Already, some insiders are talking about a deal that will bring the dividend tax rate to about 20%.
But there's another 3.8% in dividend taxes that will kick in next year. That's because Obama's health care law has a 3.8% dividend tax increase written into it, and with Obama's re-election, that increase is all but a sure thing at this point.
Even though fiscal cliff discussions are ongoing, it's a pretty sure bet that dividend taxes are going up no matter what. And while it may seem like a jackpot for investors now, the flip side of the issue is this: Dividends may dry up next year after the 2012 binge is over.
DATA PROVIDERS
Copyright © 2014 Microsoft. All rights reserved.
Fundamental company data and historical chart data provided by Morningstar Inc. Real-time index quotes and delayed quotes supplied by Morningstar Inc. Quotes delayed by up to 15 minutes, except where indicated otherwise. Fund summary, fund performance and dividend data provided by Morningstar Inc. Analyst recommendations provided by Zacks Investment Research. StockScouter data provided by Verus Analytics. IPO data provided by Hoover's Inc. Index membership data provided by Morningstar Inc.
MARKET UPDATE
NAME
LAST
CHANGE
% CHANGE
There's a problem getting this information right now. Please try again later.
NAME
LAST
CHANGE
% CHANGE
There's a problem getting this information right now. Please try again later.
Market index data delayed by 15 minutes
[BRIEFING.COM] S&P futures vs fair value: +4.90. Nasdaq futures vs fair value: +13.50. U.S. equity futures trade modestly higher amid upbeat action overseas. The S&P 500 futures hover five points above fair value. The global risk appetite got a boost overnight after the results of the Scottish independence referendum revealed a 55-45 vote in favor of remaining in the UK. The pound saw a brief extension of its recent rally before surrendering its overnight advance. The pound/dollar ... More
More Market News
Currencies
NAME
LAST
CHANGE
% CHANGE
There's a problem getting this information right now. Please try again later.