Rich world heads into recession
For the first time in 4 years, GDP growth in the 7 largest economies actually shrank. Will the decline continue?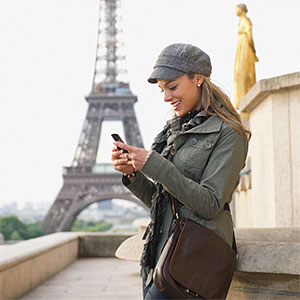 Despite the stock market's historic resistance to any significant pullbacks, the global economy has started to fall out of the sky. For the first time since 2009, according to preliminary data from six of the world's seven largest economies, GDP growth dropped into negative territory. And for France, Japan, the United Kingdom, and Italy, they economies are starting to shrink before they were able to surpass their pre-crisis highs.
The causes are many. Fiscal austerity. Lost consumer confidence. Weak export demand. Political uncertainty. And for the one country that hasn't reported yet (Canada), prospects are gloomy as its long property bubble is finally starting to burst.
And by all indications, the decline is set to continue.
Japan reported its third consecutive quarterly decline in GDP growth (-0.1%) due to a drop in business investment, exports, and inventories.
But the most shocking datapoint was the surprise -0.6% quarter-over-quarter​ drop in eurozone GDP growth as both France (-0.3%) and Germany (-0.6%) suffered declines in output. Italy was also particularly weak (-0.9%).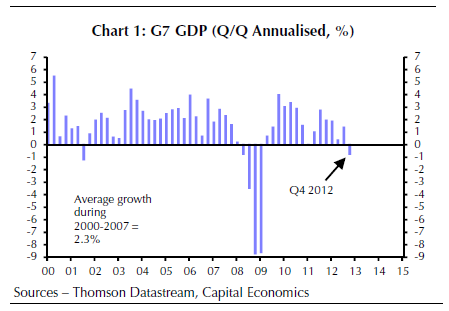 As with the recent -0.1% Q4 GDP report here at home, the optimists are trying to write off the decline as a one-time outlier. They point to a value-added tax increase in Spain at the start of September. They point to poor weather in December which dampened construction activity, especially in Germany.
But there are also signs that the drop in Eurozone activity is deeper and more structural as the woes that have been pushing youth unemployment towards 60% in Spain and Greece spread to the core of the eurozone.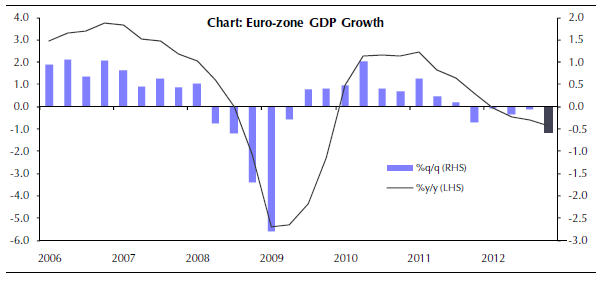 The industrial, export-oriented beating hearts of the currency union -- the countries that are expected to provide the bailout cash to the likes of Greece and Portugal as they try to recover -- succumbed to weakness and recorded significant falls in GDP growth including the Netherlands (-0.2%), Austria (-0.2%), and Finland (-0.5%).
France was the only country to break down the GDP data, and a look at the details suggests this is just start of what could be a deepening decline. Investment by non-financial businesses fell -1.2% and housing investment fell -0.8%. Execuatives clearly see storm clouds on the horizon.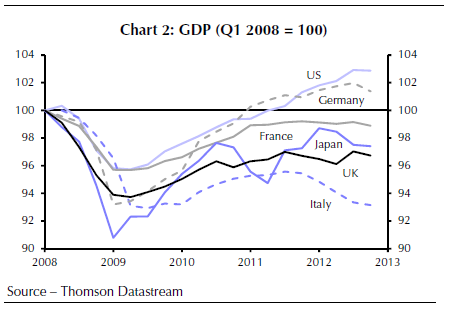 And for good reason: The scary thing about a drop in the European economy is that it worsens debt-to-GDP and deficit-to-GDP calculations at the center of the regions debt crisis. Already, both France and Spain look like they are going to miss previous deficit targets, requiring either more taxes, less spending, or leniency from the austerity taskmasters in Germany.
The decline wasn't limited to eurozone countries, with emerging European economies suffering as well after suffering sharp drops in export-oriented sectors like manufacturing.
This also sets the stage for political turbulence with Italians headed to the polls later this month, which could see the return of anti-austerity conservative firebrand Silvio Berlusconi. Germans will go to the polls later this year. And Spain's ruling party remains embroiled in an ongoing illegal kickback scandal.
The bulls believe the U.S. economy can bounce back since much of the recent weakness was caused by government spending cuts, which were offset by higher consumer spending late last year. Unfortunately, with the budget sequester all but certain (which will lop 0.7% off of GDP growth this year) and another budget/debt ceiling fight looming, more spending cuts and more tax hikes are coming. Consumers are already recoiling from the January 1 payroll tax hike -- and are also contending with record high gas prices for this time of year.
Both aren't exactly conducive to big ticket spending.
Moreover, the folks at Capital Economics believe the Eurozone economy will shrink by 2% in 2013, with substantial weakness in Italy and Spain.
Given the dynamics of this downturn -- driven by tapped out government balance sheets -- it's unlikely the Wall Street optimists will get the quick turnaround they expect. Once economists are forced to mark down their 2013 GDP growth estimates, sentiment (which has reached bubbly extremes) and stock prices (which haven't had a correction since November) will surely follow.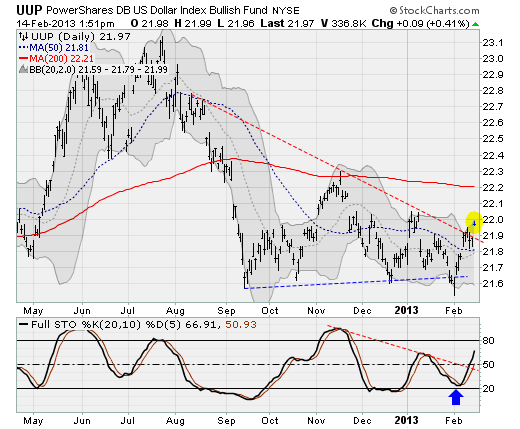 No wonder that defensive, safe haven assets like U.S. Treasury bonds and the U.S. dollar, which had been left out in the cold during the run up to Dow 14,000, are perking up today. I'm adding both the US Dollar Bullish Index Fund (UUP) and the Direxion 3x Treasury Bull (TMF) to my Edge Letter Sample Portfolio.
If you've been riding stocks higher, with the fundamentals turning south like they are now and sentiment at such extreme levels, now's the time to consider stepping off and booking profits.

Be sure to check out Anthony's new investment newsletter, the Edge, and his money management service, Mirhaydari Capital Management. A two-week free trial has been extended to MSN Money readers. Click the link above to sign up. Mirhaydari can be contacted at anthony@edgeletter.c​​om and followed on Twitter at @EdgeLetter. You can view his current stock picks here. Feel free to comment below.

DATA PROVIDERS
Copyright © 2014 Microsoft. All rights reserved.
Fundamental company data and historical chart data provided by Morningstar Inc. Real-time index quotes and delayed quotes supplied by Morningstar Inc. Quotes delayed by up to 15 minutes, except where indicated otherwise. Fund summary, fund performance and dividend data provided by Morningstar Inc. Analyst recommendations provided by Zacks Investment Research. StockScouter data provided by Verus Analytics. IPO data provided by Hoover's Inc. Index membership data provided by Morningstar Inc.
MARKET UPDATE
NAME
LAST
CHANGE
% CHANGE
There's a problem getting this information right now. Please try again later.
NAME
LAST
CHANGE
% CHANGE
There's a problem getting this information right now. Please try again later.
Market index data delayed by 15 minutes
[BRIEFING.COM] The stock market finished the Tuesday session on the defensive after spending the entire day in a steady retreat. The S&P 500 (-0.6%) posted its third consecutive decline, while the small-cap Russell 2000 (-0.9%) slipped behind the broader market during afternoon action.

Equity indices were pressured from the start following some overnight developments that weighed on sentiment. The market tried to overcome the early weakness, but could not stage a sustained rebound, ... More
More Market News
Currencies
NAME
LAST
CHANGE
% CHANGE
There's a problem getting this information right now. Please try again later.