Retailers face spending slowdown
If consumers aren't buying, maybe investors should be selling.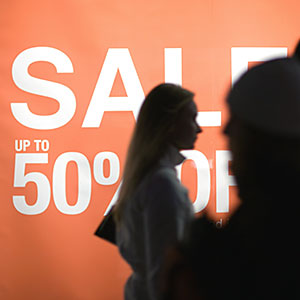 By Ken Shreve
One question on Wall Street's mind these days is the strength of the consumer and what effect this will have on the retail sector in 2013. 
The SPDR S&P Retail ETF (XRT) had a solid 2012, up 19%, compared to a 13% gain for the S&P 500, but questions are out there about whether the fund will be able to outperform again in 2013.
After a strong start to the holiday shopping season, the year ended with a whimper. MasterCard Advisors Spending Pulse recently said that holiday-related sales rose 0.7% from Oct. 28 through Dec. 24, well below expectations of 3% to 4% growth. And Tuesday, data from a Channel Advisors showed a slowdown in spending at Amazon.com (AMZN) and eBay (EBAY).
Sales at Amazon.com rose 29.8% in December, down from November's rate of 43.7%. Meanwhile, sales at eBay.com rose 22.2% in December, down from 27.4% growth in November.
Let's just say that sentiment isn't all that positive in the retail sector at the moment. Many high flyers with seemingly strong fundamentals are facing selling pressure as investors question growth prospects ahead.
After a massive price rise since March 2009, Ulta Beauty's (ULTA) technical picture is starting to weaken. Late last week, the company said total sales in the seven-week holiday period from just before Thanksgiving to the end of the year rose 23% from a year ago to $475.6 million. Solid growth, definitely, but same-store sales rose 7.4%, down from 12.6% in the holiday season of 2011.
Shares of yoga apparel retailer Lululemon Athletica (LULU) have also been under distribution in recent weeks. The stock is down 6.4% over the past five trading sessions.
Earnings season hasn't ramped up in earnest yet, but after the close Wednesday, it will be interesting to hear what PriceSmart (PSMT) has to say. It's basically known as the Costco of Latin America and the Caribbean. On the surface, fundamentals are solid, but PriceSmart has been facing institutional selling pressure for several weeks now.
A look at its weekly chart below shows four higher-volume weekly declines since early November and another taking shape this week. This is what distribution, or professional selling, in a stock looks like.
The Thomson Reuters consensus estimate calls for profit of $0.62 a share, up 32% from a year ago. Sales are seen rising 12% to $535.4 million.
Just because sellers have been in PriceSmart ahead of earnings, doesn't mean it's bound to head lower. Still, buying demand appears to be drying up. Short interest is pretty high in PriceSmart so a short squeeze is possible if numbers come in better than expected. As of Dec. 14, short interest was 1.9 million shares. It's leveled off in recent months, but keep in mind that PriceSmart only trades about 150,000 shares a day.
The bottom line is that PriceSmart looks vulnerable ahead of earnings, especially after a 1,500 percent+ price move since the start of the bull in March 2009. It's a classic late-stage base, meaning a good argument can be made that the big money's already been made. Smart money isn't right all the time, but I suspect it could be in this case.

More from Benzinga 

Gee wasn't back in Nov when the media hype and "experts" were all predicting another record selling Holdiay Season and how Black Friday would set records?  Guess what..Black Friday and the holiday season was a bust...and that's why MSN doesn and the "experts" don't talk about it.  The majority of American people are only spending on the necessities and that's the truth. 

A dismal Xmas, and now with Obamanomics TAX HIKES slamming the brakes on the economy, is it any wonder Sales are slowing down?   We are heading into a recession/depression​, fueld by massive government Debt and Spending.  Government Spending NEVER creates demand, it REDIRECTS it from the private sector that creates real long term demand (read jobs), and wastes it on temporary government projects. 
We are heading into a depression of epic scale.  Buy guns/ammo, gold/siver, and invest overseas before the coming Obamanomics collapse.
The idea that you can Borrow and Spend your way out of debt is pure Obama fantasy.  The idea that you can Tax and Print your way to propserity is more democrat lunacy.

Lululemon will continue to fall for several reasons.  They were the first company to develop a retail concept around Yoga and they targeted true Yoga practicioners and along the way sold Yoga clothing to suburban housewives and young women who wore the clothing more as a status symbol rather than actually being a devoted "Yogi".  In fact, most of these suburban housewives have trouble walking their dog let alone practicing the "Downward Dog".  In addition, other national retailers picked up on the Yoga trend and offered their own lines of gear from Nike or their own private label and far lower prices.  All this being said..as our economy continues to erode so will this stock.  Great time to short Lululemon.
Are you sure you want to delete this comment?
DATA PROVIDERS
Copyright © 2014 Microsoft. All rights reserved.
Fundamental company data and historical chart data provided by Morningstar Inc. Real-time index quotes and delayed quotes supplied by Morningstar Inc. Quotes delayed by up to 15 minutes, except where indicated otherwise. Fund summary, fund performance and dividend data provided by Morningstar Inc. Analyst recommendations provided by Zacks Investment Research. StockScouter data provided by Verus Analytics. IPO data provided by Hoover's Inc. Index membership data provided by Morningstar Inc.
MARKET UPDATE
NAME
LAST
CHANGE
% CHANGE
There's a problem getting this information right now. Please try again later.
NAME
LAST
CHANGE
% CHANGE
There's a problem getting this information right now. Please try again later.
Market index data delayed by 15 minutes
[BRIEFING.COM] The stock market began the new trading week on the defensive note with small-cap stocks pacing the retreat. The Russell 2000 (-1.4%) and Nasdaq Composite (-1.1%) displayed relative weakness, while the S&P 500 lost 0.8% with all ten sectors ending in the red.

Global equities began showing some cracks overnight after China's Finance Minister Lou Jiwei poured cold water on hopes for new stimulus measures. Specifically, Mr. Lou said the government has no plans to change ... More
More Market News
Currencies
NAME
LAST
CHANGE
% CHANGE
There's a problem getting this information right now. Please try again later.