5 ways not to invest in 2013
Unfortunately, lots of people lose big every year because of these mistakes, but you can keep a closer eye for the next time around.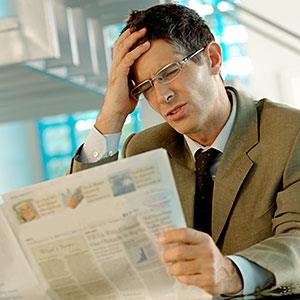 By John Heinzl, Globe Investor
To paraphrase the philosopher George Santayana, those who don't learn from the stock market's past are condemned to repeat it.
With that in mind, let's look at some lessons investors learned -- or at least should have learned -- in 2012. Many of these lessons are timeless, yet investors don't always heed them.
1. Following the herd can get you trampled
When Apple (AAPL) was trading for more than $700 back in September, the media were filled with breathless stories about folks waiting in line for the iPhone 5 and analysts boosting their price targets to $800, $900, and -- in a couple of cases -- $1,000 or more.
Then came the Apple Maps fiasco and the ouster of the company's top software and retail execs, which -- together with growing competition from Samsung (SSNLF) and Microsoft (MSFT) -- sent the stock down more than 25%. When everyone agrees that a stock is going higher, it often means risks are being ignored. (Microsoft owns and publishes Top Stocks, an MSN Money site.)
2. Beware stocks bearing high yields
The next time you're tempted by a stock's outsized dividend yield, ask yourself why the payout is so high.
Yellow Media is the poster child for why investors need to be skeptical of high yields. In 2012, investors learned that lesson again with stocks such as TransAlta (TAC) and AGF Management (AGF.B).
3. IPOs can deliver a KO to your portfolio
Facebook (FB). Zynga (ZNGA). Groupon (GRPN). 'Nuff said.
4. Be cautious with commodities
Care to guess how many of the 10 worst performers on the Canadian S&P/TSX composite index in 2012 are commodities companies? Answer: 10. Six miners of gold and other metals, three oil and gas producers, and one energy services company.
Resource producers face myriad challenges: They have no control over the price of commodities. They face ever-rising labor and production costs. And (when they have operations in other countries) they can be at the mercy of foreign governments that don't always play nice.
5. Safety comes with a price
With Treasury bonds yielding so little, fixed-income investors are barely keeping up with inflation.
Parking a portion of your money in Treasurys is fine, but investors who refuse to take on any risk will likely pay a steep price in the long run by missing out on the potentially higher returns of stocks.
Read more from Globe Investor here.
More from MoneyShow.com
DATA PROVIDERS
Copyright © 2014 Microsoft. All rights reserved.
Fundamental company data and historical chart data provided by Morningstar Inc. Real-time index quotes and delayed quotes supplied by Morningstar Inc. Quotes delayed by up to 15 minutes, except where indicated otherwise. Fund summary, fund performance and dividend data provided by Morningstar Inc. Analyst recommendations provided by Zacks Investment Research. StockScouter data provided by Verus Analytics. IPO data provided by Hoover's Inc. Index membership data provided by Morningstar Inc.
MARKET UPDATE
NAME
LAST
CHANGE
% CHANGE
There's a problem getting this information right now. Please try again later.
NAME
LAST
CHANGE
% CHANGE
There's a problem getting this information right now. Please try again later.
Market index data delayed by 15 minutes
[BRIEFING.COM] The S&P 500 remains near its flat line with one hour left in the trading day. This morning was relatively quiet with respect to quarterly earnings, but participants will have to deal with another heavy dose of reports as the week progresses.

Following today's closing bell, industrial names Jacobs (JEC 53.70, -0.29), Owens & Minor (OMI 34.94, +0.50), and Masco (MAS 20.27, -0.63) will headline the list of reporting companies, while tomorrow ... More
More Market News
Currencies
NAME
LAST
CHANGE
% CHANGE
There's a problem getting this information right now. Please try again later.