Market prepares for new stimulus, higher inflation
The Federal Reserve and the European Central Bank step closer to taking action as the global economy continues to slow.
Both the Federal Reserve and the European Central Bank, in eagerly anticipated policy decisions, have decided to hold off on new stimulus measures but have laid the groundwork for future action. They maintain an easing bias. In other words, it's a question not of whether they'll take action but of when. The economy certainly needs it.
With this in mind, inflation expectations, as derived from trading in Treasury bonds, are rising despite what, on the surface, was a big letdown for investors expecting the Fed and the ECB to take action. That's helping keep precious metals bouyant. Some of this could be driven by the fact that economic expectations have fallen so hard so fast that the data are now poised to surprise to the upside. And some of this is driven by the fact that Germany and the inflation hawks at the Fed have less and less hard evidence to use to defend their opposition to new stimulus.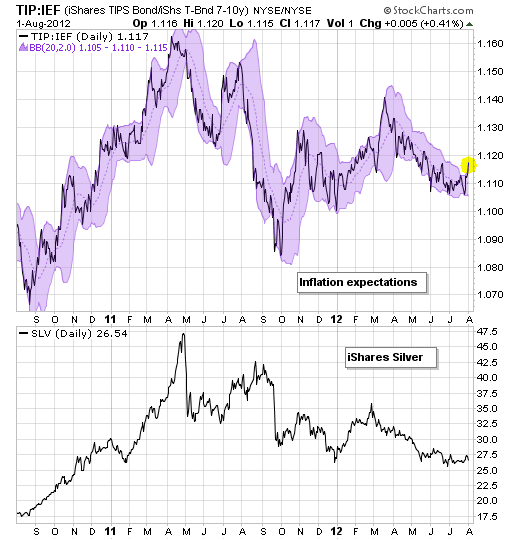 Factory activity has fallen to recessionary levels, and headline consumer price inflation is below the Fed's 2% target. Friday's payroll report is likely to be soft, despite a strong ADP report, which was distorted by temporary auto plant shutdowns. Job creation at U.S. manufacturers has dropped to a 2 1/2-year low. And retail sales have been extremely weak.
For the Fed, officials announced no change to their policy stance. They retain an easing bias, promising to provide "additional accommodation as needed." But the result was a disappointment, with no discussion of possible easing measures or any extension of its low-rate commitment beyond 2014.
For the ECB, although it also took no new action, President Mario Draghi stressed that his institution would be designing, in the weeks to come, a framework to restart open-market bond purchases (focused on short-term interest rates) that would be triggered by countries like Spain requesting assistance from Eurozone bailout funds. The ECB's internal committees would also be tasked with reviewing new, unconventional policy measures.
This meshed well with an overnight report in the German press that the bank is working on a bond-buying plan to push down Italian and Spanish borrowing costs in the open market to clear the way for the Eurozone bailout funds to buy bonds directly from troubled governments.
Both the Fed and the ECB really have no choice but to act soon. Germany, in particular, will need to drop its steadfast resistance to any new easing measures out of the ECB now that the slowdown that's been hampering its continental neighbors hits Bavarian soil.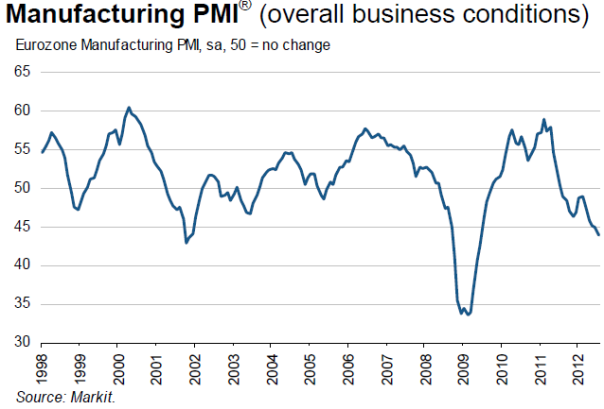 Final PMI data for the Eurozone revealed a 1.1-point drop to 44, the index's 12th straight contraction and a 37-month low. Any reading below 50 indicates month-to-month contraction. Output and backlogs haven't been at their current levels since 2009. New orders were down for the 14th straight month, while employment notched its sixth straight month of contraction.
Germany underperformed the rest of the bloc, coming in at 43, a three-year low and the sixth straight month of contraction in factory activity. France's PMI dropped 1.8 points to 43.4, while Italy's (44.3), Spain's (42.3) and Greece's (41.9) all disappointed.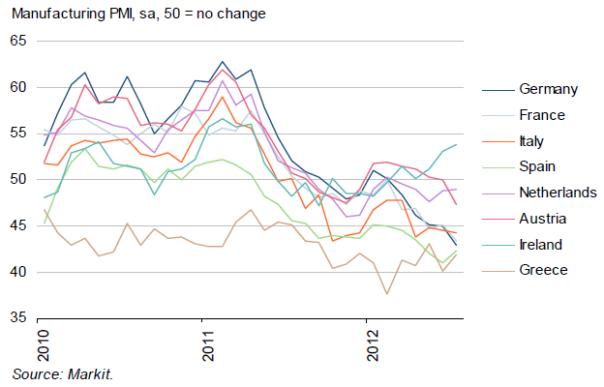 But what's really notable has been the absolute collapse in German factory activity, which is the beating heart of the Teutonic economy. This is a very big deal. The Germans enjoyed a growth spurt in 2010 and 2011, thanks to the export competitiveness their factories gained from a weaker euro. This fueled the indifference Berlin has shown to the ongoing economic woes of their Latin neighbors.
They can't ignore it any longer, as a drop in demand from those countries has cooled export activity to such an extent that the German PMI has fallen to levels shared with Spain and Greece. France is down there as well.
Here's the kicker: The ECB tends to set monetary policy based on what the German economy is doing. This is the reason the ECB kept interest rates too low too long in the 2000s, fueling the credit binge in Spain and elsewhere. Now it opens the door for new stimulus action as the slowdown that's been dragging down the rest of the eurozone finally hits Germany.

Trading update

I continue to build my long positions and am adding two positions to my Edge Letter Sample Portfolio: energy services provider Hercules Offshore (HERO) and semiconductor designer Spreadtrum Communications (SPRD).
Disclosure: Anthony has recommended HERO to his newsletter subscribers.
I found HERO and SPRD with the help of technical screens developed with Fidelity's Wealth Lab Pro back-testing tools, which you can find here. (Fidelity sponsors the Investor Pro section on MSN Money.)

Check out Anthony's investment advisory service The Edge. A two-week free trial has been extended to MSN Money readers. Click here to sign up. Contact Anthony at anthony@edgeletter.c​​​om and follow him on Twitter at @EdgeLetter. You can view his current stock picks here. Feel free to comment below.

San Bernardino, CA is bankrupt to the tune of $1 billion dollars and it appears nobody cares and it has not negative impact on the market.  Greece, Spain, Italy and other European countries are bankrupt and the US is now saddles with the heavies debt load in our nations history and yet we continue to infuse more "funny money" into the system to keep the market up.  What a joke...let it collapse and then we can start over without perhaps the greed which has caused a majority of the problems to begin with.
WRONG again, Anthony. The US and Europe can't print more bail out funds without sinking the rest of the world. Sorry, but every single debt consolidating penny extended to US and Europe needed to go to job recovery, not banks and investors. Further debasing the usability of existing currency will wipe-out all street activity altogether. Man cannot exist on financial manipulation and that's all that is left. Wall Street, Banks and Investors HAVE TO take the hit. Since they're all made out of paper, the hit drives the markets to ZERO. Read your history, buddy... the final issues of fiat money for France did it in. Unless the financial sector wants war, it needs to start recovering jobs and writing checks to repair all the damage they've done. Paper pushing and button pressing has destroyed us.

"Well, I see the negative people are out today. I don`t see any solutions as usual. If we don`t do what we have to do there will be a worldwide depression. No stimulus =depression."
Wrong. No stimuli = correction. We are already in a depression. Where will you go now that you've screwed the whole world, slacker?
Are you sure you want to delete this comment?
DATA PROVIDERS
Copyright © 2014 Microsoft. All rights reserved.
Fundamental company data and historical chart data provided by Morningstar Inc. Real-time index quotes and delayed quotes supplied by Morningstar Inc. Quotes delayed by up to 15 minutes, except where indicated otherwise. Fund summary, fund performance and dividend data provided by Morningstar Inc. Analyst recommendations provided by Zacks Investment Research. StockScouter data provided by Verus Analytics. IPO data provided by Hoover's Inc. Index membership data provided by Morningstar Inc.
MARKET UPDATE
NAME
LAST
CHANGE
% CHANGE
There's a problem getting this information right now. Please try again later.
NAME
LAST
CHANGE
% CHANGE
There's a problem getting this information right now. Please try again later.
Market index data delayed by 15 minutes
[BRIEFING.COM] The stock market finished the Thursday session on a higher note with the S&P 500 climbing 0.5%. The benchmark index registered an early high within the first 90 minutes and inched to a new session best during the final hour of the action.

Equities rallied out of the gate with the financial sector (+1.1%) providing noteworthy support for the second day in a row. The growth-oriented sector extended its September gain to 1.9% versus a more modest uptick of 0.4% for the ... More
More Market News
Currencies
NAME
LAST
CHANGE
% CHANGE
There's a problem getting this information right now. Please try again later.