Job gains aren't what they seem
A shady payroll report continues a string of misleading economic data.
The market euphoria reached new heights Friday morning after government bureaucrats surprised investors with a better-than-expected​ payroll report. The economy added 236,000 jobs last month, pushing the unemployment rate down to 7.7%. Seems all good, and stocks responded in kind.
But once again, a look at the details reveals trouble. They reveal what most Americans understand deep inside their soul: The economy isn't getting better, the job market remains broken, and Wall Street's exuberance contrast sharply with the nervousness being felt on Main Street.
Here's why.
For one, good quality, full-time, full-benefit positions actually dropped last month and have been flat lining since September. We lost 77,000 positions and are still down more than 6 million full-time jobs from the November 2007 employment peak. Yet over that time, the population has expanded by more than 12.5 million.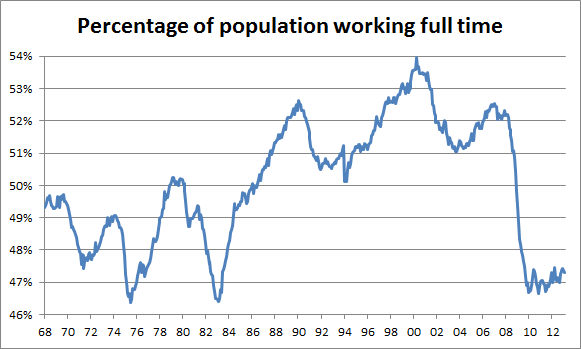 As a result, the percentage of the total population working with a full-time job remains at lows that were seen, only briefly, in the 1970s and 1980s. That's why this recovery has felt so terrible for so many. And we remain a long way away from the 54% peak reached in the spring of 2000 -- despite the fact the stock market has already pushed to new record highs.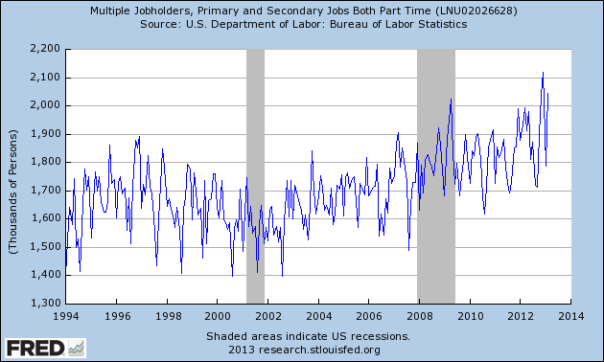 Another way to put this is that recent job gains have been low-quality, low-wage, part-time positions. Indeed, the number of people working multi-part time jobs has risen steadily since that full-time employment peak in 2000.
Second, the drop in the unemployment rate below 8% has largely been driven by people exiting the workforce in disgust. The way the government crunches the numbers, if you exhaust your unemployment benefits and decide, because of a lack of opportunity, so simply give up the search, you've just contributed to a drop in the unemployment rate.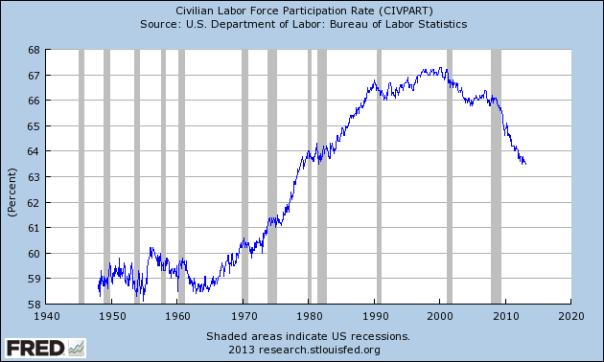 When this happens enough, the unemployment rate no longer becomes a true metric of the health of the job market. That's happened now, which is why the civilian labor force participation rate continues to crater.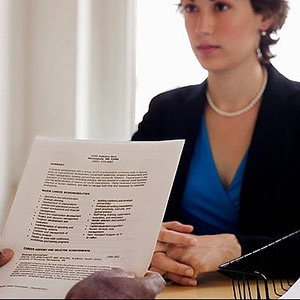 Call me a skeptic. Call me a pessimist. Call be a perma-bear. All I know is, America is not on the right track. And the false sense of confidence today's jobs numbers is instilling in investors buying into an overextended market is setting people up for disappointment. The same disappointment being felt by the millions still desperately searching for rewarding, meaningful work to pay for a rising cost of living and a credit hangover accumulated over the last decade.
More simply, we're becoming a nation of single-income households when we have the debt burdens and expectations of two-incomes. Until that reverses, or the burdens lighten, the economy will remain under pressure. 
For now, I'm recommending my clients book profits and start rotating into beaten down precious metals. I'm adding the VelocityShares 3x Silver (USLV) and the Market Vectors Gold Miners (GDX) to my Edge Letter Sample Portfolio.
Disclosure: Anthony has recommended USLV and GDX to his clients.

Be sure to check out Anthony's new investment newsletter, the Edge, and his money management service, Mirhaydari Capital Management. A two-week free trial has been extended to MSN Money readers. Click the link above to sign up. Mirhaydari can be contacted at anthony@edgeletter.c​​om and followed on Twitter at @EdgeLetter. You can view his current stock picks here. Feel free to comment below.
DATA PROVIDERS
Copyright © 2014 Microsoft. All rights reserved.
Fundamental company data and historical chart data provided by Morningstar Inc. Real-time index quotes and delayed quotes supplied by Morningstar Inc. Quotes delayed by up to 15 minutes, except where indicated otherwise. Fund summary, fund performance and dividend data provided by Morningstar Inc. Analyst recommendations provided by Zacks Investment Research. StockScouter data provided by Verus Analytics. IPO data provided by Hoover's Inc. Index membership data provided by Morningstar Inc.
MARKET UPDATE
NAME
LAST
CHANGE
% CHANGE
There's a problem getting this information right now. Please try again later.
NAME
LAST
CHANGE
% CHANGE
There's a problem getting this information right now. Please try again later.
Market index data delayed by 15 minutes
[BRIEFING.COM] S&P futures vs fair value: -5.80. Nasdaq futures vs fair value: -12.80. U.S. equity futures trade modestly lower amid cautious action overseas. The S&P 500 futures hover six points below fair value after climbing off their overnight lows reached during the Asian session. The night has been very quiet on the economic front with several central bank and government officials playing down expectations of additional stimulus. On that note, China's Finance Minister Lou Jiwei ... More
More Market News
Currencies
NAME
LAST
CHANGE
% CHANGE
There's a problem getting this information right now. Please try again later.