'Risky' stocks on the move
As Europe nears a solution to its debt crisis, investors buy up some of the most economically sensitive stocks.
Stocks have pushed higher this week as European policymakers move closer to mending the festering wound that is their debt crisis, which has gone on so long without adequate treatment that it's now beginning to infect the continent's banking system as well.
The catalyst for the surge of good feelings has been reports that the eurozone is poised to enact a creative solution to maximize the firepower of its existing €440 billion bailout fund, the European Financial Stability Facility.

Details are unimportant. What matters is that the plan would give the Europeans €3.2 trillion with which to support Greece and build a firewall around the too-big-to-fail nations of Italy and Spain.
While there are still hurdles to clear -- namely, the need for previous changes to the EFSF to be cleared by all 17 eurozone parliaments over the next few weeks -- investors are taking heart that leaders understand the gravity of the situation and are committed to finding a solution -- unlike during the 2008 panic here in the United States, driven by congressional rejection of the original bank bailout plan and the decision to let Lehman Bros. go down in flames. 
As a result, I'm seeing serious buying pressure in key cyclical sector groups, including semiconductors and financial services -- stocks that tend to be some of the first movers of any new market rally.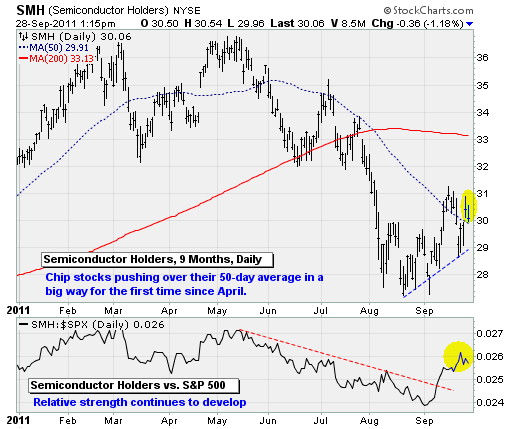 First, chip stocks. The chart above shows how semiconductors have been enjoying a surge of relative strength against the overall market all month long. Such a move hasn't been seen since the April-May uptrend that took the market to new highs. Given that microprocessors and memory chips are embedded in nearly all modern manufactured goods, this is a sign that investors are actively betting on a re-acceleration of economic activity in the months to come. You can see this in the chart of the Semiconductors Holders (SMH) in the chart above.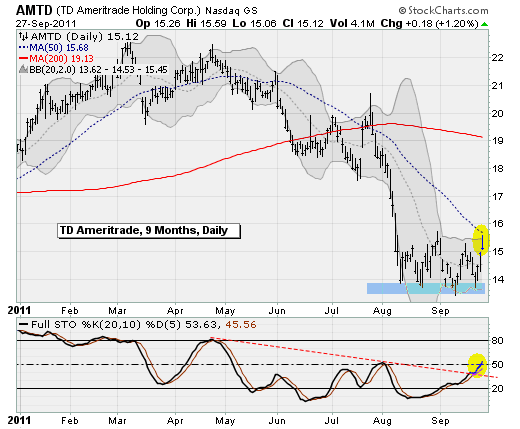 More recently, just within the past few days, financial services stocks have started to come to life. The rationale here is that if the economy is about to improve, stocks and other risky assets are bound to improve as well. The anticipation of increased trading activity and new brokerage accounts are boosting TD Ameritrade (AMTD), the Nasdaq OMX Group (NDAQ) and Federated Investors (FII). 

I'm adding AMTD to my Edge Letter sample portfolio, which tracks my recommendations to MSN Money readers in real time.
I found AMTD with the help of technical screens developed with Fidelity's Wealth Lab Pro back-testing tools, which you can find here. (Editor's note: Fidelity sponsors the Investor Pro section on MSN Money.)
Disclosure: Anthony has recommend AMTD and FII to his newsletter subscribers.

Check out Anthony's new investment advisory service The Edge. A two-week free trial has been extended to MSN Money readers. Click here to sign up.
The author can be contacted at anthony@edgeletter.c​om and followed on Twitter at @EdgeLetter. You can view his current stock picks here. Feel free to comment below.
Never mind Lehman Brothers going "down in flames." How about the entire United States economy going in the same direction?. How about the millions of U.S. families living now on the street and seeking shelter -- along with their children -- in automobiles or under bridges?
When you've finished playing your little game of Monopoly(TM) will you have won anything more than plastic 'houses' and paper 'deeds' along with the 'money' which no longer buys anything? Stop now and devote some editorial space to the suffering unemployed of this nation. They represent the ultimate reality of our era!
Is it any consolation to know that when the greedy corporate controllers have sold this nation to foreign lands they will have to move there, to those lands, in order to enjoy the fruits of their greed? There certainly won't be anything left in this land!

All this sickening volatility in the market is not a sign of a bottoming process.  In fact, I'd venture to say that this is the greatest volatility the market has EVER experienced over a 3-4 month period The only profitable trades right now are hedged option plays.  As for the US economy, there is no real improvement and unlikely to be any in the near future.  Dangers to the global financial system are at all time highs.

Everybody knows we are in a bear market.  Be safe and stay out of the markets.


Which way did they go? Its hard to keep up with this overseas stuff- France next or Grease up the market for a fall. Rally, rally, crash, crash. The jobs bill is next, maybe Goldman Sachs can put up the money. That last 14 and one half billion bought what? Only the rich & our fearless leader know for sure.

Geez, I don't see much evidence of a rally, and the market is turning with every gust of hot air from Europe... can't move much higher due to uncertainty issues and possible big downsides... although he could be right about some move in semis due to severe oversold condition, it is not likely to last long... and very likely left out to dry.  We could see another big drop here.  You are sticking your neck out big-time here, Anthony.  CASH IS KING for the moment.
Are you sure you want to delete this comment?
DATA PROVIDERS
Copyright © 2014 Microsoft. All rights reserved.
Fundamental company data and historical chart data provided by Morningstar Inc. Real-time index quotes and delayed quotes supplied by Morningstar Inc. Quotes delayed by up to 15 minutes, except where indicated otherwise. Fund summary, fund performance and dividend data provided by Morningstar Inc. Analyst recommendations provided by Zacks Investment Research. StockScouter data provided by Verus Analytics. IPO data provided by Hoover's Inc. Index membership data provided by Morningstar Inc.
MARKET UPDATE
NAME
LAST
CHANGE
% CHANGE
There's a problem getting this information right now. Please try again later.
NAME
LAST
CHANGE
% CHANGE
There's a problem getting this information right now. Please try again later.
Market index data delayed by 15 minutes
[BRIEFING.COM] The stock market welcomed the new trading week with a mixed session that saw relative strength among large-cap stocks, while high-beta names underperformed. The Dow Jones Industrial Average (+0.3%) and S&P 500 (-0.1%) finished near their flat lines, while the Nasdaq Composite and Russell 2000 both lost 1.1%.

Equities began the day on a cautious note amid continued concerns regarding the strength of the global economy. Over the weekend, China reported its first decline ... More
More Market News
Currencies
NAME
LAST
CHANGE
% CHANGE
There's a problem getting this information right now. Please try again later.