Investing in Coca-Cola is the real thing
Despite China and competition, Coke appears poised for a decent fourth quarter.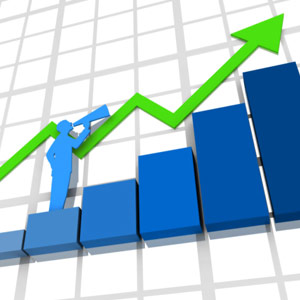 By Marc Courtenay
Coca-Cola
(
KO
) had subdued earnings results in the third quarter, where its year-over-year earnings growth rose 3.9%. Not bad for a time period riddled with uncertainty and consumer angst all around the globe.
While experiencing healthy results in North America, its overseas business was dampened by China's anemic 2% increase in sales volume for the quarter, as compared to more than 10% a year earlier. Coke's CEO Muhtar Kent made comments in the conference call Oct. 16 suggesting that China's government has been focused more on trying to tamp down inflation and not on economic growth.
The Wall Street Journal reported Kent said, "As we look ahead to the next six months, it is reasonable to expect that China's continuing economic slowdown may have a short-term effect on our industry and our business."
Thus the leader of KO is guiding expectations downward for the fourth quarter. That may spell opportunity for investors wanting to add to existing stock positions. It also may present a good entry point for those interested in following one of Coke's long-term, big-time investors, Warren Buffett. His mega-holding company Berkshire Hathaway (BRK.A) owns 400 million of Coke shares, almost 9% of the outstanding shares as of June 29.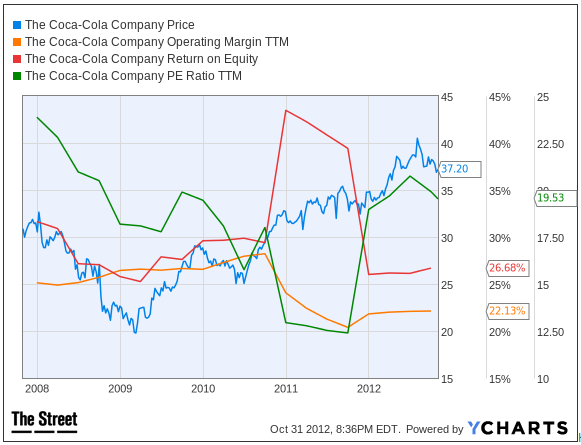 As you can see from the poignant five-year chart above, KO's price-per-share has followed its price-to-earnings ratio, which has been ascending back to its pre-2009 levels. With over a 23% operating margin trailing 12 months and a 26.42% return-on-equity, it's no wonder that company director Barry Diller directly owns about 1.76 million shares.
The 136-year-old company sells its products primarily under the Diet Coke, Fanta, Sprite, Coca-Cola Zero, Vitamin Water, PowerAde, Minute Maid, Simply, Georgia, and Del Valle brand names.
KO offers its beverage products through company-owned or controlled bottling and distribution operators, as well as through independently owned bottling partners, distributors, wholesalers, and retailers.
Rival PepsiCo (PEP) has been pouring on increased competition. It is spending multi-millions to increase the purchase and consumption of its best-selling brands like Pepsi-Cola, Cherry Pepsi and Mountain Dew ("and them that refuse it are few" as the words of the old country song goes).
Coca-Cola is working its own earnings growth strategies. As an example of how KO continues to churn out huge profits ($2.31 billion in the third quarter), it announced on Oct. 16 that Coca-Cola and French pharmaceutical giant Sanofi (SNY) have a joint partnership to launch a new line of beverages to promote wellness and beauty.
The drinks, called Beautific Oenobiol, which is Sanofi's nutrition and beauty brand, will debut in France in pharmacies in autumn. The falling leaves should spell rising revenue for both companies, and KO should be more than able to sustain its $1.02 annual dividend, which represents a relatively high 52% payout ratio.
Shareholders won't be biting their nails or breaking out in a sweat about Coca-Cola's financial might. With more than $18 billion in total cash as of the most recent quarter, trailing 12 months operating cash flow of $10.51 billion and trailing 12 months levered free cash flow of $6.42 billion, it should remain both the "real thing" and the "real deal" for growth-at-a-reasonab​le price investors for years to come.
More from TheStreet.com

Even if it has healthy products here and there, the majority of the Coke products are not exactly the right choice for a balanced diet and with people becoming more conscious about that it might be difficult to maintain the current level of performance. Well, there won't be change overnight as well. 
I don't understand how Coke is worth a dime. I never drink it and don't like it. It's got to be all hype and advertising that make it popular, and that's just kind of sad. People are so gullible. Bubbly Brown colored sugar water that tastes alot like pepto bismal, I'll never get it. And now with the health studies that have linked soda and sugar to heart problems, it can't be good for their company. 
Are you sure you want to delete this comment?
DATA PROVIDERS
Copyright © 2014 Microsoft. All rights reserved.
Fundamental company data and historical chart data provided by Morningstar Inc. Real-time index quotes and delayed quotes supplied by Morningstar Inc. Quotes delayed by up to 15 minutes, except where indicated otherwise. Fund summary, fund performance and dividend data provided by Morningstar Inc. Analyst recommendations provided by Zacks Investment Research. StockScouter data provided by Verus Analytics. IPO data provided by Hoover's Inc. Index membership data provided by Morningstar Inc.
MARKET UPDATE
NAME
LAST
CHANGE
% CHANGE
There's a problem getting this information right now. Please try again later.
NAME
LAST
CHANGE
% CHANGE
There's a problem getting this information right now. Please try again later.
Market index data delayed by 15 minutes
[BRIEFING.COM] The major averages ended the midweek session on a flat note after spending the day inside narrow ranges. The S&P 500 hovered near the 2,000 mark for the majority of the trading day, but slumped to new lows during the last hour of action. The index then returned to its flat line, where it settled for the day. For the third day in a row, participation left a lot to be desired with just 487 million shares changing hands at the NYSE.

Equity indices opened with slim gains, ... More
More Market News
Currencies
NAME
LAST
CHANGE
% CHANGE
There's a problem getting this information right now. Please try again later.