It's time to buy everything
Epic upside breakouts are being seen across the risk spectrum -- in stocks, commodities and precious metals.
Well, this is fun. After months stuck in a sideways amble, the stock market is launching higher. Riskier, smaller stocks are doing better than larger, safer ones. So the Russell 2000 is hotter than the Dow Jones Industrial Average right now. And pharmaceuticals, financials, and foreign stocks are doing better than consumer staples and utilities.
But it's not just stocks that are launching higher. Crude oil is in the midst of its best four-day gain since the move out of last October's lows. Copper is having its best run since November. Gold and silver are on the move, too. High-yield bonds are pushing to new highs. For investors, it's time to buy everything that isn't bolted down as the "last gasp rally" I talked about in a recent column gets under way.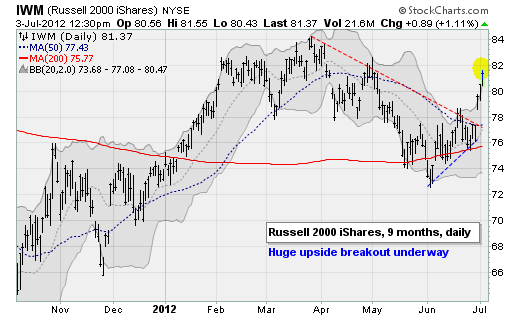 Everywhere I look, there are breakouts. The Russell 2000 has pushed over downtrend resistance, its 50-day moving average and its upper Bollinger band (a measure of volatility) as if they weren't even there. The S&P 500 has moved over its June high. The DB Commodities Tracking Index Fund (DBC) has moved over its 50-day average for the first time since January.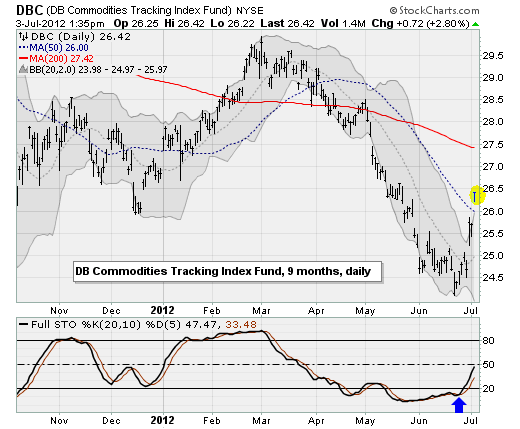 Even Apple (AAPL), that perennial market favorite, is on the move again as it jumps its multimonth trading range and initiates a new uptrend.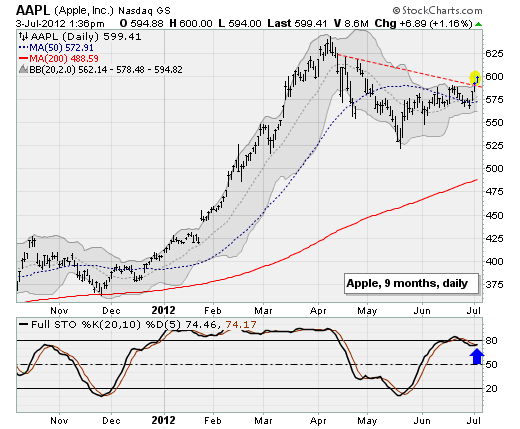 Catalysts? Last week's positive result from the eagerly awaited eurozone summit -- where Germany relaxed its opposition to using eurozone bailout funds to recapitalize banks and reduce Spanish and Italian borrowing costs from unsustainable levels -- set off a massive short-covering panic among hedge fund types as extreme short-euro, long-dollar trades were closed. I don't feel sorry for them.
Also contributing has been the steady increase in new stimulus measures from global central banks as they react to weakening economic fundamentals.
A weaker dollar has set off a chain-reaction bounce in dollar-sensitive assets. Crude oil tends to rise when the dollar falls. Emerging-market stocks tend to rise when the dollar falls. Same with gold, copper and other commodities. Just look at the way the iShares Emerging Markets (EEM) is effortlessly jumping its 200-day average for the first time since January.
How long will it last? I give it a few months before structural problems resurface, such as the looming fiscal cliff of tax hikes and spending cuts worth about 5% of GDP set to hit in early 2013.
How to play it? I've been telling my newsletter subscribers about, and focusing the Edge Letter Sample Portfolio on, contra-dollar assets like foreign stocks and commodities. But other areas of the market are now joining in, with financials a standout area of new strength. Synovus Financial (SNV) is already up more than 10% since I added it less than a week ago. The Direxion 3x Emerging Markets Bull (EDC) is up nearly 20% since I added it on June 6.
As of Tuesday, I'm adding Apple to my holdings.
Disclosure: Anthony has recommended DBC and SNV to his newsletter subscribers.

Check out Anthony's investment advisory service The Edge. A two-week free trial has been extended to MSN Money readers. Click here to sign up. Contact Anthony at anthony@edgeletter.c​​om and follow him on Twitter at @EdgeLetter. You can view his current stock picks here. Feel free to comment below.
DATA PROVIDERS
Copyright © 2014 Microsoft. All rights reserved.
Fundamental company data and historical chart data provided by Morningstar Inc. Real-time index quotes and delayed quotes supplied by Morningstar Inc. Quotes delayed by up to 15 minutes, except where indicated otherwise. Fund summary, fund performance and dividend data provided by Morningstar Inc. Analyst recommendations provided by Zacks Investment Research. StockScouter data provided by Verus Analytics. IPO data provided by Hoover's Inc. Index membership data provided by Morningstar Inc.
MARKET UPDATE
NAME
LAST
CHANGE
% CHANGE
There's a problem getting this information right now. Please try again later.
NAME
LAST
CHANGE
% CHANGE
There's a problem getting this information right now. Please try again later.
Market index data delayed by 15 minutes
[BRIEFING.COM] The stock market punctuated July with a broad-based retreat that sent the S&P 500 lower by 2.0% with all ten sectors ending in the red. The benchmark index posted a monthly decline of 1.5%, while the Russell 2000 (-2.3%) underperformed to end the month lower by 6.1%.

To get a better feel for what led to today's retreat, we'd like to look back to Wednesday, when the market had ample reason to rally, but did not. Instead, it ended basically flat after a sloppy day of ... More
More Market News
Currencies
NAME
LAST
CHANGE
% CHANGE
There's a problem getting this information right now. Please try again later.