The upside of higher oil prices
Crude and gas stocks are breaking into a new uptrend on a mix of hope and worry.
While the overall market oscillates slowly higher out of its early June low, there's plenty of action if you know where to look. Commodities in particular have been red hot, with crude oil, which dipped below $78 a barrel a few times last month, closing in on $93 a barrel.
A combination of Middle East tensions, a trough in economic data disappointments and hopes of new economic stimulus has pushed crude oil into a solid new uptrend for the first time since February. Energy stocks are following close behind, with the Energy Select Sector SPDR (XLE) attacking its 200-day moving average. Here's why and how to participate.
Post continues below.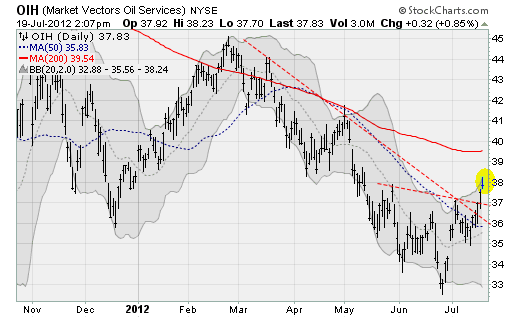 There is plenty to worry energy traders in the Middle East as what's developed into a Syrian civil war descends on the capital, Damascus, while the U.S. Navy aggressively positions itself in the region to head off any attempts by the Iranian mullahs -- angry over strict economic sanctions and a U.S.-led oil embargo -- to close the Strait of Hormuz in the Persian Gulf, through which roughly 40% of seaborne crude flows.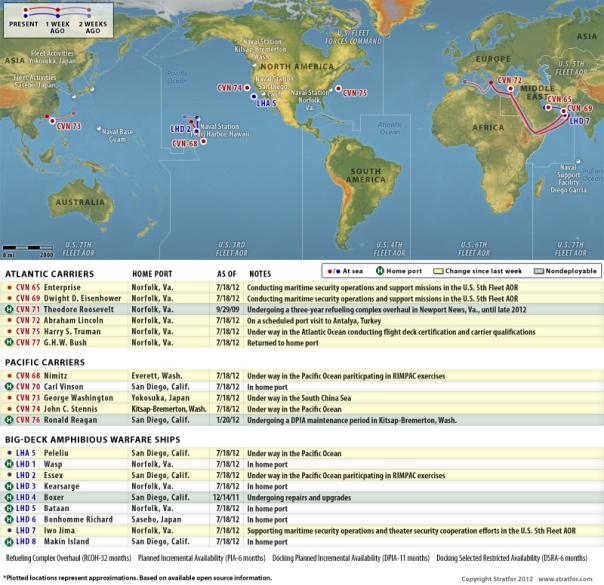 According to the folks at Stratfor there are at least three Nimitz-class aircraft carriers and a big-deck helicopter carrier in the region. Moreover, one carrier will deploy four months early and shift its destination to the Middle East, from which the ship returned just a few months ago. That's a lot of firepower in one place.
As for Syria, Defense Secretary Leon Penetta said Wednesday that the situation there is "spiraling out of control" after a suicide bomber attacked a key security building in the heart of Damascus, killing the Syrian defense minister. Also, two top generals defected overnight Tuesday into Turkey.
The combination of all this is pushing prices higher on supply disruption concerns.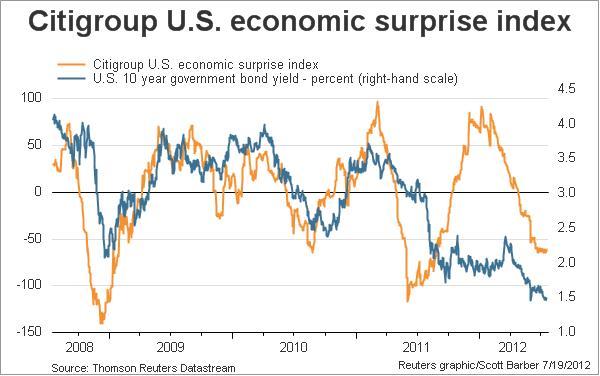 But there is also the fact that the economy, while still very weak, has at least stopped disappointing Wall Street analysts so badly. You can see this in the chart of the Citigroup Economic Surprise Index shown in the chart above. The index has stabilized above the lows of 2011 as interest rates (the blue line) hit new lows. Cheaper credit, and any new Fed stimulus, will bolster growth in the months to come before the U.S. faces tax hikes and spending cuts worth nearly 5% of GDP later this year.
Trading update
All of this is powering the energy sector up and out of a multimonth consolidation range, with oil services stocks leading the way. I'm adding broad exposure to the Edge Letter Sample Portfolio via the Market Vector Oil Services (OIH). In addition, I'm adding a few individual picks as well: Flotek Industries (FTK) and Lufkin Industries (LUFK).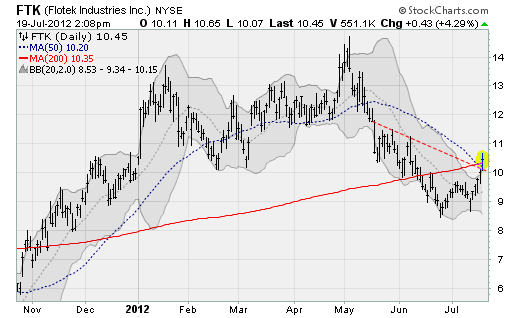 I am also closing a number of older positions. I am booking profits in Spectrum Pharmaceuticals (SPPI) and Nektar Therapeutics (NKTR), which gained 32% and 25% since I added them in mid-June. I am also closing my financial positions as that sector is beginning to lose its head of steam. Synovus Financial (SNV) gained 6% since I added it on June 27.
Disclosure: Anthony has recommended OIH, FTK, and LUFK to his newsletter subscribers.

Check out Anthony's investment advisory service The Edge. A two-week free trial has been extended to MSN Money readers. Click here to sign up. Contact Anthony at anthony@edgeletter.c​​om and follow him on Twitter at @EdgeLetter. You can view his current stock picks here. Feel free to comment below.