Would Obama's tax hikes sink economy?
With the national fiscal situation in tatters, President Obama pushes for long-term budget austerity, including a 'Buffett tax' on the rich.
President Barack Obama has sure been busy lately. Two weeks ago he unveiled his American Jobs Act in front of a joint session of Congress -- a $450 billion stimulus plan composed mainly of tax cuts along with spending on infrastructure and unemployment benefits. The idea is that it would boost the economy in the near term and stave off the risk of another recession driven by premature budget tightening.
But that doesn't remove the need for a long-term plan on cutting the deficit and reducing the national debt -- the lack of which was responsible for America losing its AAA credit rating last month. It's a delicate balance: The government needs to listen to the bond market and borrow now at ultra-low interest rates to support the economy before pulling the plug later as the recovery becomes self-sustaining.
Monday, Obama unveiled his plans for the second half of this strategy --a $4 trillion cut to the budget over 10 years featuring, most prominently, a $1.5 trillion increase in taxes on the wealthiest Americans to ensure they don't pay lower tax rates than the middle class.

But would the so-called "Buffett tax" -- proposed by Berkshire Hathaway (BRK.A) CEO Warren Buffett and pushed by Obama -- sink the economy by soaking the rich?
The short answer, assuming the American Jobs Act gets passed in some form, is probably not.
First, the tax increases wouldn't kick in until 2013, when the Bush tax cuts for people making more than $250,000 a year expire. It would also limit deductions for high-income households by preventing them from taking things like mortgage interest deductions. Tax breaks would also end for oil companies, corporate jet owners and hedge fund managers.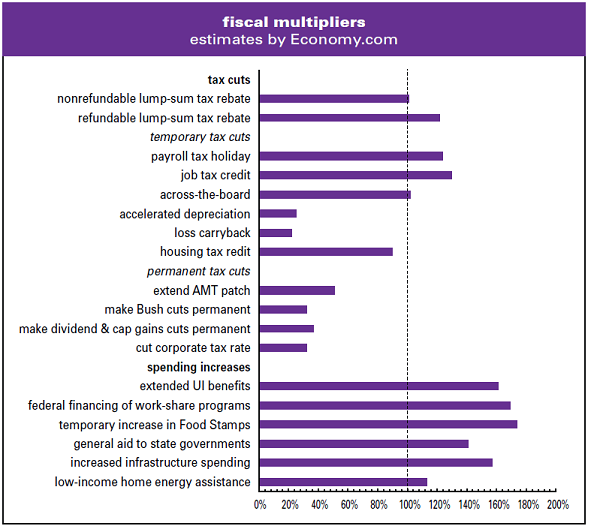 Second, tax hikes have a much smaller impact on the economy than spending cuts do. Using the so-called fiscal multiplier, analysts at Moody's estimate that each dollar raised as part of ending the Bush tax cuts would result in only a 30-cent drop in economic activity.
Compare this with the impact of items contained in Obama's jobs plan. Each dollar of extended unemployment benefits and infrastructure spending adds $1.60 to the economy, while a payroll tax holiday adds $1.25.
And finally, as the pressure from globalization has pushed down the average worker's wages over the past few decades, it has increased the returns available to holders of capital -- i.e., the rich. The result has been a marked increase in the gap between the ultra-rich and everyone else.
This wasn't sustainable during the Gilded Age in the late 1800s and it isn't sustainable now. A large gap, like the current one, stretches the fabric of society. Back then, it resulted in an ugly breed of populism that resulted in violent labor strikes, monetary devaluations, and trade protectionism. 
We're already seeing signs of this again now: Witness the Arab spring, riots in London, sit-ins in Madrid, warnings of a new currency war, China's hoarding of rare-earth metals, deadly protests in Athens and massive street marches in Tel Aviv. Working to reduce income inequality by taking small steps now is the right thing to do to avoid the risk of large-scale protests and social unrest.
Remember that with the budget deficit expected hit $1.3 trillion this year and with the national debt approaching $15 trillion, something needs to be done. Mainly, it's about out-of-control health care costs and an underfunded Social Security program. But the national deficit is about more than just how much money we owe to creditors. It's about our underinvestment in our roads and our children. It's about how we lag behind the rest of the world in math, science and high-speed Internet access.
All these things will cost money. The low-hanging fruit is easy: Obama plans to cut agriculture subsidies, end the wars in Iraq and Afghanistan, cut funding to Fannie Mae and Freddie Mac, and add a $100 fee on private jet flights.
Where will the rest come from? At this point, the least bad option is to take the money from places that will do the least damage to overall growth. And that means the rich will need to get a little wet. Otherwise, we'll need to start turning seniors away from hospitals or tell the Chinese we're not paying our bills. There is no other way.

Check out Anthony's new investment advisory service The Edge. A two-week free trial has been extended to MSN Money readers. Click here to sign up.
The author can be contacted at anthony@edgeletter.c​om and followed on Twitter at @EdgeLetter. You can view his current stock picks here. Feel free to comment below.
DATA PROVIDERS
Copyright © 2014 Microsoft. All rights reserved.
Fundamental company data and historical chart data provided by Morningstar Inc. Real-time index quotes and delayed quotes supplied by Morningstar Inc. Quotes delayed by up to 15 minutes, except where indicated otherwise. Fund summary, fund performance and dividend data provided by Morningstar Inc. Analyst recommendations provided by Zacks Investment Research. StockScouter data provided by Verus Analytics. IPO data provided by Hoover's Inc. Index membership data provided by Morningstar Inc.
MARKET UPDATE
NAME
LAST
CHANGE
% CHANGE
There's a problem getting this information right now. Please try again later.
NAME
LAST
CHANGE
% CHANGE
There's a problem getting this information right now. Please try again later.
Market index data delayed by 15 minutes
[BRIEFING.COM] The stock market finished an upbeat week on a mixed note. The S&P 500 shed less than a point, ending the week higher by 1.3%, while the Dow Jones Industrial Average (+0.1%) cemented a 1.7% advance for the week. High-beta names underperformed, which weighed on the Nasdaq Composite (-0.3%) and the Russell 2000 (-1.3%).

Equity indices displayed strength in the early going with the S&P 500 tagging the 2,019 level during the opening 30 minutes of the action. However, ... More
More Market News
Currencies
NAME
LAST
CHANGE
% CHANGE
There's a problem getting this information right now. Please try again later.