Stocks headed for a correction?
After months of ambling along, equities, crude oil and other risky assets are falling hard on poor economic data. It's set to continue.
In my post here Thursday, I warned that the little dollar-driven rebound rally of late April was ending and would be replaced with something much uglier.
In fact, the head-and-shoulders reversal pattern traced out by the NYSE Composite ($NYA) suggested stocks could very well be headed for mid-December levels -- a drop of more than 5% from current levels. Peak to trough, that would be a 10% drop from the March high.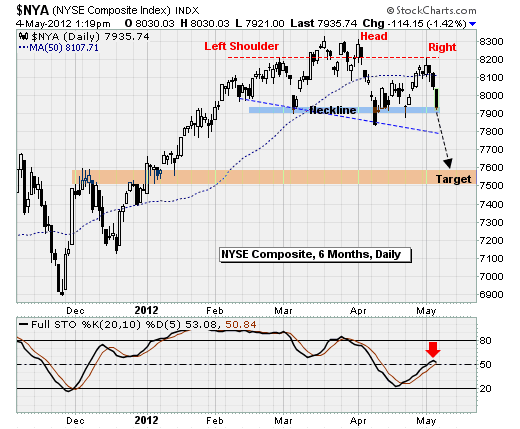 On Friday, this new breakdown picked up steam as the April jobs report disappointed already lowered expectations. There were just 115,000 jobs created last month, compared with the 165,000 consensus estimate. The unemployment rate ticked down to 8.1% but only because of the 522,000 souls who left the workforce. Service-sector activity in Europe also slowed more than expected. 
Stocks have reached a critical decision point as the March-April support lows are tested. By all indications, they will be breached. Here's why, and what investors should do next.
First let's talk about the economy, which has wilted under the pressure of higher fuel prices, falling real wages, a moribund housing market and global pressures from weakness in Europe and Asia. It's no longer benefiting from the mildest winter since records started in 1895, which, via the government's seasonal adjustments to things like job gains, has made the data look better than they really are.
And that means that, for the third year in a row, the economy is slowing as we head into spring. Just look at the slowdown in job gains over the past few months. In January, private payrolls jumped 277,000. In February, 254,000. In March 166,000. And now, 130,000. Gluskin Sheff economist David Rosenberg notes that the April tally was the weakest since last August, when stocks were poised to hit 2011 lows, and that, given where we are in the business cycle, we should be seeing totals closer to 230,000.

In his words, "there is really no way to describe this result any other way than disappointment."

The drop, he believes, is happening as businesses respond to three negative factors: a slowdown in profit growth (higher costs and weak sales), a response to slowing economic activity (stripping out weather effects, real GDP dropped 0.2% in Q1) and falling labor productivity.
That last point is key: Over the past decade, whenever productivity drops in a given quarter, an increasingly profit-conscious corporate sector cuts hiring in the quarter that follows, each and every time. Thus, we should expect the pace of job growth to keep falling.
Should job growth slow, real wages will continue to fall. And as wages fall, so will spending. And with lower spending and the tax hikes and spending cuts out of Washington that loom in early 2013, the economy could very well follow much of Europe down into a new outright recession.
The caveat in all this is that the Federal Reserve will likely respond, possibly as soon as its next policy meeting at the end of June, to this emerging weakness with a third round of quantitative easing.  That would send stocks surging -- as it did in late 2010 and early 2011 -- and give the economy a temporary sugar rush before the negative side effects of higher inflation and higher fuel prices short-circuit everything again -- as it did in mid-2011 and early 2012.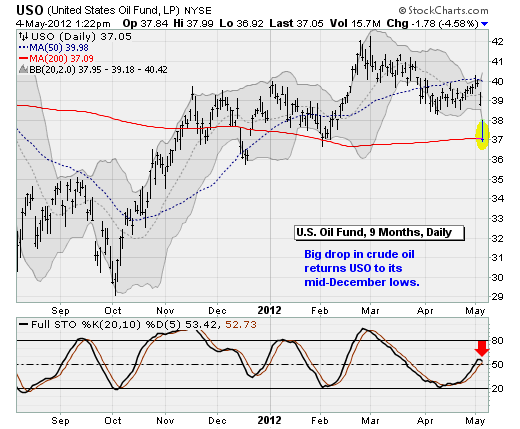 As for the technical situation in the market, there are big breakdowns happening all over the place. Crude oil is plunging. Small caps are plunging. Cyclical, economically sensitive sectors like financials, semiconductors and energy, as well as industries like semiconductors, are all plunging. Copper and other industrial metals are moving lower.
I'll admit the sudden breakdown caught me by surprise. I was expecting the market to start discounting the Fed's likely QE3 announcement. And Tuesday's ISM manufacturing report was misleadingly strong.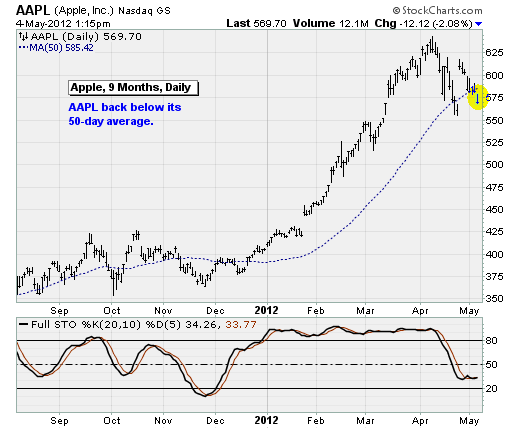 But first, apparently, we need to suffer a little before the central bankers ride to the rescue. The drop in crude oil will ease inflationary pressures, giving the Fed room to maneuver. And a confirmation of a slowdown in growth will ease any political flak and reduce the appearance that Fed Chairman Ben Bernanke is trying to help President Barack Obama's re-election chances.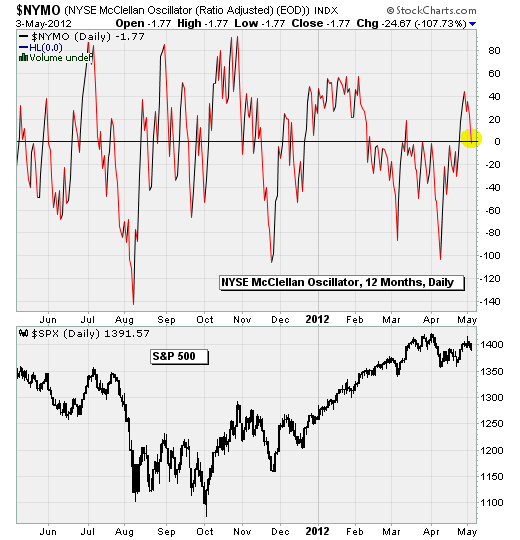 I'm not the only one scrambling. Put option activity is surging after dropping to a lull over the past two weeks. Breadth is deteriorating as an increasing share of the market moves lower in unison, pushing the McClellan Oscillator back into negative territory have a brief excursion above zero (a sign of weakness by the bulls). And former highflyers like Apple (AAPL), a very popular holding among both retail investors and hedge fund types, are being cut down viciously.
It's do-or-die time for the market now as the NYSE Composite falls to test its neckline support of head-and-shoulders pattern. It doesn't look good. A breach looks likely.
The good news is that the correction should last only a month or so at the most before a QE3-fueled rebound pushes stocks up into July and August.

Trading update
I expanded the Edge Letter Sample Portfolio's short positioning today with a few new additions in the financial and energy spaces. Both the Direxion 3x Financial Bear (FAZ) and Direxion 3x Energy Bear (ERY) leveraged inverse ETFs were added. For more conservative investors, less risky alternatives include the ProShares UltraShort Financials (SKF) and the ProShares UltraShort Oil & Gas (DUG).
I also added two individual short positions: Valley National Bancorp (VLY) and Invesco (IVZ).
I found these positions with the help of technical screens developed with Fidelity's Wealth Lab Pro back-testing tools, which you can find here. (Fidelity sponsors the Investor Pro section on MSN Money.) 
Disclosure: Anthony has recommended DUG to his newsletter subscribers.

Check out Anthony's investment advisory service The Edge. A two-week free trial has been extended to MSN Money readers. Click here to sign up. Contact Anthony at anthony@edgeletter.c​​om and follow him on Twitter at @EdgeLetter. You can view his current stock picks here. Feel free to comment below.