Mayer's Yahoo: A surprise Wall Street darling
For all the uproar about the CEO's decisions, she must be doing something right, at least in the eyes of Wall Street.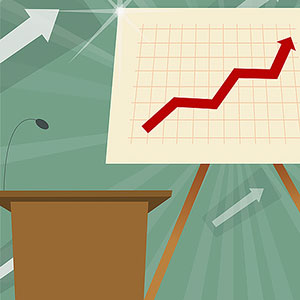 By
Jon Friedman
Since Marissa Mayer took over as CEO of 
Yahoo 
(
YHOO
), the company has emerged as one of Wall Street's most unlikely darlings. Yes, you read that correctly. Yahoo's shares have gained about 53% since the end of September 2012 -- coinciding with Mayer's first quarter at the helm. By comparison, the benchmark Standard & Poor's 500 index gained 11% over that time. Year to date, Yahoo is up 23% and the S&P has added 12%.
Yahoo had been known for its revolving-door chief executives, continuous flow of negative publicity and media reports of its imminent demise. Then last July, Mayer was plucked to be the company's CEO, and everything changed.
The 37-year-old Mayer has imposed a sense of discipline at Yahoo, underscoring her influence. She received plenty of publicity -- and heaps of criticism -- when she ordered employees to stop working from home, and told them to return to the company's offices. Mayer's move sparked a heated debate about the value of telecommuting, but while the public discussion continues, Mayer has set her sights on a more crucial transformation at Yahoo.
Mayer is working to get Silicon Valley, Wall Street and Main Street all to take Yahoo seriously. As part of an effort to replenish the company's talent base and better compete with the likes of
Google
(
GOOG
) and
Facebook
(
FB
), she is reportedly close to hiring Ned Brody, the top advertising-sales executive at
AOL
(
AOL
), to lead Yahoo's Americas division. (One reported hold-up: Brody has a non-compete agreement with AOL that would prevent him from working for a web competitor for 12 months.)
Mayer is also focusing the company on the mobile market, which is clearly where the action is today in the vortex of the technology, telecom and media industries. She has shown her determination to recruit talent in mobile, too. For a mere $30 million, Yahoo gobbled up Summly, a newsreader app created by teenager Nick D'Aloisio in London. Yahoo under Mayer has also taken over
social-recommendatio​n
website Jybe as well as mobile app maker Stamped, social news service Snip.it, restaurant recommendation app Alike and video chat startup OnTheAir. The Wall Street Journal reported recently that Mayer is close to making her largest acquisition yet: a controlling stake in video site DailyMotion, which has been called the YouTube of Europe.
Those acquisitions offer additional signals about the new Yahoo: stable in its management, refining its message, pursuing young talent, embraced by its new friends in the investing community. Stunningly, Yahoo's stock has returned to its trading levels from the halcyon days of five years ago.
That's a pivotal period in Yahoo's trading history -- particularly May 5, 2008 -- as its long-time shareholders will attest glumly. It marked the day when Microsoft Chief Executive Officer Steve Ballmer shook Yahoo and the investment universe by walking away from a prospective $45 billion buyout of the web business. When the market selloff commenced in earnest, Yahoo's shares crumbled, falling to $8.95 by that November. At the time, as a double whammy, Yahoo also had to contend with the collapse of the financial-services industry in the U.S.
Now, though, Yahoo's prospects are improving. In January, Mayer declared that Yahoo upped its revenue in 2012 (albeit only slightly) for the first time in four years, though revenue from display advertising still slipped 1%. The stock gained last Wednesday on news from Bloomberg and The Wall Street Journal that Mayer was talking with
Apple
(
AAPL
) executives about a potentially larger role for Yahoo's services and apps on Apple's hallmark iPhones and iPads.  
Yahoo is scheduled to release its first-quarter results on Tuesday. In a report last week to investors, analyst Laura Martin of Needham & Co. wrote about "solid turnaround momentum" in Yahoo's core segments and reiterated a buy rating on the shares.
Mayer still has a lot of work to do to show Wall Street that Yahoo is actually for real.
Analysts still want clarification on Yahoo's strategy -- whether it be the approach to winning back share in the search and display advertising businesses or, more importantly, for staking out a stronger position in mobile. But while Mayer works on strengthening Yahoo's core, the stock's already robust gains may be helped by conjecture surrounding a possible initial public offering by Alibaba Group, the prominent Chinese e-commerce website. Yahoo owns 24% of the business.
Under Mayer, Yahoo has turned a corner. Now it is time for Mayer to show that she has a strategy to build staying power. Her new friends on Wall Street will be listening intently tomorrow.
Jon Friedman is a contributor at The Fiscal Times. Subscribe to The Fiscal Times' FREE newsletter.
More from The Fiscal Times
DATA PROVIDERS
Copyright © 2014 Microsoft. All rights reserved.
Fundamental company data and historical chart data provided by Morningstar Inc. Real-time index quotes and delayed quotes supplied by Morningstar Inc. Quotes delayed by up to 15 minutes, except where indicated otherwise. Fund summary, fund performance and dividend data provided by Morningstar Inc. Analyst recommendations provided by Zacks Investment Research. StockScouter data provided by Verus Analytics. IPO data provided by Hoover's Inc. Index membership data provided by Morningstar Inc.
MARKET UPDATE
NAME
LAST
CHANGE
% CHANGE
There's a problem getting this information right now. Please try again later.
NAME
LAST
CHANGE
% CHANGE
There's a problem getting this information right now. Please try again later.
Market index data delayed by 15 minutes
[BRIEFING.COM] The stock market finished the Thursday session on a higher note with the S&P 500 climbing 0.5%. The benchmark index registered an early high within the first 90 minutes and inched to a new session best during the final hour of the action.

Equities rallied out of the gate with the financial sector (+1.1%) providing noteworthy support for the second day in a row. The growth-oriented sector extended its September gain to 1.9% versus a more modest uptick of 0.4% for the ... More
More Market News
Currencies
NAME
LAST
CHANGE
% CHANGE
There's a problem getting this information right now. Please try again later.