Can stocks keep rising?
Lower volatility and stronger economic data set the stage for additional gains. But there are likely to be bumps along the way.
The crazy crisis environment of the past few weeks has calmed somewhat. A sense of normalcy is returning. Stocks are up more than 8% off their lows. Volatility continues to be drawn out of the system like snake venom from a wound. Emotions like fear and panic are fading, giving way to a more reasoned approach.
Even the economic data are beginning to surprise investors to the upside again. Industrial production in July jumped 0.9% vs. the consensus estimate of 0.5%. June's result was also revised upward. Manufacturing is coming on strong, thanks to a rebound in auto production. Other positive data points include a drop in jobless claims, a rise in labor income and an increase in loan growth as credit standards are eased.
Nerves are still raw, however. Witness Tuesday's market drop, driven by renewed concerns over the eurozone. For investors, the question is: Now what?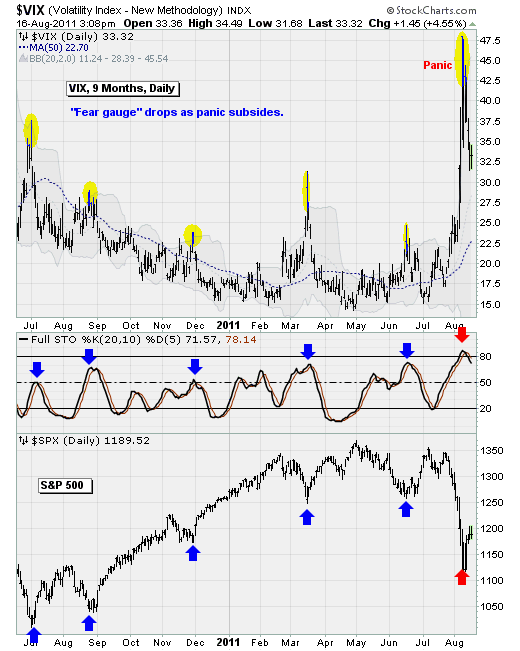 From a technical perspective, the drop in volatility -- represented by the VIX in the chart above, dubbed Wall Street's "fear gauge" -- is an important antecedent for any sustained medium-term uptrend. Drops in the VIX from panic conditions, once confirmed by the crossover in the stochastic indicator (middle pane) tend to continue for at least a few weeks. I define panic as a surge in the VIX over its upper Bollinger Band (gray shading).
Even if the market's flight path has an upward trajectory, that doesn't mean there won't be some turbulence. The rally out of the June low -- and the accompanying drop in the VIX -- masked a double-dip retest of the low.
The takeaway here is that stocks have the impetus and the momentum needed to push higher. But I can't promise it will be a smooth ride.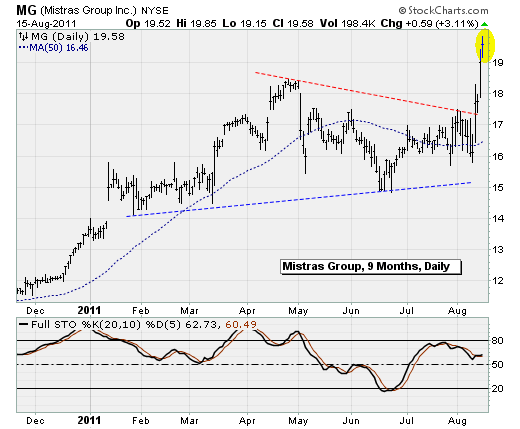 For investors, I recommend continuing to focus stocks and sectors showing relative strength against the overall market. The one stock I recommended last week, asset protection services provider Mistras Group (MG), is a perfect example of this. Shares are up more than 10.5% since last Wednesday as it breaks out of its multi-month consolidation range.
You can follow Mistras, as well as the rest of my recommendations, on my Edge Letter sample portfolio here. I found Mistras with the help of technical screens developed with Fidelity's Wealth Lab Pro back-testing tools, which you can find here. (Editor's note: Fidelity sponsors the Investor Pro section on MSN Money.)
Disclosure: Anthony has recommended MG to his newsletter subscribers.
Check out Anthony's new investment advisory service The Edge. A two-week free trial has been extended to MSN Money readers. Click here to sign up.
The author can be contacted at anthony@edgeletter.c​om and followed on Twitter at @EdgeLetter. You can view his current stock picks here. Feel free to comment below.