Intel: Value or value trap?
The chip-maker's stock is at long-term support, but it needs strong management to pull it out of a hole.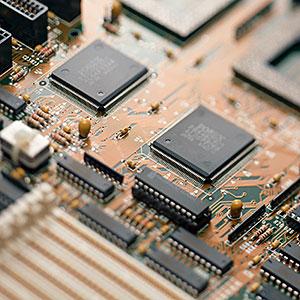 By John Jagerson and Wade Hansen, SlingShot Trader
This month, Intel (INTC) beat expectations, all right -- by leaping over a bar that it lowered for itself five weeks prior. But it's going to take more than strong earnings for Intel to thrive in a post-PC-world.
Tech stocks, including Google (GOOG) and Apple (AAPL), are looking weak this quarter. The biggest issue for Intel is whether the results from its last quarter represent macroeconomic slowing, a temporary trough in the semiconductor industry, or a troubling shift away from INTC's core market.

PCs: Evolving or dying?
Intel's core market is, of course, PCs. Even industry leaders fret about the future of the battered and weary PC. Paul Ottelini, Intel's CEO, acknowledged the woes facing the market and said that PC demand was going to grow at half its normal rate during Q4.
Intel is investing heavily in what could be the next phase of personal computing: ultrabooks, a thin laptop/tablet hybrid. Anticipated sales for ultrabooks in Q4 have been revised downward, however -- a sign that consumers might just prefer tablets to be tablets and laptops to be laptops.
Crucially important for INTC investors is whether the chip giant will manage the transition from PC to mobile effectively to grow its market share in new technologies or if the company will get passed up by smaller, more nimble competitors.

A lot hinges on Windows 8
Windows 8 was officially released on Oct. 26, and as Steve Ballmer, Microsoft (MSFT) CEO, stated that it's simply the biggest deal for the company in at least 17 years. It is the product that intends to bridge MSFT's future with the post-PC world; naturally, it should be expected that both optimism and pessimism abound. (Microsoft owns and publishes Top Stocks, an MSN Money site.)

Besides MSFT's fortunes, Windows 8 also holds part of INTC's as well. Even if slow out of the gate, gradual adoption of the OS will help spur sales of Intel-powered devices.
If Windows 8 struggles, INTC will have some very difficult quarters ahead of it.

A value or a value trap?
With INTC down almost 25% from its high and trading just above its 52-week low, have the problems with the PC market been priced into the stock? Bears have been in firm control and, as a result, INTC has not participated whatsoever in the market's rise since July.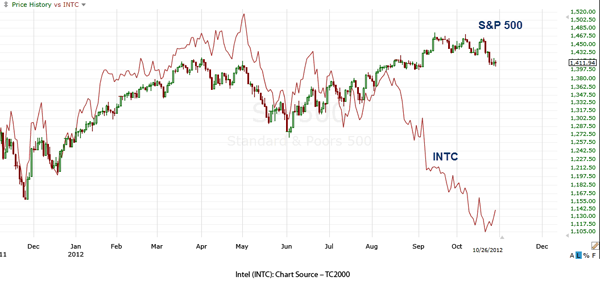 Could this be an overreaction?
INTC still has an operating margin of 30.8%, higher than 95% of industry peers. Its return on equity is 25.4%, better than 96% of other semiconductor companies. With a trailing 12-month price-to-earnings ratio at only 9.6, the stock has rarely been this cheap. It has traded at a lower multiple only 5% of the time since 2002. Its average multiple since 2010 has been 12.5, a 32% premium over current levels. For the stock to trade at lower valuations likely means one of three things:
The onset of a bear market in which multiples decline across the board
Management's failure to respond effectively to the evolving marketplace
A

faster-than-expected​

collapsing PC market that undermines strategies to expand market share in high-growth segments.
At its current price, Intel stock could well represent one of the better values among tech companies, especially with a 4.2% dividend yield and a 7.1% annualized return during the last 10 years. Whether this price level is a value, and not a value trap, depends on whether the company can leverage its brand and size to move dominantly into high growth markets.

Weighing the scales
With INTC at long-term support and trading at 75% of its value from only three months ago, a strong argument could be made that the market's fears about the PC market are exaggerated and -- like most investing emotions in the short-term -- will get attenuated in the coming months. A reversion back near its long-term multiple alone could provide a 25%-30% return.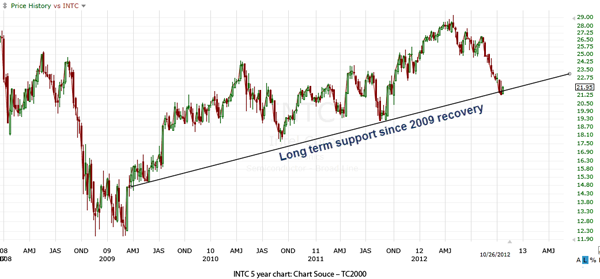 However, this is not to downplay the tough road Intel has to navigate. The most pertinent issue is going to be how well INTC management can deliver over the next two to three quarters.
Recommendation: Buy INTC in anticipation of reaction against overselling from inflated bad news out of the PC market. Look for move back to $24-$26 range.
John Jagerson and S. Wade Hansen are co-founders of LearningMarkets.com,​ as well as the co-editors of SlingShot Trader, a trading service designed to help you make options profits by trading the news.
More from InvestorPlace
Are you sure you want to delete this comment?
DATA PROVIDERS
Copyright © 2014 Microsoft. All rights reserved.
Fundamental company data and historical chart data provided by Morningstar Inc. Real-time index quotes and delayed quotes supplied by Morningstar Inc. Quotes delayed by up to 15 minutes, except where indicated otherwise. Fund summary, fund performance and dividend data provided by Morningstar Inc. Analyst recommendations provided by Zacks Investment Research. StockScouter data provided by Verus Analytics. IPO data provided by Hoover's Inc. Index membership data provided by Morningstar Inc.
MARKET UPDATE
NAME
LAST
CHANGE
% CHANGE
There's a problem getting this information right now. Please try again later.
NAME
LAST
CHANGE
% CHANGE
There's a problem getting this information right now. Please try again later.
Market index data delayed by 15 minutes
[BRIEFING.COM] Not much change in the major averages as they continue hovering near their lowest levels of the day. The S&P 500 (-0.8%) notched its session low around 12:00 ET and has maintained a seven-point range since then. Meanwhile, the price-weighted Dow Jones Industrial Average (-0.5%) continues trading a little ahead of the benchmark index.

Six Dow components remain in the green, but the leading performer, DuPont (DD 71.75, +0.50), is the only stock showing an increase ... More
More Market News
Currencies
NAME
LAST
CHANGE
% CHANGE
There's a problem getting this information right now. Please try again later.