Wall Street's games about to hit gas prices
After enjoying months of cheaper fuel, Americans will soon experience more pain at the pump because of oil speculation and market manipulation.
There have been a lot of "funny" things happening in the market over the past two months. I chalk it up to a combination of end-of-year seasonality and a desire by the powers that be to keep the market together long enough to exit ahead of the fall. Something similar happened in 2008 before the most acute phase of the bear market got started.
Wall Street has apparently been using large-cap energy stocks Exxon Mobil (XOM) and Chevron (CVX) to hold the Dow Jones industrial Average aloft, ostensibly to keep retail investors placated so the heavy hitters can create the little upward flurries they need to exit their position. (This has to do with the fact the Dow is a price-weighted index that can be pushed around by the most expensive stocks.)
It cannot last. And the games are about to hit vulnerable consumers at the gas pump and threaten the economy at a time of danger.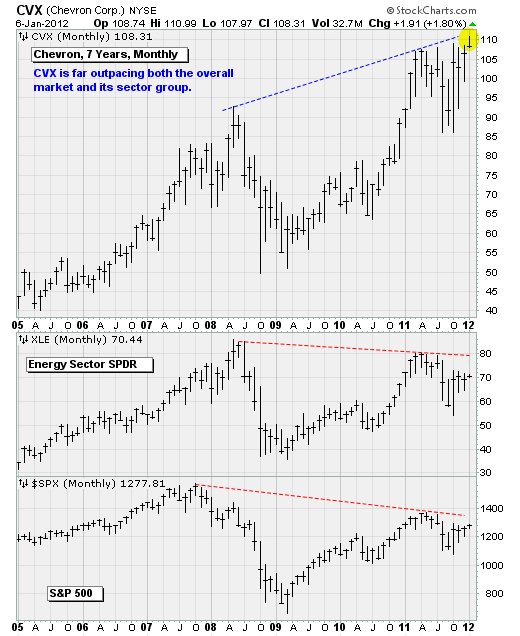 Sound crazy? Well, consider this: Chevron is trading at all-time highs, and the number of bears responding to the AAII survey has dropped to its second-lowest level in six years. Yet measures of internal market strength, such as the percentage of NYSE stocks above their 50-Day moving averages, remain well off their highs and are arguably in bear market territory.
The buoyancy of crude oil -- despite the recent strength of the U.S. dollar, the collapse of other industrial commodities like copper, and the decaying economic outlook in Europe and Asia -- has been instrumental in this enabled by a recent pullback in the U.S. dollar (which is ending now) as well as Iranian saber rattling.
You see, the U.S. economy is supposedly "decoupling" from a weakening Asia and Europe. Stocks and crude have been floating higher as economic data, based mainly on sentiment surveys, has been surprising to the upside. Yet the real, hard activity-based economic data haven't really moved. Again, this is behavior that was last seen the middle of 2008 before the market fell apart.
Here's the thing: This decoupling is being driven by two temporary tailwinds.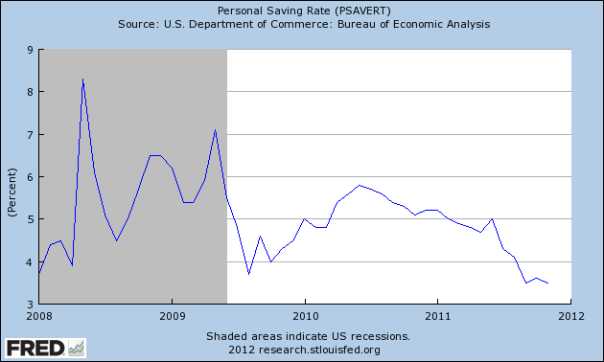 The first is a drawdown of the savings rate from 5% to 3.5% as consumers, tired of denying themselves, splurged this holiday shopping season. The bills will come due. And with wages stagnant and the economy shedding high-quality high-wage jobs for low-quality, low-wage retail, temp, and accommodation positions, it will be hard to repay them.
That, according to Gluskin Sheff economist David Rosenberg, translated into a $150 billion boost to consumer spending power at an annual rate in inflation-adjusted terms.
The second was the drop in crude oil prices from the highs reached last spring as the Arab Spring heated up and took down Gaddafi in Libya. Between May 2 (the commodity price peak created by the U.S. dollar spike after Osama Bin Laden taken out) and Aug. 9, crude oil lost 34%.
That primed the pump, so to speak, for a slower but sustained fall in gasoline prices. Between May 2 and the end of November, gasoline futures dropped a whopping 40%. That, according to Gluskin Sheff economist David Rosenberg, translated into a $80 billion boost to spending.
So the economy has been drugged by $230 billion in temporary support. No wonder it's decoupling.
This is ending now.
For one, crude oil bottomed in August and has been rising ever since. It built up a big head of steam in October and November as hedge fund types piled into one of the few trades that worked consistently well. As a result, crude oil started a decoupling of its own outpacing industrial metals, copper, and even gasoline prices because, well, those other assets just didn't look as attractive to speculators.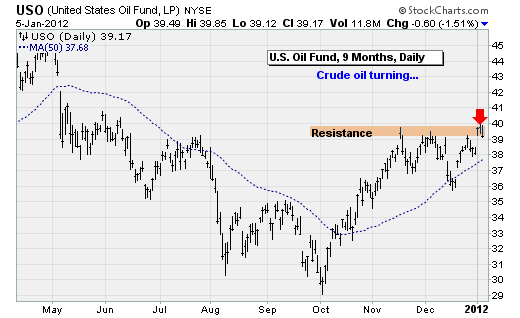 In fact, the performance gap between gasoline futures and crude oil reached levels not seen since the 2008 commodities bubble. Again, similarities with 2008.
So it was the best of both worlds. The speculators profited from higher oil prices, while consumers benefited from cheaper gasoline. Viva decoupling!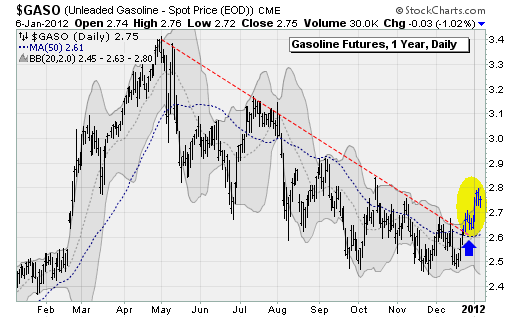 Naturally, petroleum refiners weren't about to tolerate a prolonged compression of their profit margins. And sure enough, as crude oil stagnates near its November highs gasoline prices are surging higher. As gas prices start rising at the pumps, and those holiday bills come due, high-flying consumer sentiment is going to get blown out of the sky just as hedge fund types feel pressure on their long crude positions. And that'll push the savings rate back up too as consumers respond to higher energy costs.
Suddenly, Wall Street's obsession with its latest plaything -- crude oil -- isn't be so benign anymore. The U.S. economy will "recouple" with the rest of the world as the recent swing in oil prices works its way through the energy supply chain like a cancer, pushing up gas prices. And the start of Q4 earnings season next week will remind everyone that corporate profits are set to fall for the first time since the recession ended two and a half years ago.
Consider yourself warned.


Check out Anthony's investment advisory service The Edge. A two-week free trial has been extended to MSN Money readers. Click here to sign up.
The author can be contacted at anthony@edgeletter.c​​om and followed on Twitter at @EdgeLetter. You can view his current stock picks here. Feel free to comment below.

DATA PROVIDERS
Copyright © 2014 Microsoft. All rights reserved.
Fundamental company data and historical chart data provided by Morningstar Inc. Real-time index quotes and delayed quotes supplied by Morningstar Inc. Quotes delayed by up to 15 minutes, except where indicated otherwise. Fund summary, fund performance and dividend data provided by Morningstar Inc. Analyst recommendations provided by Zacks Investment Research. StockScouter data provided by Verus Analytics. IPO data provided by Hoover's Inc. Index membership data provided by Morningstar Inc.
MARKET UPDATE
NAME
LAST
CHANGE
% CHANGE
There's a problem getting this information right now. Please try again later.
NAME
LAST
CHANGE
% CHANGE
There's a problem getting this information right now. Please try again later.
Market index data delayed by 15 minutes
[BRIEFING.COM] The stock market finished an upbeat week on a mixed note. The S&P 500 shed less than a point, ending the week higher by 1.3%, while the Dow Jones Industrial Average (+0.1%) cemented a 1.7% advance for the week. High-beta names underperformed, which weighed on the Nasdaq Composite (-0.3%) and the Russell 2000 (-1.3%).

Equity indices displayed strength in the early going with the S&P 500 tagging the 2,019 level during the opening 30 minutes of the action. However, ... More
More Market News
Currencies
NAME
LAST
CHANGE
% CHANGE
There's a problem getting this information right now. Please try again later.