Fight the Fed with silver and gold
Central bank shenanigans and rising inflationary fears are fueling a big rise in precious metals. It's set to continue.
Stocks have largely stalled out over the last few days as traders think twice before pushing the Dow through the 13,000 barrier. The real news, aside from the worrisome rise in crude oil, is the breakout underway in the precious metals. Both gold and silver have jumped out of two-month trading ranges in a big way.
The same dynamic that's driving energy prices is fueling the rise in gold and silver: Big time inflation concerns. With those about to get worse, the rise in the glitter stuff is set to continue.
Here's why.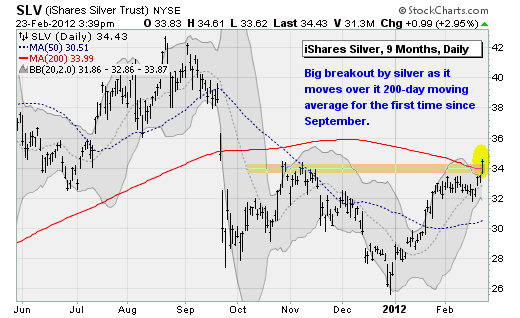 Looking at the Federal Reserve, the Bank of Japan, the European Central Bank, the People's Bank of China, the Bank of England, and the Swiss National Bank, these central banks have pumped the equivalent of nearly $7 trillion into the system over the last four years.
Those levers have been pulled. That strategy has been tried. With the rich world drowning in $8 trillion in excess debt according to Credit Suisse estimates, more debt isn't the answer.
Massive monetary intervention by the world's major central banks is resulting in undeniable commodity price pressures. Crude oil closed above $107 a barrel today for the first time since last May and has moved higher eight days in a row. We're a far cry from the sub-$35 a barrel oil that helped get the economy back on track in early 2009.
What's worse is that these pressures are feeding into so-called "core" measures of inflation on things like drugs and clothing. The Fed cannot deny what's happening by dismissing them as merely "transitory" and volatility energy and food price spikes -- as they did last year in their efforts to defend their increasingly dangerous, dollar-debasing policy interventions.
The market seems obsessed with both the second issue of unlimited three-year bank liquidity by the European Central Bank due next week and the potential for a third round of quantitative easing out of the Federal Reserve in the months to come. Both essentially amount to a dump of ultra-cheap money into the financial systems, even if the details and implementations differ.
If you talk to the bulls, their thinking is simplistic: All problems are irrelevant because the Fed and the ECB will just pump more money into stocks. Nothing else matters.
But the thing is, the Wall Street puppets at the Fed have been cornered. If they have any shred of intellectual honestly left, chairman Bernanke will hold fire on QE3 since inflation is already above the Fed's new inflation target and still rising. If they aren't, and QE3 is launched this spring as I expect, stocks might pop initially but the diminishing marginal benefit of additional policy easing will just make the situation worse.
The same goes for ECB head Mario Draghi over in Europe, who is about to unleash another round of ultra-cheap three-year loans to eurozone banks next week.
In other words, instead of boosting the economy by lowering already rock bottom borrowing costs, a "QE3" out of the Fed or a "LTRO 2" by the ECB will just damage the economy by further increasing inflationary pressures. God knows they've done enough already. But with an abundance of false confidence, encouragement from the financial denizens in Manhattan, London, and Frankfurt, and a lack of political oversight, they'll do it anyway. 
That's all great news for precious metals investors -- even if it's terrible for everyone else.
I recommend the ProShares UltraSilver (AGQ) as a high-risk, high-reward way to get exposure -- so I'm adding it to my Edge Letter Sample Portfolio. There is also the iShares Silver Trust (SLV) for the risk averse. Silver tends to be the flightier, more speculative cousin to gold -- making it perfect for situations like this. 
I found both AGQ with the help of technical screens developed with Fidelity's Wealth Lab Pro back-testing tools, which you can find here. (Fidelity sponsors the Investor Pro section on MSN Money.) 
Disclosure: Anthony has recommended AGQ to his newsletter subscribers.

Check out Anthony's investment advisory service The Edge. A two-week free trial has been extended to MSN Money readers. Click here to sign up. Contact Anthony at anthony@edgeletter.c​​om and follow him on Twitter at @EdgeLetter. You can view his current stock picks here. Feel free to comment below.

DATA PROVIDERS
Copyright © 2014 Microsoft. All rights reserved.
Fundamental company data and historical chart data provided by Morningstar Inc. Real-time index quotes and delayed quotes supplied by Morningstar Inc. Quotes delayed by up to 15 minutes, except where indicated otherwise. Fund summary, fund performance and dividend data provided by Morningstar Inc. Analyst recommendations provided by Zacks Investment Research. StockScouter data provided by Verus Analytics. IPO data provided by Hoover's Inc. Index membership data provided by Morningstar Inc.
MARKET UPDATE
NAME
LAST
CHANGE
% CHANGE
There's a problem getting this information right now. Please try again later.
NAME
LAST
CHANGE
% CHANGE
There's a problem getting this information right now. Please try again later.
Market index data delayed by 15 minutes
[BRIEFING.COM] The stock market began the new week on a cautious note. The S&P 500 lost 0.3%, but managed to erase more than half of its opening decline. Thanks to the rebound, the benchmark index reclaimed its 50-day moving average (1976.78) after slipping below that level in the morning.

Equities slumped at the open amid a couple global developments that dampened the overall risk appetite. Continued student protests in Hong Kong and a potential response from China weighed on the ... More
More Market News
Currencies
NAME
LAST
CHANGE
% CHANGE
There's a problem getting this information right now. Please try again later.