Iran's crude threats
Oil is surging to seven-month highs on worries the Iranian navy will close the crucial Strait of Hormuz transit point. Here's a look at the potential impact.
So, 2012 started right where the old one left off: Turmoil in the Middle East pushes crude oil higher, defanging the Federal Reserve on inflationary fears and threatening an already weak and fragile economy.
Sure, it's all about Iran this time and its boisterous saber rattling and nuclear ambitions instead of the blossoming of democracy during the Arab Spring. Specifically, with the European Union moving toward an embargo of Iranian oil imports, and with Israel and the United States getting itchy trigger fingers over Iran's nuclear program -- which claims it just enriched its first fuel rod -- the regime there has stepped up its threats to shut down the Strait of Hormuz through which 17 million barrels of oil per day flows. That's worth 35% of seaborne traded oil. 
Yet the result is the same: Higher energy prices and the predictable consequences that will surely follow, as the U.S. Oil Fund (USO) closes at its best levels since June. Here's why.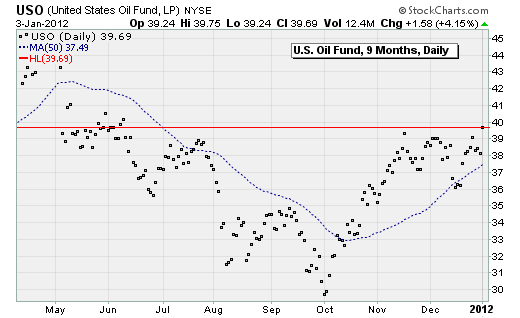 It started over the Christmas holiday as the Iranian navy conducted a 10-day exercise in the strait which finished with a test firing of two long-range anti-ship missiles that could be used to target American aircraft carriers. The aircraft carrier USS John C. Stennis steamed right through the Iranian exercise on December 27 en route to the Arabian Sea in what surely could be described as an American show of force.  
Belligerent nations, like schoolyard bullies, always respond quickly to tests of resolve.
Sure enough, earlier today an Iranian military general said the country was prepared to take necessary action if the Stennis returned to the Persian Gulf. Since the U.S. Navy's Fifth Fleet is stationed in Bahrain, the Stennis, or another carrier, will surely return. Indeed, the Pentagon said later in the day that the United States will continue to operate in the Persian Gulf.
There's good reason for this. Some 25% of the world's tradable oil supply passes through the Strait of Hormuz, with a majority of Saudi Arabia's and Iraq's output transiting there, as well as all of the output of the U.A.E., Kuwait and Qatar.
And the threat is serious. Standard Chartered analysts believe that if Iran made good on its threat (a decision on a European embargo is due by the end of the month), the loss of 17 million barrels per day would not be easily offset. The Saudis could send another seven million barrels through its East-West Pipeline into the Red Sea, but that would add another five days to any trip to Asia.
Other options include a new pipeline in Abu Dhabi that could carry 2.5 million barrels per day into Oman. Another 1.7 million barrels per day could be sent through the Iraq Pipeline across Saudi Arabia (IPSA). There has also been talk of restarting the out-of-service Trans-Arabian Pipeline to Lebanon, which has been shuttered since 1990 and was originally constructed in 1947. But that would only add another 500,000 barrels per day.
As you can see, supplies would be tight.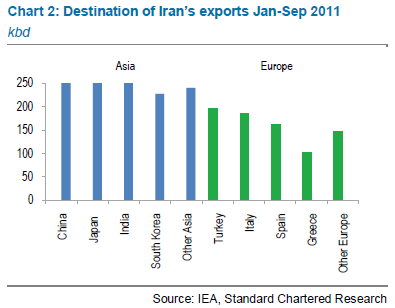 Yet, Standard Charted notes that the recent price action in oil suggests traders aren't yet pricing in a disruption of this scale. Instead, the more likely outcome is that Iran's exports are curtailed as Europe stops buying and its supply is diverted to Asian customers.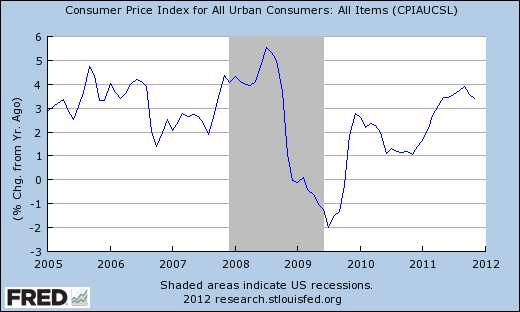 Even this, if it's enough to keep crude near $100 a barrel, will pressure already sensitive consumers as well as keep inflation too high for the Federal Reserve to unveil another round of stimulus, as it's been hinting of via mouthpieces in the media. When the $600 billion bond buying initiative, the second round of "quantitative easing" we've seen so far, was started in late 2010 crude was trading near $70 a barrel. Consumer price inflation was also running at around a 1% annual rate, compared to more than 3% now.
Assuming Iran is bluffing, the biggest threat is that its chest thumping will keep the Fed on the sidelines by keeping energy prices aloft. Chairman Bernanke, meet Iranian Brigadier General Ataollah Salehi.

Check out Anthony's investment advisory service The Edge. A two-week free trial has been extended to MSN Money readers. Click here to sign up.
The author can be contacted at anthony@edgeletter.c​​om and followed on Twitter at @EdgeLetter. You can view his current stock picks here. Feel free to comment below.

DATA PROVIDERS
Copyright © 2014 Microsoft. All rights reserved.
Fundamental company data and historical chart data provided by Morningstar Inc. Real-time index quotes and delayed quotes supplied by Morningstar Inc. Quotes delayed by up to 15 minutes, except where indicated otherwise. Fund summary, fund performance and dividend data provided by Morningstar Inc. Analyst recommendations provided by Zacks Investment Research. StockScouter data provided by Verus Analytics. IPO data provided by Hoover's Inc. Index membership data provided by Morningstar Inc.
MARKET UPDATE
NAME
LAST
CHANGE
% CHANGE
There's a problem getting this information right now. Please try again later.
NAME
LAST
CHANGE
% CHANGE
There's a problem getting this information right now. Please try again later.
Market index data delayed by 15 minutes
[BRIEFING.COM] The stock market welcomed the new trading week with a mixed session that saw relative strength among large-cap stocks, while high-beta names underperformed. The Dow Jones Industrial Average (+0.3%) and S&P 500 (-0.1%) finished near their flat lines, while the Nasdaq Composite and Russell 2000 both lost 1.1%.

Equities began the day on a cautious note amid continued concerns regarding the strength of the global economy. Over the weekend, China reported its first decline ... More
More Market News
Currencies
NAME
LAST
CHANGE
% CHANGE
There's a problem getting this information right now. Please try again later.