Costco looks good for consumers, investors
Yet Wall Street fails to appreciate the chain's potential for growth.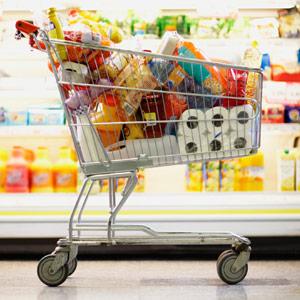 Shares of
Costco Wholesale
(
COST)
are rising after the warehouse chain reported
better-than-expected​

quarterly results
. Given the Seattle company's wide array of customers, this is good news for the economy.
Net income for the fiscal fourth quarter was $609 million, or $1.39 per share, up 27% from $478 million, or $1.08, a year earlier, fueled by gains in sales of private-label goods. 
Revenue rose 14% to $31.52 billion as membership fees surged 18%. The company was expected to earn $1.31 on revenue of $31.69 billion. Same-store sales, a key retail metric, rose 6% when the effect of gasoline is excluded. Margins rose 20 basis points.

Costco, whose shares have risen about 20% this year, has room to run even though the stock is trading above its 52-week price target of $86.50. The chain has 608 locations and plans to open as many as 14 additional ones before the end of the year. There are 439 Costcos in the U.S. and Puerto Rico, 82 in Canada and 32 in Mexico, so there are plenty of opportunities for expansion. Sales may continue to grow in existing stores as well.
 
Consumers are feeling more confident as the presidential election nears, though they are hardly in the mood to spend as they did before the Great Recession. People want value for their money, and that's what they get at Costsco. My family has shopped there for years and has been impressed by the quality of the company's Kirkland products. Unless the economy tumbles into a black hole, Costco will be just fine.

The chain appeals to many different types of consumers because the breadth of its products and services is remarkable. Small businesses can buy office supplies. Families, particularly large ones, can find great deals on perishable goods. People can also get great deals on big-ticket items like jewelry and big-screen televisions. Costco also offers travel services, as well as deals on birthday cakes and caskets. That last item is no joke.

Jonathan Berr does not own shares of the listed stocks. Follow him on Twitter@jdberr.
 
 

COSTCO is the only big Box I buy from - they have the best customer service andthey pay attention to basics. The market organic foods and keep there workforce happy - you can see it ion the stores. They do not sell a large number of products and they do not preclude me shopping at smaller stores on a day to day basis.
They also have the best Tech support going. Their concierge service is wonderful.

Costco has some good prices but overall you can get just as good or better prices elsewhere, especially if you have to pay $50. per year to be a member and don't have a large family.  Bigger packages do not necessarily mean a lower per unit price.

And calling themselves Costco "Wholesale"?  Are people who buy there so naive as to think  they are paying wholesale prices?  What price do they think Costco pays?   WHOLESALE!



Costco has something for everyone at a good price. I do a lot of comparison shopping and Costco always comes out ahead especially when you look at the whole package. They always add a little extra that the competions doesn't. Their return policy is fantastik. I love their Kirkland products I have always noticed they are very good quality and they always rate high in Consumer Reports evaluation.  Their bakery goods are awsome and their liquor and wine selection are a good buy. I use their optical and hearing aid facility and againg great deals and I use their pharmacy, which you do not have to be a member to use, and always get a better price that the other pharmacies. Their higher membership is a no brainer because you get 2% back on all you shopping as a check  every spring which more than pays for the higher membership fee.  As you can see I am sold on this company and their employees are always helpful. The only critecism is at peak times they can use more registers even though the weight is not that bad
While Costco may be a great deal for families and small businesses, it is a royal pain for the individual customer (I am a member).  There is no Express Lane for someone buying a small quantity, whether that is a major purchase or a small one.  The lines at the checkouts are almost always lengthy and slow.  I occasionally go there to check out electronics and see if there are other large items that are an especially good deal, but I rarely buy anything. 

I did buy a camera there about two years ago that was a good deal.  But, I have found that one can buy almost everything else on the Internet at comparable or even lower prices without the hassle of fighting the checkout lanes and parking issues.  Now that Safeway sells discounted gasoline, it is another reason not to travel the extra distance to Costco.  I get my meds at Safeway or Bartell's and they are at a discount, too, on my plan.

If you have a family, it may be a good deal as you can buy in quantity--and the quality of the foodstuffs are high.  But, unless you have a large freezer, or lots of friends to share with, the model doesn't work for a single man.  So, I am dropping my membership this year.  The extra expense is not worth it to me.


Are you sure you want to delete this comment?
DATA PROVIDERS
Copyright © 2014 Microsoft. All rights reserved.
Fundamental company data and historical chart data provided by Morningstar Inc. Real-time index quotes and delayed quotes supplied by Morningstar Inc. Quotes delayed by up to 15 minutes, except where indicated otherwise. Fund summary, fund performance and dividend data provided by Morningstar Inc. Analyst recommendations provided by Zacks Investment Research. StockScouter data provided by Verus Analytics. IPO data provided by Hoover's Inc. Index membership data provided by Morningstar Inc.
MARKET UPDATE
NAME
LAST
CHANGE
% CHANGE
There's a problem getting this information right now. Please try again later.
NAME
LAST
CHANGE
% CHANGE
There's a problem getting this information right now. Please try again later.
Market index data delayed by 15 minutes
[BRIEFING.COM] The stock market finished an upbeat week on a mixed note. The S&P 500 shed less than a point, ending the week higher by 1.3%, while the Dow Jones Industrial Average (+0.1%) cemented a 1.7% advance for the week. High-beta names underperformed, which weighed on the Nasdaq Composite (-0.3%) and the Russell 2000 (-1.3%).

Equity indices displayed strength in the early going with the S&P 500 tagging the 2,019 level during the opening 30 minutes of the action. However, ... More
More Market News
Currencies
NAME
LAST
CHANGE
% CHANGE
There's a problem getting this information right now. Please try again later.