A dip to buy -- or something worse?
Stocks have been sliding after a dramatic end-of-June surge. Here's why the uptrend isn't finished yet.
Stocks have been suffering bouts of panic selling over the past few days as concerns about the future of the new plan to use eurozone bailout funds to directly recapitalize weak banks (such as those in Spain) dampened spirits. German ratification of the plan will be delayed by the country's constitutional court for as long as three months, according to reports in Der Spiegel.
 
Some better industrial production data out of Europe and rumors of additional policy easing by the People's Bank of China weren't enough to overcome those worries. Have the four consecutive losses (with a fifth possible on Wednesday) opened the door to a new medium-term downtrend? Or is this merely a buying dip within a larger uptrend?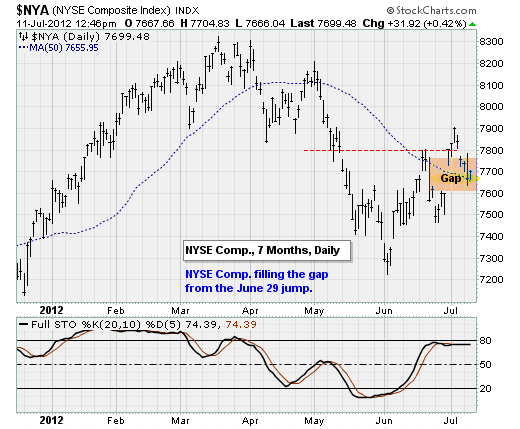 Just look at the performance of small cap stocks vs. heavyweights like IBM (IBM) and Microsoft (MSFT). The last time the Russell 2000 jumped ahead of both companies like this was last October (the upsurge on hopes for the Bailout 2.0 plan for Greece) and last December. It suggests the smart-money folks are quietly continuing to build positions in the most economically sensitive, riskiest stocks out there, while retail folks are shedding their blue chip holdings. (Microsoft owns and publishes Top Stocks, an MSN Money site.)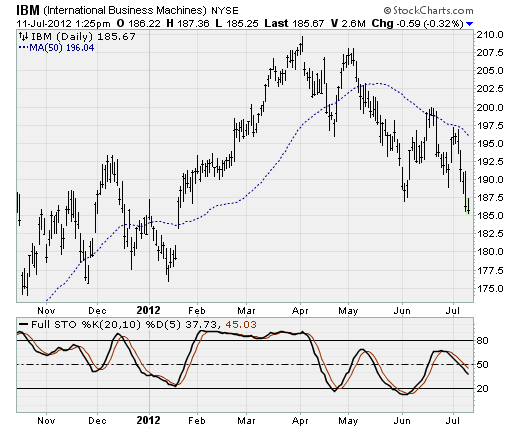 The latest futures data backs this up. Big commercial traders have extended their net short position against Treasury bonds above levels seen back in mid-2010 as the initial panic over the Greek bailout gave way to the QE2-fueled uptrend courtesy of the Federal Reserve. They've also extended their bullishness for precious metals, especially silver (the more dynamic of the gold-silver pair).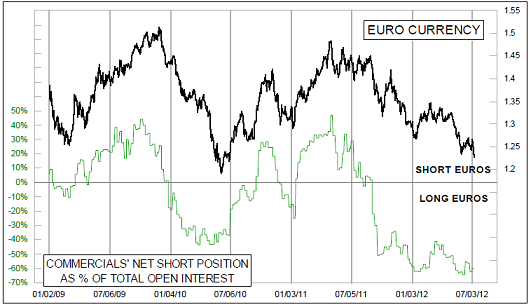 And they've increased their bets against the dollar and with the euro to levels that exceed the extremes seen in 2009 and 2010 -- as shown in the chart above, courtesy of the McClellan Financial Publications.  
The breadth data also remains supportive with the cumulative NYSE advance-decline issues line recently rising to hit a new all time high even as stocks remain mired in a two-week flat spot. Looking back, the folks at Sundial Capital Research find that historical precedent suggests the dissonance will be resolved to the upside. In other words, breadth is telling the true story of the market's underlying strength. Not price.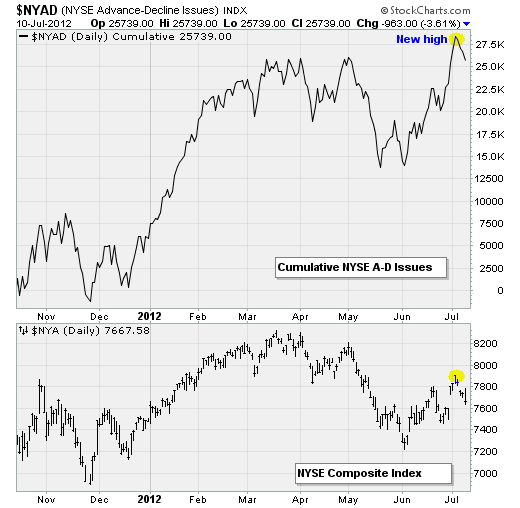 Since 1940, the NYSE cumulative A-D line has 13 times hit a five-year high while the S&P 500 is more than 3% below its one-year high. In all but one occurrence, stocks were higher three months later. In every case, the S&P 500 set a new 52-week high sometime during the next quarter. That's a fantastic track record.
 
On average, it took stocks 18 trading days to set a new one-year high. And the average three-month return was nearly 6%.
 
While it's certainly possible this time is different, I believe it's unlikely. The bad economic news and eurozone political fracas has already been discounted. Earnings expectations are low. And central banks are becoming increasingly aggressive with their new stimulus efforts.
 
After all, there's a reason people are slowly buying more and more stocks on the up days and selling fewer and fewer stocks on the down days. My newsletter subscribers are still holding a 1.5% relative performance advantage over the S&P 500, so I feel comfortable waiting for the uptrend to return despite the recent intraday dramatics.
 
Trading update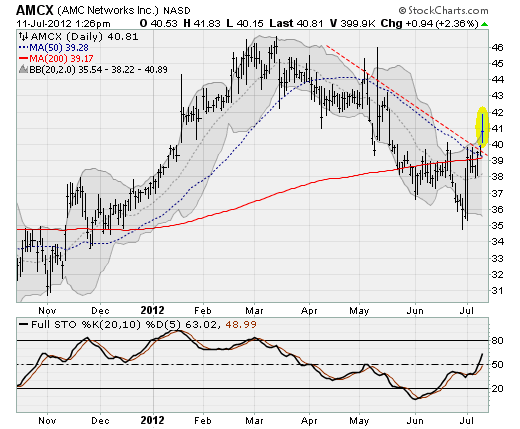 I am adding programming icon AMC Networks (AMCX) to the Edge Letter Sample portfolio. Shares are breaking out of a five-month downtrend despite the softness in the overall market, thanks to indications the network's dispute with Dish is nearing resolution.
Disclosure: Anthony has recommended AMCX to his newsletter subscribers.


Check out Anthony's investment advisory service The Edge. A two-week free trial has been extended to MSN Money readers. Click here to sign up. Contact Anthony at anthony@edgeletter.c​​om and follow him on Twitter at @EdgeLetter. You can view his current stock picks here. Feel free to comment below.