Storm pits nature against the Fed -- again
Isaac, which is following Hurricane Katrina's path and threatening the Gulf's energy infrastructure, is exactly the foil that hampers the central bank's ability to stimulate growth.
How the plot thickens. A few weeks ago, I wrote that a standoff of sorts had developed. On one end was the Federal Reserve worried about flagging economic growth, rising joblessness and the specter of outright recession should the Eurozone crisis go sideways or if Congress bungles the "fiscal cliff" issue later this year. On the other were the acts of nature that threatened to boost inflation and neutralize the cheap-money stimulus of the central banks.
At the time, the concerns were extreme drought, poor crops, wars of religion in the Middle East. Now Tropical Storm Isaac threatens to wipe out energy infrastructure in the Gulf and send energy prices soaring. The timing is just terrible.
For one, consumers are just now starting to get back on their feet, thanks to the March-June drop in oil prices from around $110 a barrel down to $78. They're back up in the mid-$90s now, but the pullback in consumer inflation that resulted has boosted real wages, caused retail sales to surprise to the upside and pushed the personal savings rate higher.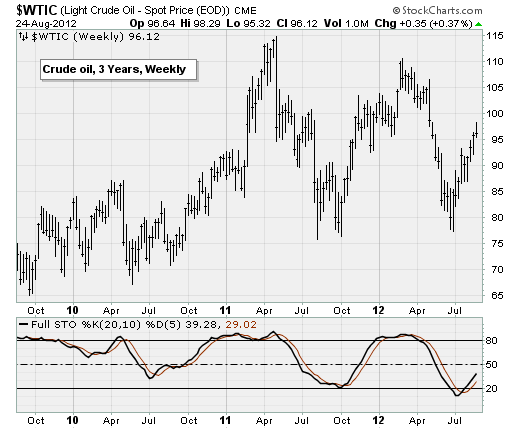 With Q2 GDP growth clocking in at just 1.5%, losing this source of strength on a spike in gas prices would be bad news.
Moreover, markets are waiting with bated breath for the upcoming Jackson Hole central banker retreat (starting Friday) and Fed and European Central Bank policy meetings next month for signs of new easing measures. If Isaac boosts inflation and keeps policymakers on hold for fear of repeating the inflation spike that accompanied QE2 in late 2010 and early 2011, prices of stocks, commodities and other risky assets will react violently.
Back then, it was a combination of higher food prices, the political unrest of the Arab Spring, the Japanese earthquake, tsunami and nuclear disaster, and the resulting spike in crude oil that sucked the wind out of the economy, nullified the Fed's efforts to boost growth and sent stocks lower.
A very similar situation threatens to unfold again.
We've already seen action. The ECB cut its deposit rate. The Fed extended Operation Twist. The Bank of England unveiled a "funding for lending" scheme. And the People's Bank of China embarked on its first rate-cutting cycle since the recession.
More was expected at the ECB and Fed meetings earlier this month, but alas, policymakers punted into September. Well, September is almost here. It's decision time.
As August ends, officials are starting to set expectations. There has been a steady stream of drip-drip media leaks out of Europe that the ECB is prepping action and that Spain, the country that needs help with unsustainably high borrowing costs, is coming around to the idea of asking for help. And last week's release of the Fed's latest meeting minutes shows that officials are not only mulling more action but are examining the actions taken by the ECB and the BoE for ideas.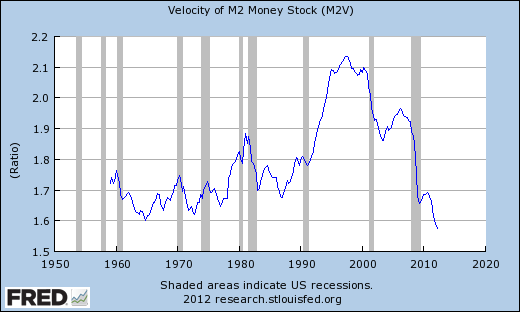 There is certainly plenty of need for additional monetary policy stimulus, despite the fact short-term interest rates have been near zero since 2008. Money velocity, a measure of how quickly dollars circulate in the economy, has plunged to postwar lows as banks withhold credit. Bank of America Merrill Lynch economists highlight something called the "global money gap" -- a measure of global narrow money versus GDP that ECB researchers have found tends to lead the economic cycle -- which has fallen into negative territory for the first time since the run-up to the 2007-09 recession. That's a bad sign.
Leading economic indicators have also been soft, from Taiwan export orders to Chinese flash PMI numbers. There were also poor Japanese trade figures and ongoing weakness in the Eurozone.
But before we get to the September policy meeting, we have the central banking symposium at Jackson Hole, Wyo., kicking off next Friday. It was there, two years ago, that Fed chief Bernanke first teased the second round of bond buying that supported the economy and markets in 2010 and 2011 before inflation kicked higher.
All eyes will be on Bernanke as he takes the mike at 10 a.m. ET Friday -- unless Isaac, and the invisible hand behind the storm, steals his thunder.

Trading update
I continue to recommend my readers and newsletter subscribers focus on the one area of the market that continues to demonstrate relative strength: precious metals and the related mining stocks.
If the Fed wins the standoff and pushes through more stimulus, then gold, silver and mining stocks will move higher on higher expectations of both economic growth and inflation as well as the likely drop in the U.S. dollar. If nature wins and inflation spikes, then these assets will do well anyway as investors look to hedge against rising prices.
I'm expanding my exposure to the area by adding Keegan Resources (KGN) to my Edge Letter Sample Portfolio.

Disclosure: Anthony has recommended KGN to his newsletter subscribers.

Check out Anthony's investment advisory service The Edge. A two-week free trial has been extended to MSN Money readers. Click here to sign up. Contact Anthony at anthony@edgeletter.c​​​om and follow him on Twitter at @EdgeLetter. You can view his current stock picks here. Feel free to comment below.
DATA PROVIDERS
Copyright © 2014 Microsoft. All rights reserved.
Fundamental company data and historical chart data provided by Morningstar Inc. Real-time index quotes and delayed quotes supplied by Morningstar Inc. Quotes delayed by up to 15 minutes, except where indicated otherwise. Fund summary, fund performance and dividend data provided by Morningstar Inc. Analyst recommendations provided by Zacks Investment Research. StockScouter data provided by Verus Analytics. IPO data provided by Hoover's Inc. Index membership data provided by Morningstar Inc.
MARKET UPDATE
NAME
LAST
CHANGE
% CHANGE
There's a problem getting this information right now. Please try again later.
NAME
LAST
CHANGE
% CHANGE
There's a problem getting this information right now. Please try again later.
Market index data delayed by 15 minutes
[BRIEFING.COM] The stock market began the new trading week on the defensive note with small-cap stocks pacing the retreat. The Russell 2000 (-1.4%) and Nasdaq Composite (-1.1%) displayed relative weakness, while the S&P 500 lost 0.8% with all ten sectors ending in the red.

Global equities began showing some cracks overnight after China's Finance Minister Lou Jiwei poured cold water on hopes for new stimulus measures. Specifically, Mr. Lou said the government has no plans to change ... More
More Market News
Currencies
NAME
LAST
CHANGE
% CHANGE
There's a problem getting this information right now. Please try again later.