Investors shake as economy stalls
Fireworks in the currency market undermine risk-on trading as global growth slows. It should prove a temporary setback before the real trouble begins.
Stocks have been sliding over the past two days despite not one, not two, but three separate central bank easing announcements Thursday. The reason? A big drop in the euro and a gain in the dollar, which were enough to reverse (temporarily) the gains in the contra-dollar assets we've seen after last Friday's post-eurozone summit breakout. Also, the economic data are confirming the slowdown I've been warning about for months.
I think this will be a temporary pullback within an uptrend. The important thing is that the coordinated intervention by global central banks continues. And that is a risk-on catalyst, which will push up contra-dollar assets like the euro, commodities and stocks while pressuring risk-off assets like the dollar and Treasury bonds in the weeks to come.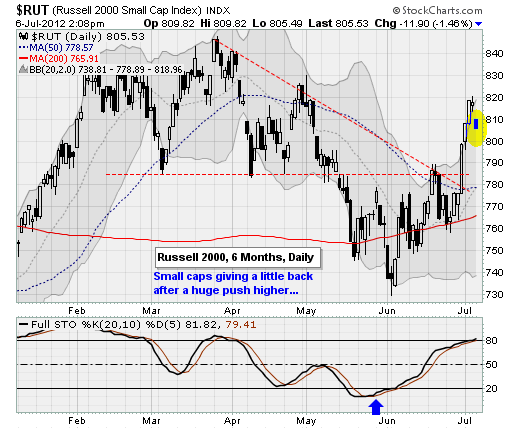 First, let's talk about the dreadful data. Friday's jobs report was the fourth month in a row to surprise to the downside. The 80,000 payroll jobs gained were 20% shy of Wall Street's forecast and pushed the Q2 average down to 75,000. That's down nearly 70% from the 226,000 average gain in Q1 and is the worst performance since the Q3 2010, according to Gluskin Sheff economist David Rosenberg.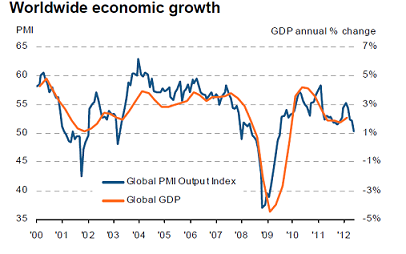 It's not surprising that this is happening, based on what's happening in manufacturing. You can see this in the chart of the Global PMI Output Index created by Markit Economics, which measures factory activity. The index has fallen to levels last seen, on the way down, in 2008 in the maw of recession and financial crisis.
The good news is that the slowdown in activity is taking the heat off inflationary pressures and opening the door to aggressive, globally synchronized easing by the world's major central banks. Indeed, factory input costs have fallen for the first time since the recession officially ended in July 2009, thanks to a 25% drop in oil prices last month. Also, according to Markit economists, many suppliers are offering discounts on new orders to stimulate sales as overall demand weakens and caution grows. That, too, is pressuring prices.
Central bankers have taken notice.
Thursday, the European Central Bank slashed its deposit rate by 0.25% to zero, an unprecedented action accompanied by additional quantitative easing ($78 billion more to $582 billion) by the Bank of England and another interest rate cut by the People's Bank of China (its second in less than a month and the first easing cadence since 2008).
All of this is positive for risky assets. And remember, the Federal Reserve, which extended its Operation Twist two weeks ago, holds its next policy meeting on Aug. 1 and is likely to react to the softening data on jobs and prices.
So why didn't the markets react more favorably to Thursday's dose of stimulus?
For one, ECB chief Mario Draghi said some things Wall Street didn't want to hear. Things like global central banks didn't actually coordinate their actions; but they just happened to coincide with each other.
Also, the move, which was supported by the German faction within the ECB, seems to have won unanimous support only now that the German economy is clearly slowing and likely contracted slightly in Q2.
And there is concern that the surprise action out of China sets the stage for disappointing Q2 GDP data out of the Middle Kingdom next week.
Plus, the Bank of England's actions were seen as underwhelming in light of the challenges being faced.
So expect more and more aggressive central bank interventions in the months to come, forcing cheap, high-power cash into the financial markets and into stocks, commodities and the rest of the risk-on assets. With investor positioning and sentiment already so sour, the bad news has already been baked in.
Now it's time for positive policy surprises.
Indeed, there is even some evidence that economic activity in China and Europe could be stabilizing at a new, lower level. The eurozone manufacturing PMI stabilized in June after three consecutive drops. This is an "encouraging sign amid a period of high turmoil and political uncertainty," according to Credit Suisse economists. The new orders subindex actually increased slightly.
In China, Credit Suisse's seasonal adjustment of Beijing's non-seasonally adjusted data suggested activity grew month over month for the second consecutive time in June, ending the sharp decline seen between February and April.
So I am maintaining my newsletter subscribers net long positioning with a focus on foreign stocks, pharmaceuticals, semiconductors and financials to ride the wave of stimulus higher.
The real trouble, involving America's "fiscal cliff" and its tax hikes and spending cuts worth roughly 5% of GDP, will hit later this year.

Trading update
For now, I continue to recommend positions like Synovus Financial (SNV), up 10.3% since I added it to the Edge Letter Sample Portfolio last Wednesday, and Spectrum Pharmaceuticals (SPPI), up 32% since June 15.
I found both SNV and SPPI with the help of technical screens developed with Fidelity's Wealth Lab Pro back-testing tools, which you can find here. (Fidelity sponsors the Investor Pro section on MSN Money.)
Disclosure: Anthony has recommended SNV and SPPI to his newsletter subscribers.

Check out Anthony's investment advisory service The Edge. A two-week free trial has been extended to MSN Money readers. Click here to sign up. Contact Anthony at anthony@edgeletter.c​​om and follow him on Twitter at @EdgeLetter. You can view his current stock picks here. Feel free to comment below.
DATA PROVIDERS
Copyright © 2014 Microsoft. All rights reserved.
Fundamental company data and historical chart data provided by Morningstar Inc. Real-time index quotes and delayed quotes supplied by Morningstar Inc. Quotes delayed by up to 15 minutes, except where indicated otherwise. Fund summary, fund performance and dividend data provided by Morningstar Inc. Analyst recommendations provided by Zacks Investment Research. StockScouter data provided by Verus Analytics. IPO data provided by Hoover's Inc. Index membership data provided by Morningstar Inc.
MARKET UPDATE
NAME
LAST
CHANGE
% CHANGE
There's a problem getting this information right now. Please try again later.
NAME
LAST
CHANGE
% CHANGE
There's a problem getting this information right now. Please try again later.
Market index data delayed by 15 minutes
[BRIEFING.COM] Equity indices continue drifting near their best levels of the day, but the energy sector (-0.4%) has recently tumbled to a fresh low amid a decline in the price of crude. The energy component is now lower by 1.2% at $93.32/bbl after trading little changed at the start of the session.

Outside of energy, the utilities sector (-0.7%) is the only other decliner. Elsewhere among countercyclical groups, the consumer staples sector underperforms, but has been able to stay out ... More
More Market News
Currencies
NAME
LAST
CHANGE
% CHANGE
There's a problem getting this information right now. Please try again later.