Will Greece be saved?
Stocks are being held captive by the undulations of the euro, which in turn is being held captive by political machinations in Europe.
I don't know about you, but this market is making me a little seasick. For the third day in a row, stocks are alternating between gains and losses. The catalyst for all this is the situation in Europe, with Greece on the precipice of quitting the euro (or getting the boot) while the Spanish banking system implodes from the stress.
As a result, the euro dropped to its lowest levels since 2010, pulling down risky assets in general, since hedge fund types and computer trading algorithms use the euro as a measure of "risk on" sentiment. Large-cap defensive stocks and gold futures alike are rising and falling based on what currencies are doing. The bad news is the volatility isn't going to stop until Germany or the European Central Bank take action to calm the situation, at least until the next round of Greek voting in late June. Here's what to expect.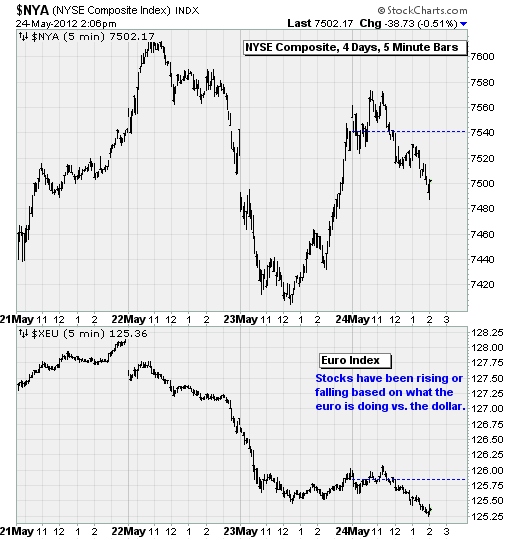 For Germany, it's becoming increasingly isolated as the new president of France leads the charge -- joined with leaders of Italy and Spain -- for closer fiscal integration via bonds issues by the entire eurozone. For the ECB, financial markets and bank executives are clamoring for another round of monetary policy stimulus via ultra-cheap loans to eurozone banks.
I believe both will be pressured into action.
The Germans are increasingly finding themselves alone in their pro-austerity, anti-debt, anti-stimulus stance.
Just look at the austerity backlash and resulting political machinations underway in the Netherlands, a fellow AAA-rated "core eurozone" member. Look at the way both the International Monetary Fund and the Organization for Economic Co-Operation and Development have come out in support of issuing eurozone bonds.  
Italian Prime Minister Mario Monti said that Wednesday's eagerly awaited eurozone summit featured extensive talks on eurozone bonds, of which a majority of officials are now in favor of. Today, he brazenly added that these bonds -- which will help address some of the structural flaws in the euro -- will become a reality very soon. 
Germany may find itself with limited political maneuverability if the eurozone's other large countries push forward with the Eurobond idea. Once launched, Eurobonds would rescue the borrowing costs of countries like Spain and Greece, giving them time to address their deeper problems including a weak banking sector and inefficient labor markets.
One possible outcome will be for Germany to compromise by endorsing another idea being pushed by Italy and others: A pan-eurozone bank deposit guarantee to help stop a bank run from developing in Greece. This would also do much to calm the crisis by neutralizing a potential accelerant: Loss of confidence in the financial system.
Indeed, Wednesday's dramatic late session rebound was attributed to unconfirmed chatter that switch a deposit guarantee scheme was about to be endorsed by German Chancellor Angela Merkel.
The European Central Bank is also under pressure to act, but from a different source.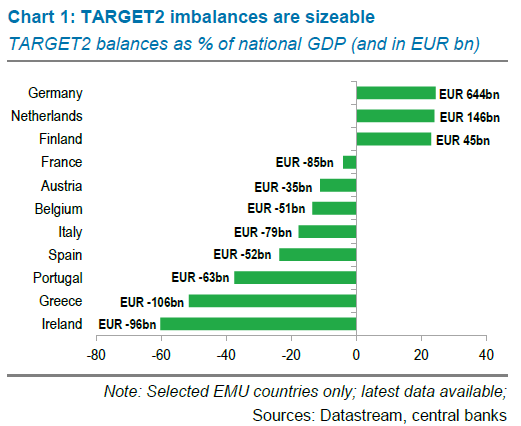 Policymakers there are no doubt growing increasingly concerned over the rising imbalances within its cross border payments system (known as Target2) as capital is pulled out of peripheral countries and their banks -- including Greece and Spain -- and moved into more secure German banks. As a result, the German central bank, the Bundesbank, is pumped some €644 billion (24% of Germany's GDP) into these weaker economies to compensate for the capital outflow.
If Greece bails out of the euro, the ECB will be on the hook for these losses. And if Greece goes, Ireland, Portugal, and Spain might go to. Overall, that would be worth more than €300 billion in Target2 exposures to the Bundesbank -- exposures that would no doubt get worse once a full blown financial crisis was underway.
Inter-bank funding stresses grow, the ECB will feel the need to intervene to prevent this nightmare scenario from unfolding.
Stocks, and precious metals, are bottoming on expectations of something, anything constructive coming from Germany and/or the ECB in the days and weeks to come. The evidence suggests they can't keep saying no for much longer.

Trading update

I am adding one new pick to my Edge Letter Sample Portfolio, far east energy play InterOil Corp. (IOC). Shares of IOC are breaking out of a three-month consolidation pattern on a nice surge of volume.

Check out Anthony's investment advisory service The Edge. A two-week free trial has been extended to MSN Money readers. Click here to sign up. Contact Anthony at anthony@edgeletter.c​​om and follow him on Twitter at @EdgeLetter. You can view his current stock picks here. Feel free to comment below.


DATA PROVIDERS
Copyright © 2014 Microsoft. All rights reserved.
Fundamental company data and historical chart data provided by Morningstar Inc. Real-time index quotes and delayed quotes supplied by Morningstar Inc. Quotes delayed by up to 15 minutes, except where indicated otherwise. Fund summary, fund performance and dividend data provided by Morningstar Inc. Analyst recommendations provided by Zacks Investment Research. StockScouter data provided by Verus Analytics. IPO data provided by Hoover's Inc. Index membership data provided by Morningstar Inc.
MARKET UPDATE
NAME
LAST
CHANGE
% CHANGE
There's a problem getting this information right now. Please try again later.
NAME
LAST
CHANGE
% CHANGE
There's a problem getting this information right now. Please try again later.
Market index data delayed by 15 minutes
[BRIEFING.COM] S&P futures vs fair value: -8.00. Nasdaq futures vs fair value: -19.00. Nasdaq at... NYSE Adv/Dec 0/0... Nasdaq Adv/Dec 0/0.
More Market News
Currencies
NAME
LAST
CHANGE
% CHANGE
There's a problem getting this information right now. Please try again later.