Inside Wall Street: The bargain that's Wal-Mart
The world's largest retailer stays on top with unheralded canny strategic moves.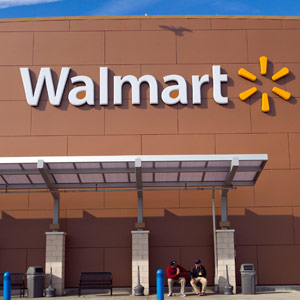 For those who haven't noticed, Wal-Mart (WMT) has been one of the market's large-cap super performers, steadily climbing to new high ground since the financial meltdown and deep recession.
From a low of $47 a share in 2009, the stock has catapulted to a high of $79.96 a share in May 2013, and some analysts and investors expect the stock to rocket to the mid-$90s in a year or so. It closed at $77.89 on Tuesday July 30.
What's powering the stock? Apart from the market's robust advance this year, investors have responded positively to the company's quiet efforts to re-energize its global leadership as the world's largest retailer, and maintain its price leadership while improving operations and products to steadily sustain earnings and sales growth.
"Wal-Mart's massive scale gives it an edge in obtaining at a low price virtually everything it wishes to offer its customers," says Stephen Leeb, president of Leeb Asset Management, which owns WMT shares in its core long-term portfolio.
And Wal-Mart has a lot more stores, he adds, than any other retail or supermarket chain -- more than 4,000 Wal-Mart stores around the country compared roughly to 2,400 locations for the next biggest grocer, Kroger.
It's the grocery business, says Leeb, where Wal-Mart is making great inroads with its bargain prices it offers. Groceries currently account for 55% of the giant chain's sales and becoming an increasingly important segment.
Wal-Mart operates a chain of more than 10,000 discount department stores, wholesale clubs, supermarkets, and supercenters worldwide, including stores in China, Japan, Africa, Argentina, Brazil, Chile, Mexico, Central America, India, the U.K. And in the U.S., Wal-Mart is expanding efforts to become a complete American enterprise by increasingly buying U.S.-produced goods. It plans to invest an additional $50 billion over a period of 10 years starting in 2013 for Wal-Mart's U.S. stores and Sam's Club to buy domestically manufactured goods.
"We remain impressed with Wal-Mart's commitment to improving the productivity loop and price leadership," says Robert S. Drbul, analyst at Barclays Capital. He rates the stock as "overweight" with a price target of $90 a share. The $50 billion additional investment, he notes, will mark additional growth on top of the two-thirds of total Wal-Mart U.S. receipts currently spent on goods made, sourced, or grown in the U.S.
These products will be identified with "Made Here" tags featuring an American flag. Drbul estimates that any incremental costs incurred by the Buy-U.S. program will be offset by lower lead times "and the ability to buy smaller amounts of inventory vs. the typical buckets for domestically produced materials." Moreover, he believes this new initiative will improve product quality that should produce longer-term positives.
Further upside to the mid-$90s, says Drbul, will be supported by the potential to build on current momentum in traffic trends and leverage expenses to offset any pressure on gross margins. A higher target of $95 a share is based on 16 times his upside earnings target for 2014 of $5.95 a share on projected revenues of $513.1 billion. For 2013, he figures Wal-Mart will earn $5.30 per share on sales of $487.6 billion, up from 2012's $469.1 billion.

Although Wal-Mart is considered one of the top "defensive" stocks that do well even during difficult economic times, the stock is also regarded these days as a growth stock that chalks up sustained yearly earnings power in bad or good times.
"By many measures, Wal-Mart is one of the top defensive stocks in the stock universe," notes Leeb. "But unlike other defensive stocks, whose price-to-earnings multiples are in the 20s while earnings growth is below double digits, Wal-Mart shares trade at about 13.5 times next year's earnings, with prospects of 10% earnings growth for at least the next five years," says Leeb.
That has attracted renewed interest in the stock, once known as just a "defensive" stock. Now, the stock is embraced by institutional investors as a true-blue growth stock, thanks to its highly competitive focus.
So investors who don't own shares of Wal-Mart should. And when they do, the stock should be among their core holdings, to be nurtured as a buy-and-hold investment for the long haul.
Wal-Mart has been quietly making shrewd and savvy strategic moves with little fanfare, elevating the quality of its products, maintaining its leadership as a discount retailer, and penetrating new markets and then assume dominance in them.
With the stock providing a decent dividend yield of 2.4%, "Wal-Mart continues to be a stock for all investors," argues Leeb.


Gene Marcial wrote the column "Inside Wall Street" for Business Week for 28 years and now writes for MSN Money's Top Stocks. He also wrote the book "Seven Commandments of Stock Investing," published by FT Press.

More from Top Stocks

MSN Money on Twitter and Facebook
Like us on Facebook: MSN Money and Top Stocks
Follow us on Twitter:
@msn_money
and
@topstocksmsn
DATA PROVIDERS
Copyright © 2014 Microsoft. All rights reserved.
Fundamental company data and historical chart data provided by Morningstar Inc. Real-time index quotes and delayed quotes supplied by Morningstar Inc. Quotes delayed by up to 15 minutes, except where indicated otherwise. Fund summary, fund performance and dividend data provided by Morningstar Inc. Analyst recommendations provided by Zacks Investment Research. StockScouter data provided by Verus Analytics. IPO data provided by Hoover's Inc. Index membership data provided by Morningstar Inc.
MARKET UPDATE
NAME
LAST
CHANGE
% CHANGE
There's a problem getting this information right now. Please try again later.
NAME
LAST
CHANGE
% CHANGE
There's a problem getting this information right now. Please try again later.
Market index data delayed by 15 minutes
[BRIEFING.COM] S&P futures vs fair value: -6.60. Nasdaq futures vs fair value: -14.50. The S&P 500 futures trade seven points below fair value.

Markets across most of Asia ended on a lower note, while Japan's Nikkei was closed for Autumn Equinox.

Economic data was limited:

China's HSBC Manufacturing PMI ticked up to 50.5 from 50.2 (expected 50.0)
Singapore's CPI eased to 0.9% year-over-year (expected 1.2%; previous ... More
More Market News
Currencies
NAME
LAST
CHANGE
% CHANGE
There's a problem getting this information right now. Please try again later.